FIR registered against Jiyalas for protesting on Governor Chaudhry Barjees Tahir's arrival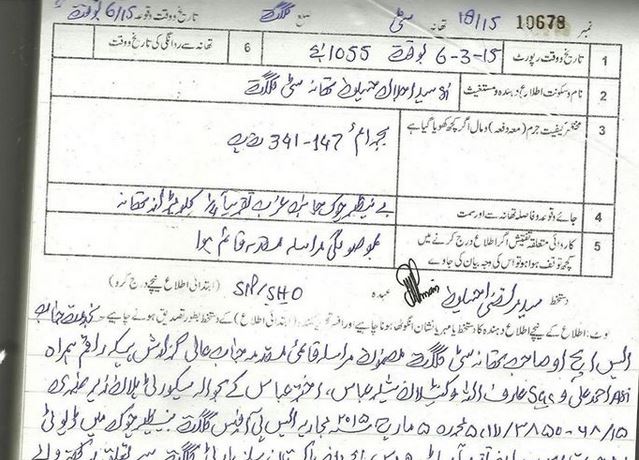 Gilgit, March 7: The Gilgit administration has registered a First Information Report against several members of the Pakistan Peoples Party for protesting on the arrival of Governor Chaudhry Barjees Tahir.
According to a copy of the FIR, the PPP workers have been accused of blocking a main road and obstructing flow of traffic. Those named in the FIR are Maqsad Ali, Iqbal Rasul, Sharafat Hussain, alias King, Shehzad Noori, Waseem Badami, Shirazi, Muzafar Sawal, Mamtaz Kawish, Nusrat and Manzoor.
Gilgit-Baltistan: FIR registered against #PPP workers for protesting against nomination of Governor Birjees Tahir pic.twitter.com/mb2qvm5IWH

— Ahsan Abbas Rizvi (@AhsanAbbasShah) March 7, 2015
The above named people have been charged under section 341 and 147 of the Pakistan Penal Code, which are related to forcefully restraining others and punishment for rioting.
The PPP workers and leaders have termed it a politically motivated case, which has been registered to forcefully shut the voices of dissent that opposed to 'unlawful' appointment of a non-local as governor.