Skardu: Dead body of one of the two youth missing for 52 days found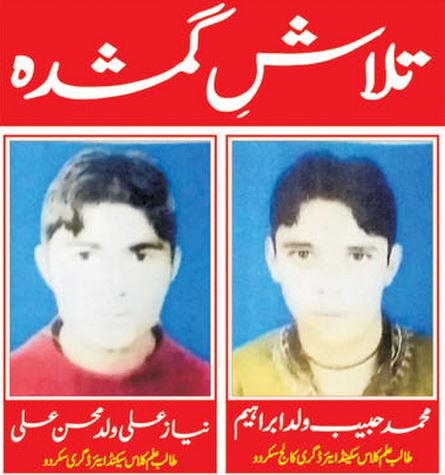 Skardu, March 13: The dead body of one of the two boys who went missing under mysterious circumstances from Skardu on 22 January 2015 has been found.
According details, locals with the help of Police have recovered the dead body of Habib, one of the two youth missing for the last 52 days, from the Indus River near Nungzhoq village, located at the back of the Kharpucho Fort in Skardu.
The police reportedly reached the spot after a local informed them about the presence of a dead body in the river. The whereabouts of the other youth, Niaz Ali son of Mohsin still remain unknown.
 It is pertinent to note that both of the youngsters belonged Gultari area.
The dead body has been shifted to a hospital in the city for autopsy. The circumstances of the death remain unclear.