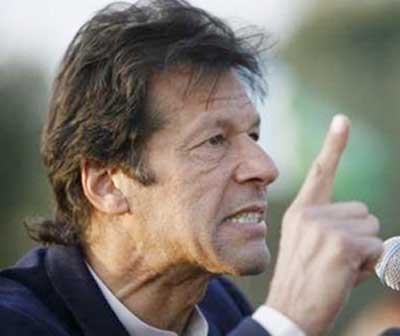 Islamabad: (PR) Chairman PTI, Imran Khan, today warned all PTI members including all office bearers that the Party will not tolerate any internal matter or document being discussed or released to the media by anyone, no matter how senior a position he/she holds.
Khan expressed anger over the recent leakages of documents and statements relating to the Election Tribunal. He condemned the making public and sending to the media, of a confidential communication sent on his behalf by his Chief of Staff, to the Tribunal. He said it was unacceptable that internal proceedings relating to internal party matters are deliberately being made public to harm the Party. Similarly he took serious note of the show cause notice served to a senior party leader being made public. Subsequent revelations in the media of documents/letters to and from the Tribunal, accompanied by statements, were also noted by the Chairman who made clear that the Party would not tolerate such irresponsible and damaging behavior.
Khan made clear that as of today, any Party member including the leadership found leaking out or deliberately making public any internal matters/documents dealing with internal party affairs would be immediately suspended and proceeded against. Khan said PTI is a most democratic Party, but there has to be discipline and confidentiality about internal discussions and proceedings relating to Party matters. Accountability and scrutiny of Party members is an intrinsic part of the PTI, which has set up frameworks for such functions, but this does not mean internal proceedings and decisions can be the subject of an anarchic free-for-all for personal grandstanding and furthering of particularistic interests at the expense of the Party.
Khan reiterated that there would be zero tolerance for such mala fide actions by individuals or groups with immediate effect.