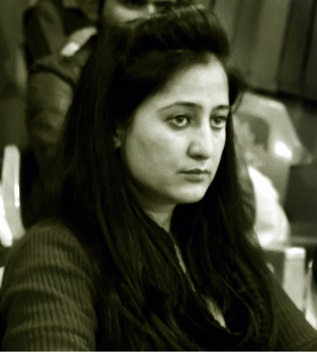 By Sajida Shah
From my childhood, I always felt disappointments for being a girl. There were too many reasons of my disappointment. The most hurting situation was the discriminatory attitudes of my parents towards me and my brothers. This is the story of every other family in our society that, in comparison to daughters; sons are preferred more in every aspect of life. The common thoughts related to girls are; they are born to obey their parents and immediate others, to help their mothers in household chores, to cook food for their family and to wash clothes, household utensils and all other works within the boundaries of the house. On the other hand, sons are thought to be the future head of the family, so sisters are supposed to respect them. They are being preferred for giving education and other opportunities because they will be taking care of the family in future. These thoughts always bothered me, even to go against my parents and society. These discriminatory actions and behavior breed resistance inside every women that needs to be furnished and brought out.
When I studied women's history (the matriarchal age) and compared their status then and now, I understood that it was never the fault of my parents only. The slavery of women has been systematically incorporated in the lives of women and the society. Literature evidences that there was no concept of family in the initial eras of human history. Men and women were used to work together for their common survival. When families started to develop, both men and women strived for proper shelter and to store extra food for the days of scarcity. For this purpose women started to work in fields and men used to go for prey. Most of the work was done by women in agriculture as well as in the houses, so they were responsible for the storage, distribution and other important work as compared to men. Additionally, Agriculture was the concept given by women and they were considered as the sign of fertility both in agriculture and in human race. These were the reasons that women came up with more power and respect in the Matriarchal era. In this era, women were the heads of tribes, and the name of the families were linked with the mother's name. Moreover, the patrimony was also given to daughters in the family. Furthermore, the important religious beliefs and practices were also attributed with females, i.e. the concept of "Devi".
Dr. Mubarak Ali wrote in his famous book "Tareekh Aur Aurat",
"Women were using simple utensils for cultivation of crops, but when plough replaced those simple utensils, men started dominating the agricultural field due to physical strength, thus dominating the family as well."
Evolutionary history evidences that when the agricultural era was replaced by heavy industrial era, the use of heavy machinery started marginalizing the women and men started dominating the society. Although, industrial age brought many developments in the life styles and the level of comfort of people but the suppression of women reached at its peak during this era. Moreover, the industrial age also initiated wars and deepened the class system. The reason was that, man was considered physically powerful and strong workers were needed by this system for cultivation, for wars, and for constructions. This was another brutal step to marginalize women. This led to strengthen the feudal system and promulgated the state's rule over common people including women. It also encouraged the dominance of men over women and the patriarchal society completely hijacked the once functional matriarchy.
Capitalism has always strived for surplus profit and it wanted fresh and strong men to run the industry and to cultivate the crops. Therefore, household chores were attributed as a responsibility of women by influencing the cultural and religious values. These all gender-based stigmas were generated very systematically so that capitalism would rise to its peak and at the same time men would dominate over women more reasonably. We can understand this phenomenon through a simple example from our daily life that when a worker comes home after working for 8-10 hours, he needs rest in order to be more productive for the next day. To entertain his resting phase, women are being used as a free labour. Though, she works 24/7 including domestic chores, child birth, child rearing, cooking food, washing clothes and making their men fresh for the next day "without any cost". Why the services of women are free labour? Why they are supposed to obey only? Why they can't exercise freedom as men do? There are lot more genuine questions to be asked and to be answered. At last, it is very obvious that the root cause of the suppression of women in the society is the capitalist mode of production. In my opinion, if women are get paid for all their work, there will be no conflict of equity & equality.
The contributor is the Vice-President 0f the National Students Federation, Gilgit-Baltistan, Sindh Zone