First "Divisional Taekwando Championship" concluded in Gilgit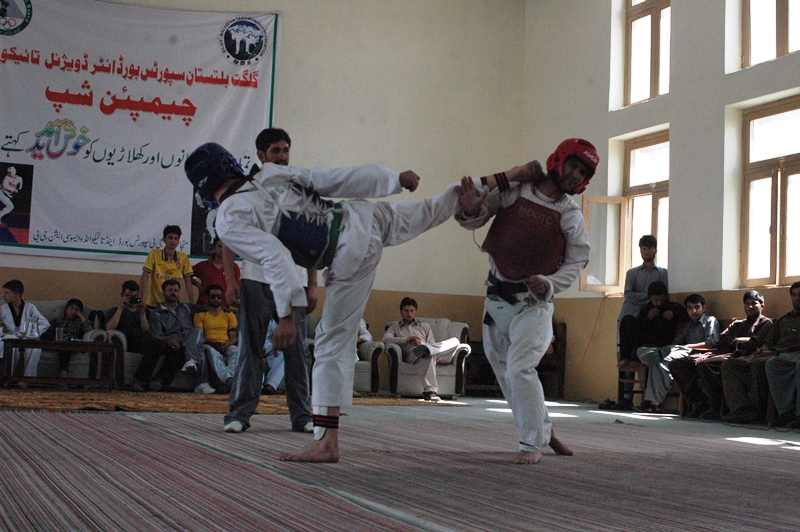 Irfan Ali
Gilgit, April 27: Two-day Taekwando championship ended Sunday evening at Sports Complex Jutial. Athletes competed in eight categories of weighs, including fly, bantam, feather, welter, light, middle and heavy.
The First Divisional Taekwondo Championship was organized by Gilgit-Baltistan Teakwondo Association(GB-TA) in collaboration and with the financial support of GB Sports Board.
The two day event was opened by Director Tourism Iqbal Hussain. Teams  from  all the three Divisions of GB,i.e. Gilgit, Baltistan and Diameer participated in the mega event.
Gilgit Team won the competition by securing 5 golds, 3 Silver and 4 bronze Medals.Baltistan team remainedrunner up andDiamer  Division secured the third  Position.Hasnad fromGilgit was declaredthe  best fighter in the competition.
Secretary local government, Mr. Asifullah was the chief guest and Candidate for GBLA 2 Habibul Rehman was Mir-e-Mehfil on the concluding day.
GilgitBaltistanTaekwondo Association(GB-TA) Secretary GeneralNazakat Ali  said that organizing the championship was a great achievement of his association and that it will rejuvenateTeakwondo in GB after a pause of almost 4 Years. Previously,such a provincial level event in GB was held byNasirTeakwondo  Network in remembrance of  the lateImdadHussain Black belt almost four years ago.