China Focus: China's highest customs starts operation in Xinjiang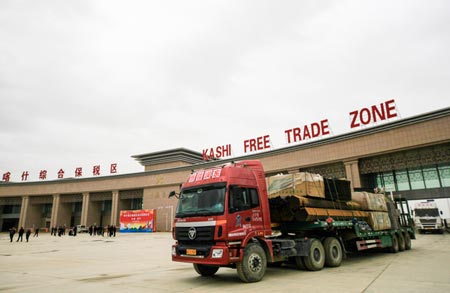 URUMQI, May 8 (Xinhua) — Xinjiang's Karasu Customs, China's only land port open to Tajikistan, officially opened on Friday after ten years of preparation.
The port, located at an altitude of 4,100 meters in northwestern Xinjiang Uygur Autonomous Region, officially began its trial operation in May 2004. Due to heavy snow in the winter, which blocks roads and mountain passes, it can only operate from April 20 to the end of November.
The oxygen level is less than 60 percent of that of the plains and its terrestrial radiation is as high as 500 millisieverts, five times the safe level.
Since opening, bilateral freight volume through the port rocketed from 833 tonnes in 2004 to 389,600 tonnes in 2014, with trade volume increasing from 1.68 million U.S. dollars to 1.99 billion in the same period.
Karasu Customs has cleared a total of 1.4 million tonnes of goods worth 7.67 billion U.S. dollars over the past decade.
Last year, 78 percent of trade between China and Tajikistan was from Xinjiang, mainly conducted through Karasu Customs and Tajikistan's Kulma port on the other side of the border.
Customs commissioner Fei Lixin said Karasu Customs was a vital channel for trade, especially for Tajikistan, a landlocked country with a soured relationship with its neighbor Kyrgyzstan.
As one of the five ports in Kashgar linking China with Central Asian countries including Pakistan, Tajikistan, Kyrgyzstan and India, Karasu Customs is an important post along the planned China-Pakistan Economic Corridor (CPEC).
The CPEC, which will connect Kashgar to the southwestern Pakistani port of Gwadar, will shorten China's oil and gas import routes from Africa and the Middle East by thousands of kilometers, making Gwadar a potentially vital link in China's supply chain.
China and Pakistan agreed to build the corridor during Chinese Premier Li Keqiang's visit to Pakistan in May 2013.
A comprehensive bonded zone was opened in Kashgar last month. Several areas have been set up to provide bonded warehousing, logistics and manufacturing. Support services such as customs clearance, air freight and exhibition halls are also available.
Sun Zhijie, customs commissioner of the regional capital of Urumqi, said with the bonded zone and the newly-opened customs post, the border city of Kashgar will be "a key transportation, trade and logistics center" and a "core area" on the Silk Road Economic Belt.
The Silk Road Economic Belt, proposed by President Xi Jinping in 2013, is an overland network focused on boosting international trade and cooperation on infrastructure projects with Central, South and West Asian countries.
In addition to Karasu and the city's international airport, Kashgar boasts three other national ports, namely Khunjerab that links Xinjiang with Pakistan; and Turgart and Irkeshtam that border Kyrgyzstan.
Source: www.shanghaidaily.com