Karachi: Educators come together at 'Principals' Conference' jointly organized by AKU-EB and Oxford University Press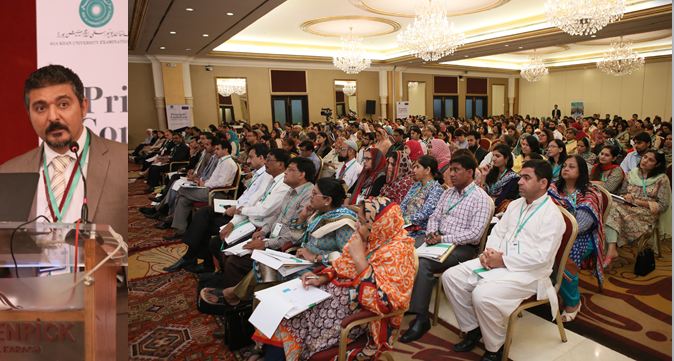 Karachi, October 2: Aga Khan University Examination Board (AKU-EB) in partnership with the Oxford University Press (OUP) hosted the first Principals' Conference in Karachi. With an aim to explore innovative solutions to improve the quality of education and assessments in schools, this conference brought together over 400 educators from across Pakistan on a single platform to collaborate, learn and excel.
This platform is meant to challenge conventional patterns, while we debate to derive the best practices for some of the most critical lynchpins of our education system – assessment, curriculum, teaching and learning practices and there is so much we can learn from each other's experience," shared Dr Shehzad Jeeva, Director, AKU-EB during his welcome address.
There were several sessions that enabled educators to think critically about how they can inspire energy, excitement and enthusiasm for learning among students. Participants also stressed on the need for well-trained teachers for a high-quality and equitable education system. It was mutally agreed that trained teachers are able to deliver learning content more effectively by putting the students at the heart of the teaching process and encouraging them to develop independent problem-solving skills.
"This conference addressed topics which are essential for educationalists  – teaching, learning and curriculum. This forum also gave us an opportunity to discuss the structure and process of in-service professional development in various schools," said Tasneem Shabbar, Principal and one of the participants at the conference.
While Ameena Saiyid, Managing Director, OUP during her session on 'True Value of Books' shared, "Education is indeed a lifelong and natural process parallel to awareness and observation – a basic trait, almost a reflex within us. But when we speak of formal education, acquired in a systematic and progressive way, it is linked to schooling. It is a triangular relationship of learner, teacher and knowledge, and this is where books come into the equation."
Furthermore she said, "It is also worth mentioning here the contribution of AKU-EB in being a catalyst to improving the overall education system in Pakistan, by encouraging not only students but also teachers to expand their horizons, go beyond the conventional chalk and talk methods of learning and develop a habit of referring to multiple books instead of being limited to rote-learning from notes or guide books."
Another participant, Shahina Ali Raza, Principal, shared, "Besides networking which is one of the most important returns of attending this conference it has allowed me to get updated information on strategic as well as key issues. Our realm is quickly changing and information needs to be modified in order to meet the diverse needs of our jobs as Principals. I believe, forums like these, help us to be creative as well as effective life-long learners". 
National and internationally recognised speakers and panellists engaged the participants in thought provoking sessions – the highlights of the conference included a session by Dr Sadrudin Pardhan, Advisor to Provost, AKU on Leadership and Management in Schools. Dr Mola Dad Shafa, Head of Professional Development Centre, North Pakistan shared Inspiring Stories from his journey of promoting education for women in Gilgit-Baltistan and Chitral, followed by a conversation with Professor Sir Brian Heap, Former Master of St Edmund's College, University of Cambridge, Research Associate at the Centre for Development Studies, University of Cambridge, UK, on the Value of Education in Global Context.
Dr Ahsana Dar, Advisor R&D, Herbion Pakistan, conducted a debate on Best Practices for Teaching and Learning Science where she talked about the challenge of attracting students to learn science and the role of teachers in making science interesting for students. The conference concluded with a panel discussion on The National Curriculum, Global Ideas, Local Context led by Drs Sarfaroz Niyozov, Director, Yu-ling Liu-Smith, Researcher and Senior Instructor, AKU's Institute for Educational Development and Dr Mohammad Idrees Asad, Assistant, Educational Adviser and Cabinet Secretariat and a Member of the Curriculum Wing, Government of Pakistan.
Overall, the conference posed an excellent capacity development opportunity for school management and the academics to deliberate on teaching and learning practices reflect on the critical role they play in students' development and the future of this nation. PR