Creative Hands Alliance exhibition held in Islamabad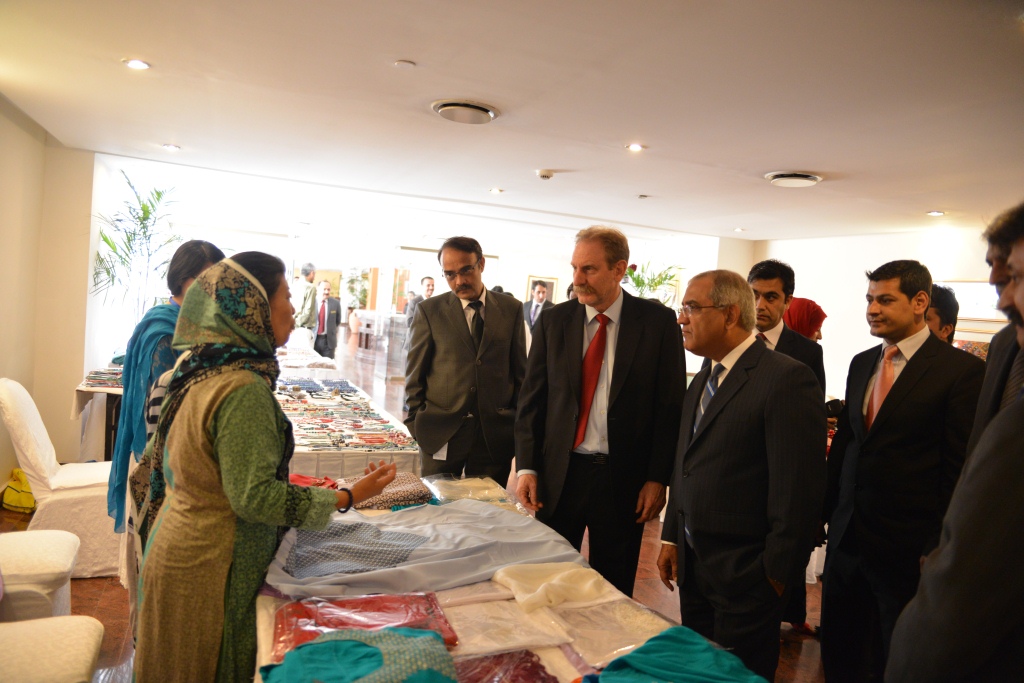 Islamabad: Creative Hands Alliance (CHA) held a two-days exhibition at Serena Hotel, Islamabad. The idea behidn the alliance is to develop a caring community, promote women entrepreneurship, and soft Image of Pakistan through volunteerism and corporate support in such initiatives. CHA provides opportunities to young emerging artists, women entrepreneurs, cottage industry and folk music in venues like Islamabad Serena Hotel.  CHA is a collaborative initiative of Serena Hotel Islamabad and Aga Khan Economic Planning Board.
This exhibition was the third in the series of Creative Hands Alliance Exhibitions and was organized in Islamabad Serena Business Complex.  The two-day exhibition was formally inaugurated by Mr. Graeme Amey, the CEO/MD of Pakistan Tobacco Company, ,  and Mr. Aziz Bolani, CEO of the  Tourism Promotion Services (Pakistan) Limited.  During the visit of different stalls Mr. Amey highly encouraged  the local artisans and showed keen interest in traditional products of rural and mountainous communities of Pakistan.
The overall participation was very encouraging, both locals and foreigners from different organizations, students and home workers visited the stalls and showed great interest in local handicrafts from rural  Baluchistan, KPK, Punjab and Gilgit-Baltistan. Pakistan has great potential in developing the traditional and homemade items.  We can broaden the horizons for the underprivileged artisans particularly women by providing them opportunities  to display their art work in the leading hotels and corporate places.