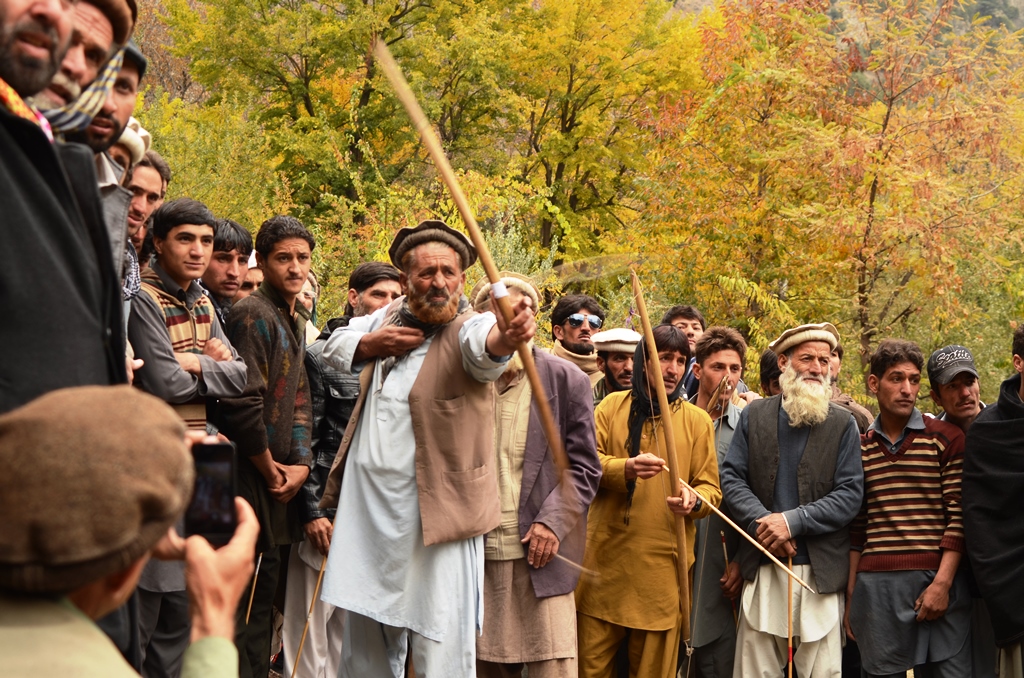 Reported by Amjad Ali Khan | Photos: Nizam Ali  
A one-day local autumn festival Shoru was celebrated in Ramboor village of Chitral, in the KPK district province of Pakistan.Shoru Festival is a traditional seasonal event celebrated by the Sheikhan Tribes and the Kalash tribes  during the autumn season.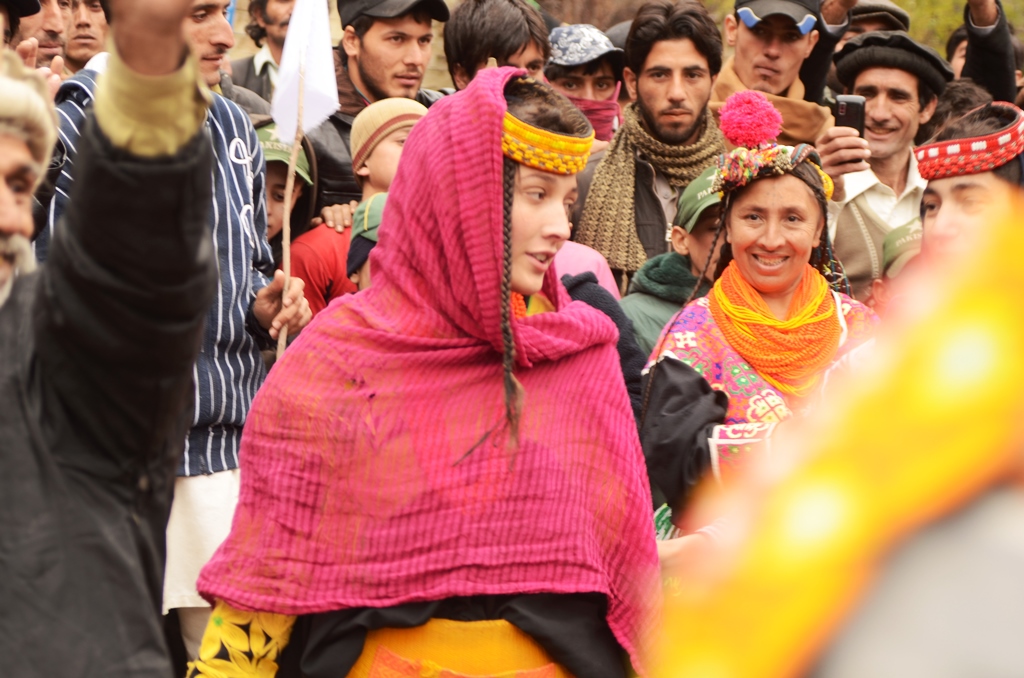 According to local traditions, the guests were welcomed by Kalashi females presenting local bread (Tiki) and traditionally embroidered neck bands. Traditional dance was performed by Kalashi females to welcome the guest from outsides in Rambor valley kalash .This is century old tradition in kalash communities.
Unlike traditional & free style polo played in other parts of Chitral , in Kalash valley polo is not only  played on horses but also  played on feet by young boys .This is interesting in many ways because both teams have same goal post to defend .This polo is played for 40 minutes and both team run with ball in same direction having their separate ball  and team which  reaches  to goal post with ball  first and make goal is stand up as winner .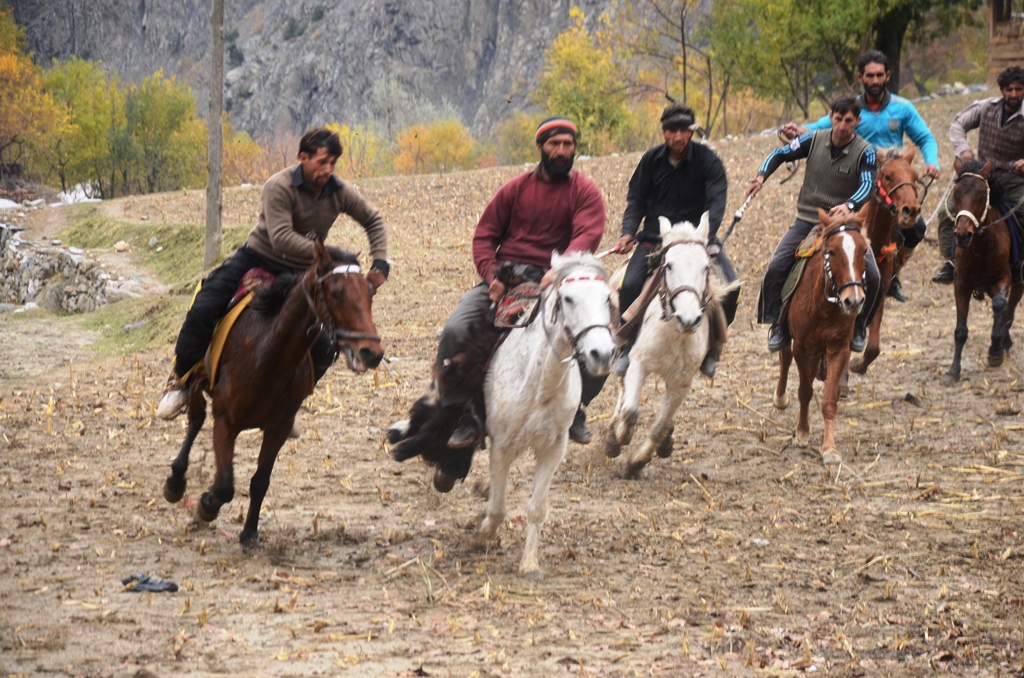 Buz Kashi is considered as one of the most dangerous game played in the world. This game is equally popular in mountainous communities of Chitral, Afghanistan and Central Asia. Being migrated tribes from Afghanistan people of kalash valley widely play this sport. In the game of buz Kashi,a goat is slaughtered first and .Both teams have to snatch slaughtered goat from each other and player, who snatches the goat has to complete round of marked circle and has to put goat in to ditch and the t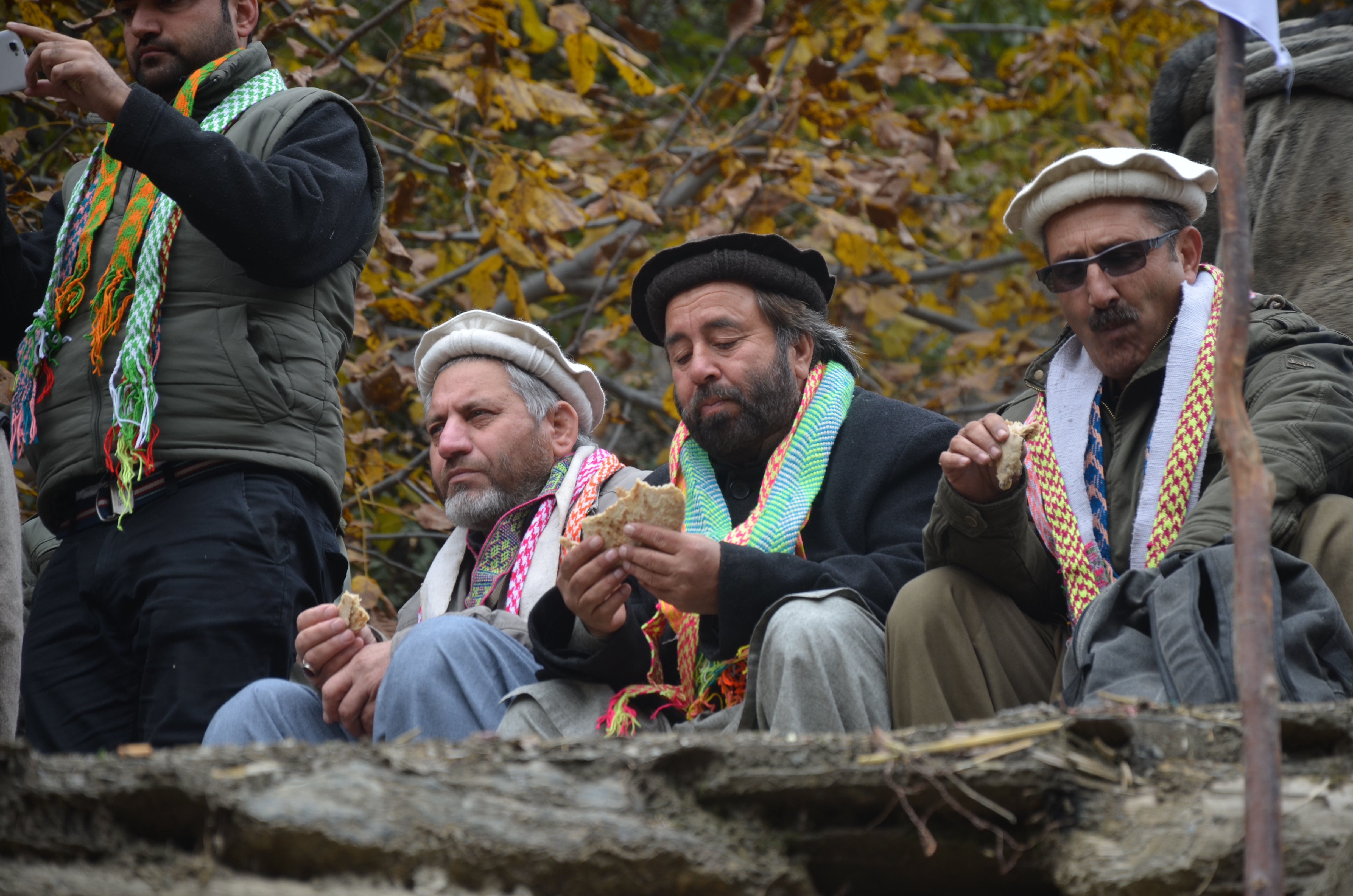 eam which made three successful attempts is declared as winner and goat is awarded to winning team and winning team prepares a  feast from the meat of this slaughtered  goat.
Traditional wrestling is one of the favorite sports of tribes especially young boys eager to participate in wrestling to show their physical strength and stamina because according to local tradition youth with strength is consider as good omen for family.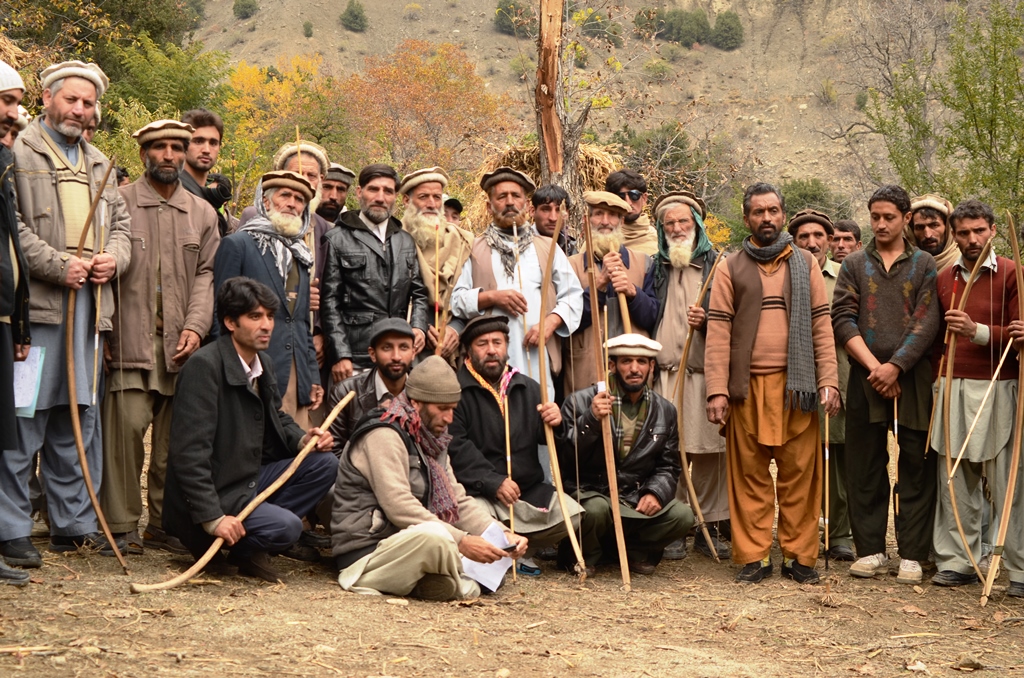 Archery has been century's old sport of local tribes' .In ancient times it was given shape of sport so that soldiers could keep them in practice and in case of battles with enemy they could mark enemy soldiers accurately and precisely and in the practice could produce naturally talented archers.
Other sports played during the event included Kasy (Single Legged Wrestling), Shiwat(Shot-put), Mountain Race and tug of war. Storytelling, ozal and singing were also among the highlights of the event.
Expressing the views the local community leader Mr. Syed said that both tribes are  thankful to CKU and Hashoo Foundation (HF) for reviving their indigenous culture and it is first time in their life time that any organization supported them conserve their culture. He further said that this is like shandoor festival for their region as it has bring lot of people to their area which is remotest and far-flung from the urban Centre's and hardly people from outside come to this region and this is first time due to efforts of CKU and HF people from other parts of Chitral come to Kalash despite of recent earth quakes and floods those have totally damaged roads and other communication mediums.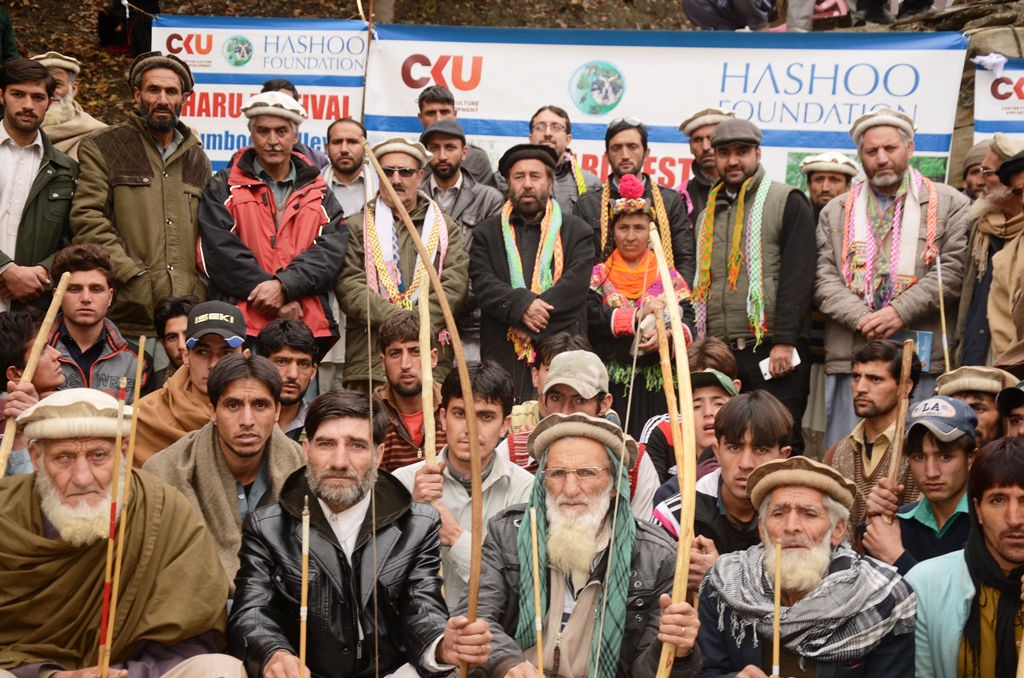 The festival was attended by Ms. Jam Shahi(newly elected women councilor as Chief guest) along with Mr. Shah Wali (,District forest officer) , Mr.Inayat,(newly elected union council Nazim) ,Mr Hussain Shah (Chairman Chitral Gole community Development & Conservation Society) and over whemeling  local community of Kalash & Sheikh khan tribes .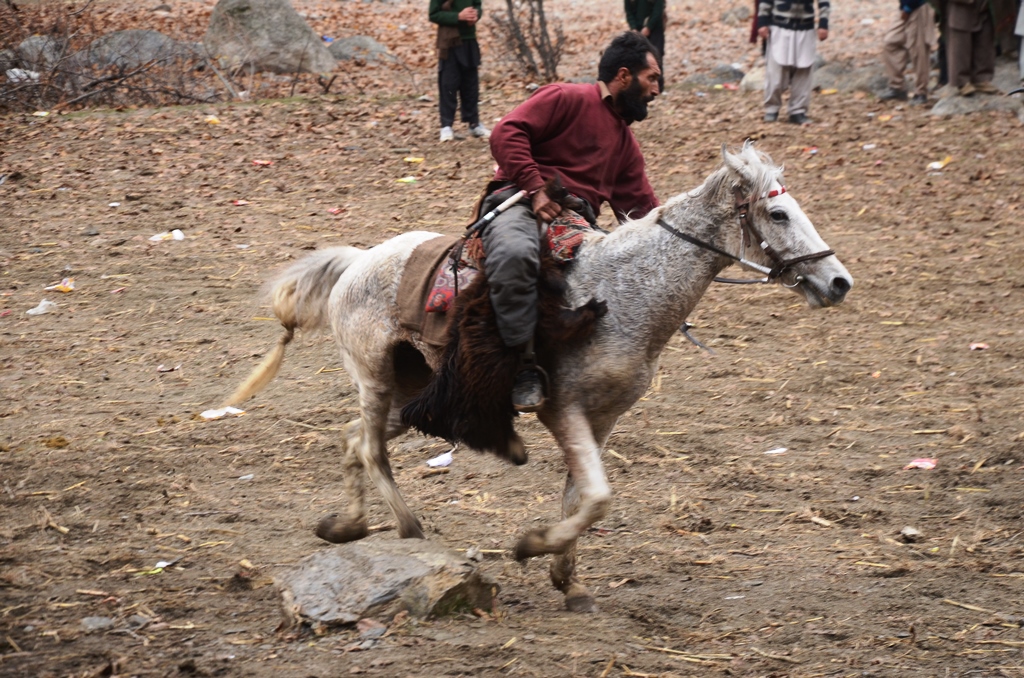 The festival was attended by almost 2000 local community members with enormous participation from the women of the area. Children also participated in the event and performed different role plays for the audience. During a day-long festival, different stalls were arranged consisting of local embroidery, arts and crafts items made by kalashi female artisan.
This festival was part of a series of events being organized in Gilgit-Baltistan (GB) and Chitral under the project being implemented by Hashoo Foundation (HF) in partnership with the Centre for Culture and Development (CKU). These efforts are being made towards reviving traditional festivals which are on the verge of extinctions.