Tents useless in severe cold, protesters demand shelters for earthquake victims of Phandar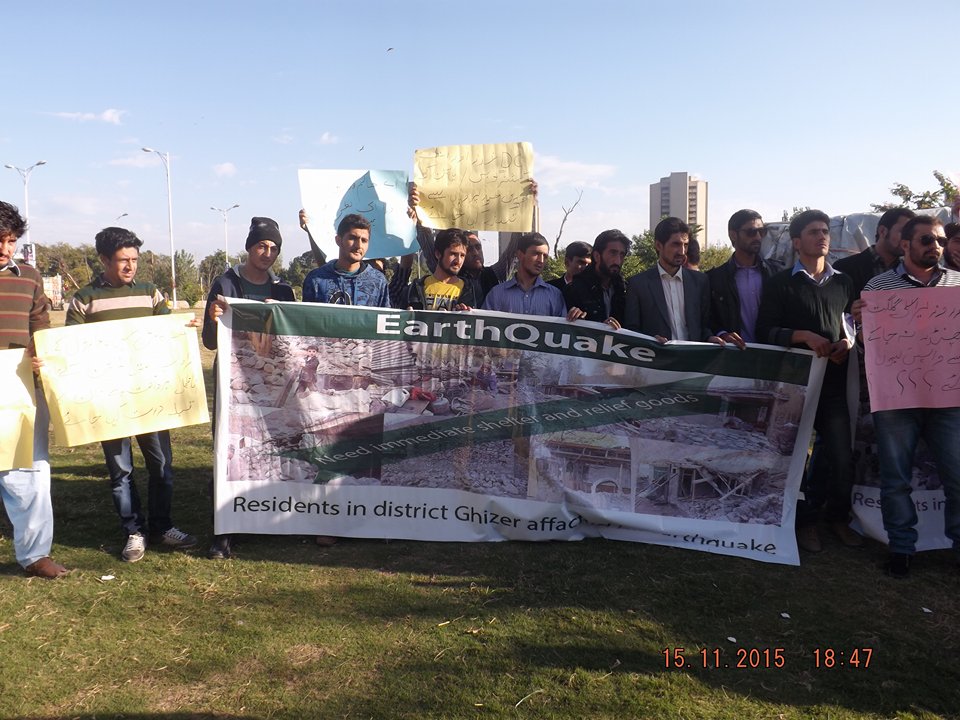 Islamabad: (PR) A protest demonstration was organized yesterday in Islamabad by the youth of Ghizar district living in the twin cities. The protesters deplored the 'government inaction' and demanded better treatment of the thousands of people who became homeless after the 7.5 magnitude earthquake on 26th October.
The protesters, belonging to the Ghizar Youth Welfare Organization, were carrying placards and banners, and spoke about the hardships of the earthquake people in the Phandar Valley and adjacent areas, where temperature has plummeted due to snowfall and severe winter cold.
The protesters put forth four demands, urging the federal and provincial governments for quick action. Their top demand was that the people in the high altitude regions cannot survive in tents. Therefore temporary shelters be installed/constructed for them, to help them survive during the winter, when temperature routinely stays below zero degree on the Celcius scale.
They also demanded declaration of 'emergency' in the affected areas of Ghizar district and making provisions for support under the extra-ordinary situation. They also demanded round-the-clock health facilities in the areas to ensure that pregnant women, elders, children and other patients don't have to travel for hours in search of hospitals. During snowfall, roads get blocked and people fail to travel outside of their village. The protesters demanded that the Ghizar-Gilgit road should be kept open all the time.
The protesters demanded that the students of families affected by the earthquake should be taught on government expenses, scholarships, at universities and colleges. They said that meager resources of the families have been lost as a result of the fatal earthquake and now many students are already feeling the economic constraints.