Make Gilgit-Baltistan the 5th province of Pakistan: APC Declaration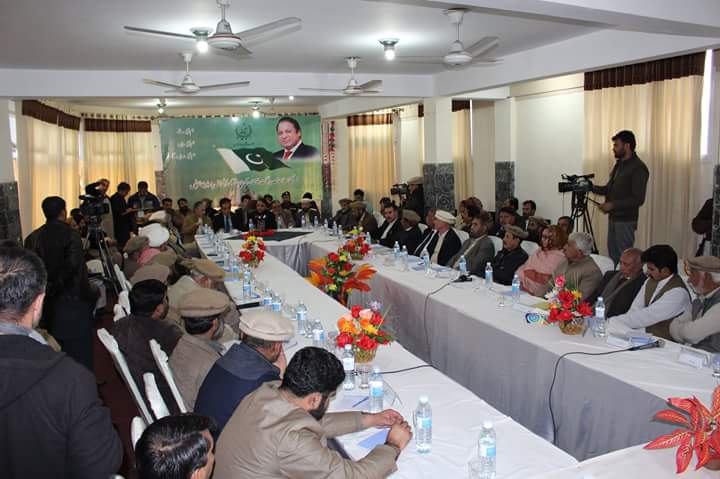 Gilgit: Majority of the participants of an All Parties Conference held in Giglit today have demanded that Gilgit-Baltistan be made the fifth province of Pakistan. A declaration issued at the end of the conference has said that keeping Gilgit-Baltstan deprived anymore will not be tolerated. The declaration of the conference is in-line with resolutions passed by the Gilgit-Baltistan Legislative Assembly in the past.
Speakers have deplored the state of human rights, constitutional rights and economic depravities in the region. They called for internal economic autonomy for the region, demanding constitutional, judicial and economic reforms.
Vast majority of the party representatives said that the people of Gilgit-Baltistan have suffered for long due to the constitutional and political limbo. They said that the government of Pakistan cannot continue to govern the region on past patterns. They said that while the two parts of Kashmir under Pakistani and Indian control are enjoying constitutional governance setups, the people of GB have been deprived of the right of self-governance and self-rule.
The speakers said that it is unwise and oppressive to keep the region's two million people disempowered and disconnected from decision-making bodies.
Nationalist and leftist leaders rejected the resolution. They said that making the region a province of Pakistan is not possible. They didn't sign the resolution passed at the end of the conference. The Nationalist and left leaning groups demanded resolution of the GB issue in-line with the UNCIP resolutions.
The All Parties Conference had been called by the GB government. It was attended by people from a large number of political and religious groups, including prominent PPP and PTI leaders. Leaders of MWM, Islami Tehreek, Shia Ulema Council, JUI, Jamat-e-Islami and others were also present.
MLA Nawaz Khan Naji of Balawaristan National Front, Advocate Ehsan Ali of Labour Party, International Socialists and Awami Action Tehreek, and Muhammad Javaed of KNM, Dr. Ghulam Abbas of GB National Movement and others were also present.  Leaders of various lawyer bodies were also present.