Reading for Children in Gilgit-Baltistan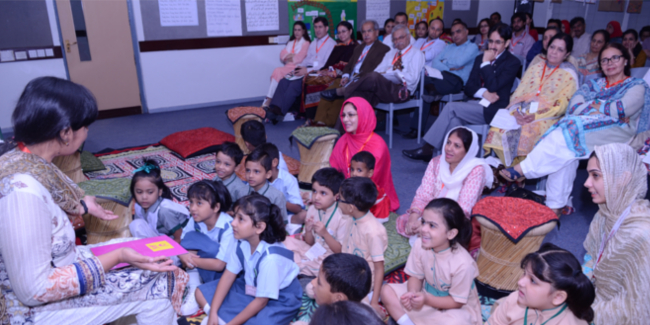 By Razia Sultana
All over the world too many children leave primary school unable to read and write. A number of factors hinder children having literary experiences including but not limited to, i) the lack of age appropriate/level appropriate books, ii) low literacy levels of parents/caregivers,  iii) the lack of a "culture" of reading at homes to children for enjoyment, and iv) lack of parental involvement in literacy activities and opportunities of children.
Aiming to provide young children of less privileged areas with age/level appropriate books, Strengthening Teacher Education in Pakistan (STEP), which is a multi-faceted intervention that seeks to improve the quality and delivery of elementary education appropriate to the poor, particularly women and children, has delivered the Aga Khan Development Network's (AKDN) Reading for Children (RfC) program.  This program has been implemented in Ghanche, Diamer, Hunza-Nagar and Ghizer with technical and administrative support of Aga Khan Education Service, Pakistan (AKES,P). Department of Foreign Affairs, Trade and Development, Canada (DFATD) is funding the activities of RfC in Gilgit-Baltistan. The Reading for Children is a one year program which responds to the fact that being read to as a child is one of the sturdiest predictors of later academic success. What happens in school is important, but if we wait to tackle the problem until children are in school it is too late.
Under this program 49 community-managed libraries have been established in 31 Government schools and 18 AKES, P schools selected as cluster centers that benefit children in schools in the vicinity of respective clusters.  More than 500 books both in English and Urdu have been provided to these schools. Children, parents, caregivers and other community members are accessing these libraries and have register themselves as members of library. This is indeed a step forward in bringing a revival in the reading culture which unfortunately seems diminishing as a result of younger children growing more accustomed to multifaceted technology than to spend time with books.
Reading is fundamental to a student's progress through the formal education process. If children are not reading fluently by the end of the third year of school they probably never will.  Yet little attention has been given to ensuring that all children become successful readers, including those who join school with no reading materials at homes and a mother tongue different to the language of instruction in school.
Research has demonstrated that family and home plays a significant role in a child's growth, wellbeing and learning. Family engagement is considered as a key to the success of early childhood development (ECD) and education efforts. The most important things that a parent can do to help their child acquire language, prepare their child for school, and instill a love of learning in their child, is to read to them (Russ et al., 2007). Reading to a child is one of the easiest ways to prevent future learning problems. Children who have been read to before they go to school and whose family members continue to read to them tend to outperform children who have not had such opportunities. These children tend to read early and, equally importantly, enjoy reading and books. Reading helps to develop children's cognitive abilities, language, literacy, and critical thinking, and communication, social and emotional skills. It helps children become confident learners.
The evidence about the benefits of parents being involved in their children's education in general, and their children's literacy activities in particular, is overwhelming. Research shows that parental involvement in their children's learning positively affects the child's performance at school (Fan & Chen, 2001) in both primary and secondary schools (Feinstein & Symons, 1999), leading to higher academic achievement, greater cognitive competence, greater problem-solving skills, greater school enjoyment, better school attendance and fewer behavioural problems at school (Melhuish, Sylva, Sammons 2001).
RfC started in March 2015 set to end in February 2016 expects to result in children with improved readiness for reading and school. It also expects enhanced literacy supports in homes, learning settings, strengthening parents'/caregivers' confidence in their abilities to support their children's development learning and the community benefitting multiple generations.
The contributor is the Coordinator of Reading for Children (RfC) project.