Youth urged to prepare for the impact of China Pakistan Economic Corridor (CPEC)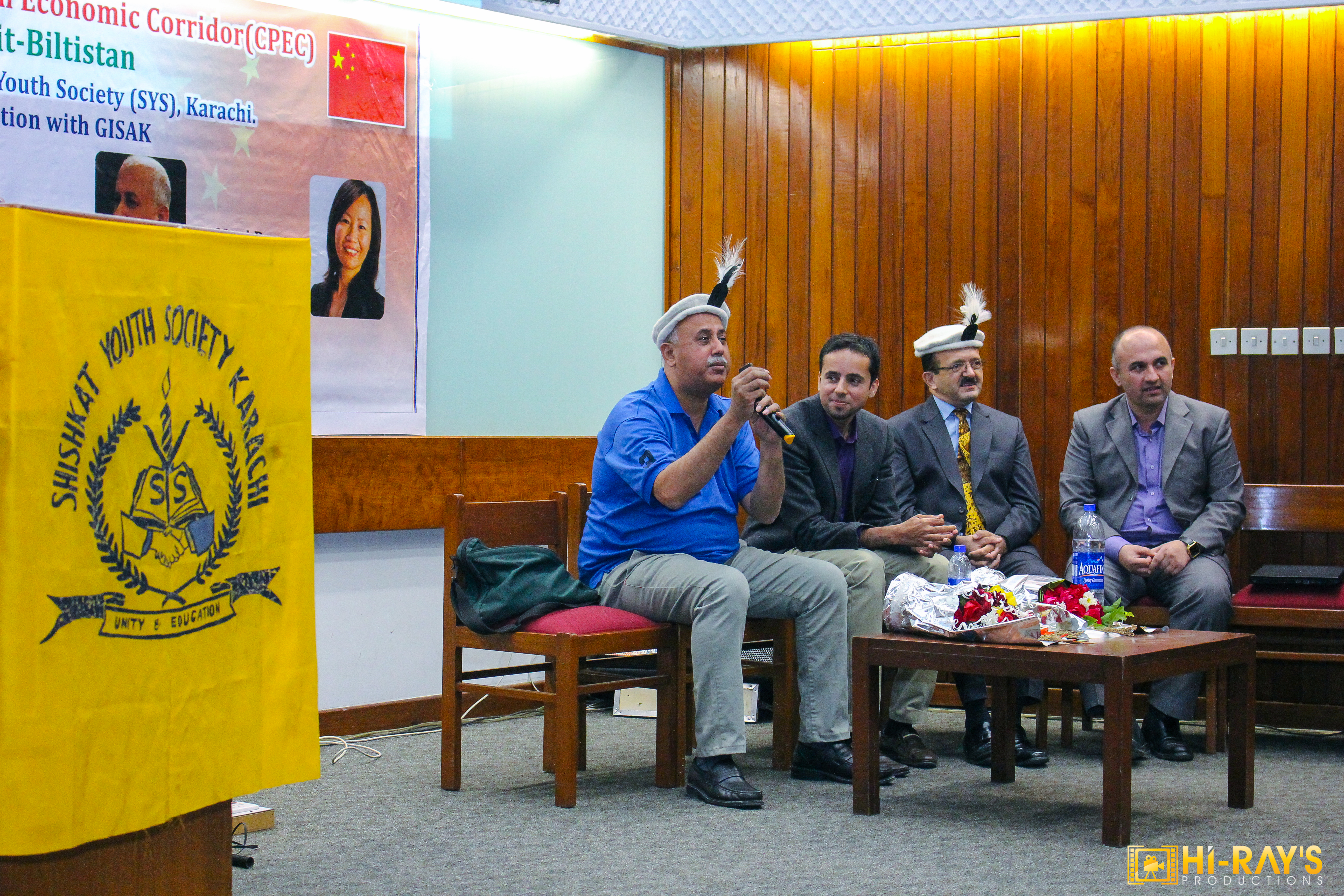 Anita Aziz
Karachi: Shishkat Youth Society (SYS) Karachi organized a seminar on impact of China Pakistan Economic Corridor (CPEC) on Gilgit-Baltistan at AKUH Karachi. The speakers included Wusat Ullah Khan, a prominent journalist and columnist affiliated with BBC Urdu and Dawn News, Col (Rtd) Zahid Hussain, Senior Research Fellow Sajjad Ahmed and Tasawur Karim Baig.
The speakers shared their opinion about the opportunities that the CPEC will offer for Pakistan and specifically Gilgit-Baltistan. Wusat Ullah Khan said that there is a chance for the people of GB to have their say in CPEC and ask for their due rights. CPEC is totally dependent on GB, without representation in mainstream politics and in CPEC committee the voice of GB will remain unheard.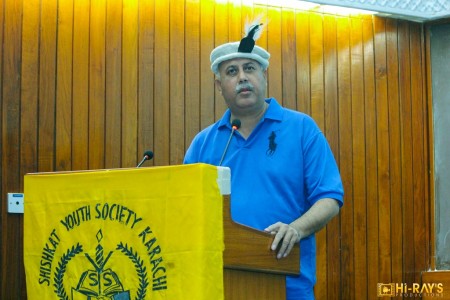 Col(Rtd) Zahid also highlighted the impacts of CPEC on Gilgit-Baltistan. He said the mega projects will also have adverse effect on environment and wildlife due to increasing air and noise pollution. The increased movement of people will also have more security concerns for the local communities.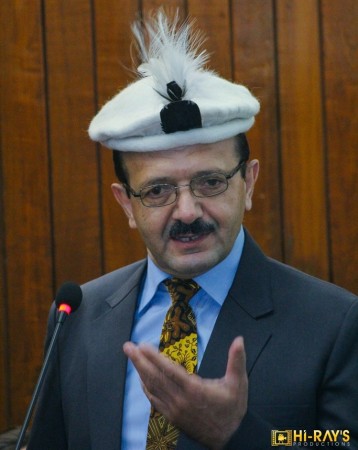 Tasawur Karim Baig and Sajad Ahmed emphasized on the youth to prepare themselves for the opportunities. CPEC include mega infrastructures like dams, hydro power houses, roads and railway lines, the youth should be prepared and optimistic about these opportunities.
Waqar Ahmed, anchor person and journalist famous for Safer Hay Shart program on Express TV, shared his views through a video message.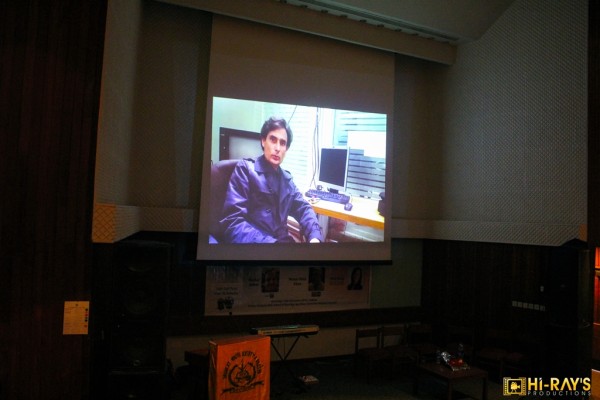 Mazhar Abbas, renowned analyst, could not participate due to personal reasons. Maxi Rong, Executive Director of ZZCC, could not participate due to an urgent meeting in Islamabad. She promised to share her knowledge on CPEC during any other future program. She has also promised to conduct Chinese language classes for Shishkat Youth Society (SYS).
Earlier, a brief presentation was shared with audience about the activities of SYS and its pivotal role in educating the youth. A short documentary was shown on CPEC highlighting the mega projects and infrastructures that have been planned in Pakistan.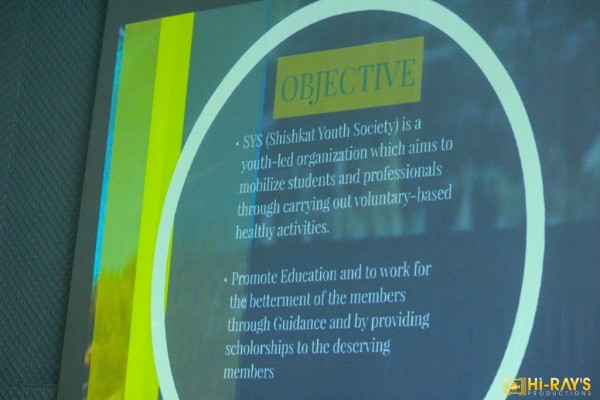 The event formally started with recitation of verses from the Holy Quran followed by prayer for late Fazal Ali, a legendary sports man who died on 23 December. The guests were presented with traditional caps of Hunza by Amir Ali, ex-president SYS and local teacher Mashkhool Alam.
The event was attended by large number of students, professionals and people from different walk of life.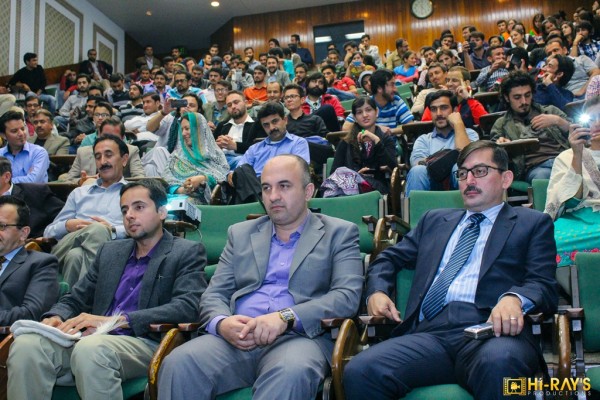 Live Sufi music was performed by Rustam Khan and Irfan Karim bahadur.
It is here to mention that after the huge loss in Attaabad Disaster , Shishkat Development Organization (SDO) and Shishkat Youth Society (SYS) Karachi decided to cope with this worse situation by empowering their youth through different socio-economic, cultural and quality educational activities in Hunza and different cities of Pakistan with the motto, "Disaster should not diminish our hope, let's rise again!"
After successful events like cricket tournament in Islamabad and fundraising musical program for scholarships, SYS took the initiative to prepare not only the youth of Shishkat but also youth from Hunza for the upcoming opportunities of Pak-China Economic Corridor (CPEC).