High achievers from Gojal honored during GECA event in Islamabad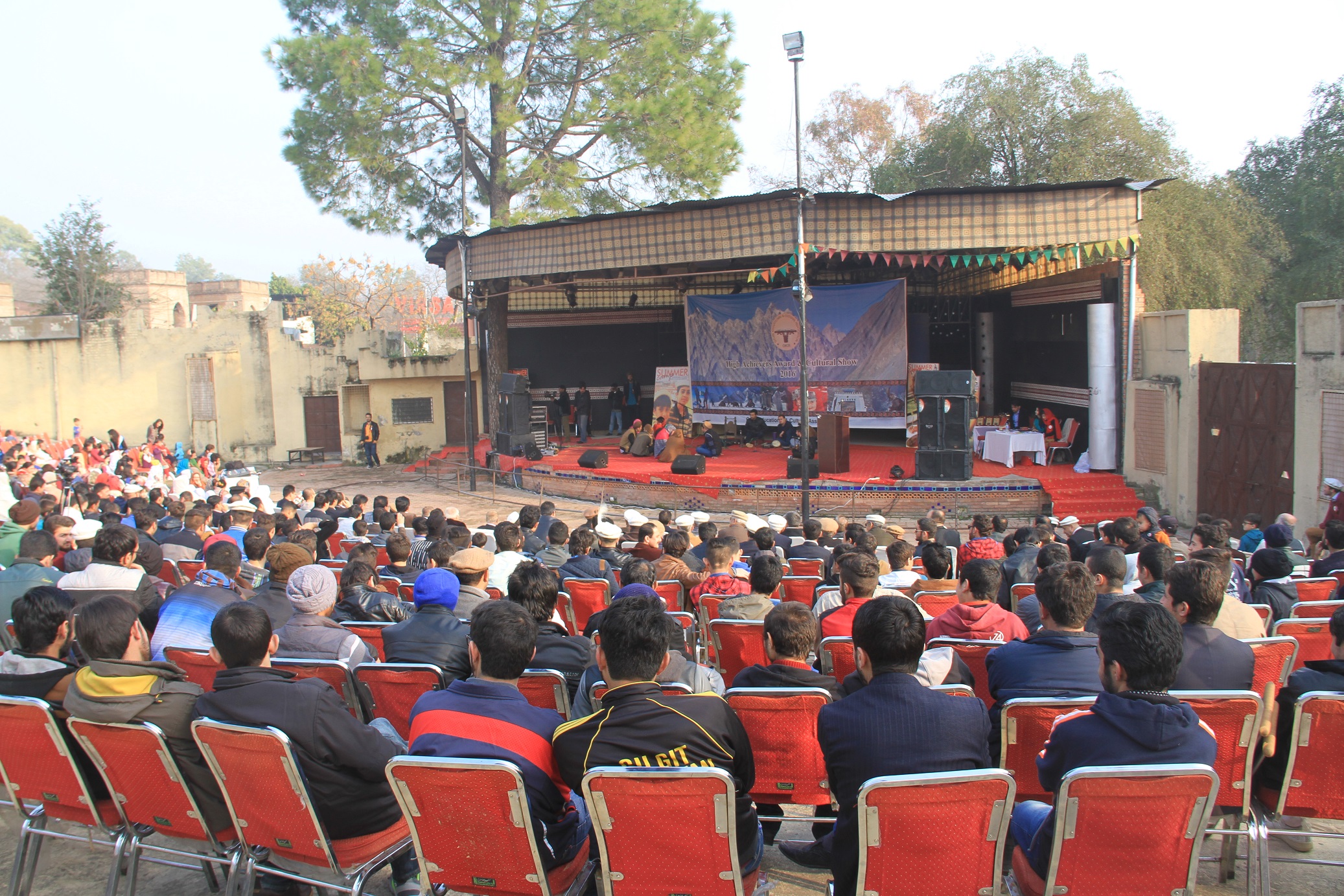 Islamabad: The Gojal Educational and Cultural Association organized an award ceremony and a cultural show in the federal capital to honor the students, professionals and community leaders who have either achieved personal success, or helped the community's development.
Governor of Gilgit-Baltistan, Mir Ghazanfar Ali Khan, was the chief guest of the event, while Major General (r) Professor Dr. Salman Ali was the guest of honor. MLA Rani Ateeqa Ghazanfar, PPP leader Zafar Iqbal, Lok Virsa Director Dr. Fauzia Syed, KADO Chairman Amjad Ayub, Shah Saleem Khan, and Raja Shahbaz Khan were also present among other dignitaries.
Awards were distributed among students and professionals for winning gold medals in different universities. Community leaders, journalists and cultural activists were also presented with awards in honor of their services.
Among the recipients of the awards were Professor Salman Ali, teacher Ali Panah, poet Ahmad Riaz, seasoned journalist Farman Ali, Kamil Jan for social work, Fazal Ali for social work, Rehmatullah Baig for social work, poet Saifuddin Saif, mountaineer Samina Baig, cricket and football player Diana Baig, mountaineer and youth activist Mirza Ali,  cultural activist Karim Khan Saka, mixed-martial arts athlete Uloomi Karim Shaheen, Nilofer Raza (Gold Medalist from NUST), Maryam (Gold Medalist from QAU), Ghazala Bibi (Gold Medal), to name a few. Awards were also presented to village based youth organizations of Shishkat and Ghulkin.

Speaking at the occasion, Chief Guest Mir Ghazanfar said that he will makes efforts to benefit the region from the China-Pakistan Economic Corridor. He said that various development projects are under consideration as part of the CPEC initiative. He promised to make efforts for constructing a hostel for girls in Islamabad.
Major General (r) Salman Ali in his remarks urged the youth of Gilgit-Baltistan to respect their cultural values and uphold the values of honesty, uprightness, dedication and hardwork. He said that the youth have a responsibility to contribute towards collective development of the society.
Zafar Iqbal, former MD NATCO and senior vice president of PPP Gilgit-Baltistan, also shared his and hoped that the projects being promised under the CPEC initiative will see light of the day. He said that the region's economic development and protection of rights is of paramount importance.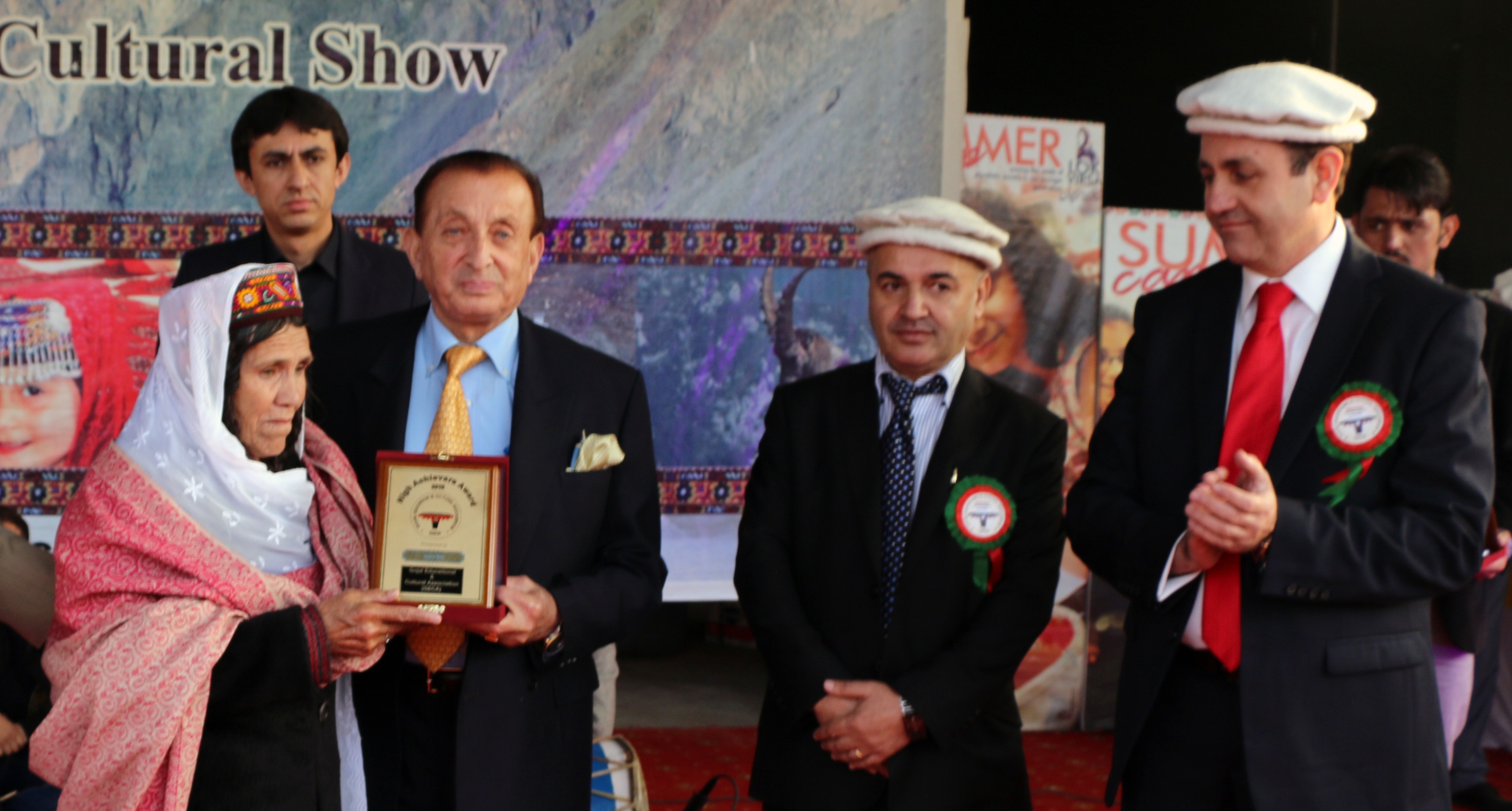 Singers of Wakhi and Burushaski language, as well as poets and drama artists presented various items during the daylong event, while elders and youth also danced to the tune of traditional music. A number of foreigners were also present in the audience, while a Chinese national enthralled the audience by playing a tune on a traditional Chinese flute.
Earlier, GECA's president Mehrban Karim shared details about the organization's performance and activities, and also highlighted different issues being faced by the people of Gojal, Hunza.
GECA is a community organization active in the federal capital and it organizes cultural and educational events every now and then.