Corruption Charges: NAB approves probe against Gilgit-Baltistan's ex Education Minister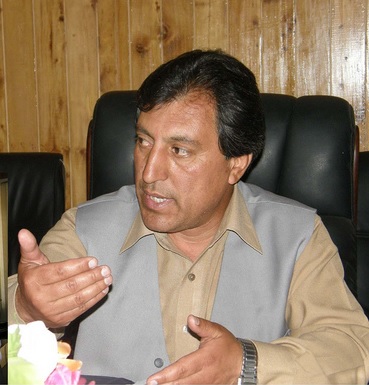 Safdar Ali Safdar
Gilgit: The National Accountability Bureau (NAB) on Tuesday has reportedly approved launching an inquiry against Gilgit-Baltistan's former education Minister Ali Madad Sher for allegedly being involved in corruption, selling of jobs and making huge property through illegal means during the Pakistan People's Party (PPP) regime.
According to Daily K2, a leading Urdu newspaper of GB, the decision was taken by NAB Executive Board chaired by NAB Chairman Qamar Zaman Chaudhry in Islamabad. The top officials were reportedly told that NAB has received numerous complaints and sufficient information and evidences against the former minister for getting money through selling of government jobs and making huge property beyond his means, allegedly through illegal means.
Sources have told the regional newspaper that since Sher is a politician and belongs to PPP, therefore getting approval from the NAB Executive Board was considered necessary before launching an inquiry against him.
According to sources Ali Madad Sher while exercising his powers as minister allegedly got money from many candidates promising them jobs as teachers and other staff. He also stands accused of not providing jobs to the candidates despite of taking money from them.
Meanwhile, a former deputy director of Education Shah Murad who is already in NAB custody has reportedly told NAB officials that he belongs to a poor family and has never been involved in illegal appointments of teachers in the Education Department.
"Whatever i have done was following the written and verbal orders of the ex Education Minister Ali Madad Sher and Chief Minister Syed Mehdi Shah's written and verbal orders", Murad has allegedly told the investigators.
Ali Madad Sher's cell phone was off when Pamir Times team wanted to contact him to get his version about the alleged corruption case, and the reports of probe against him.