Incomplete Sost High School Building: Locals urge NAB to take action against contractor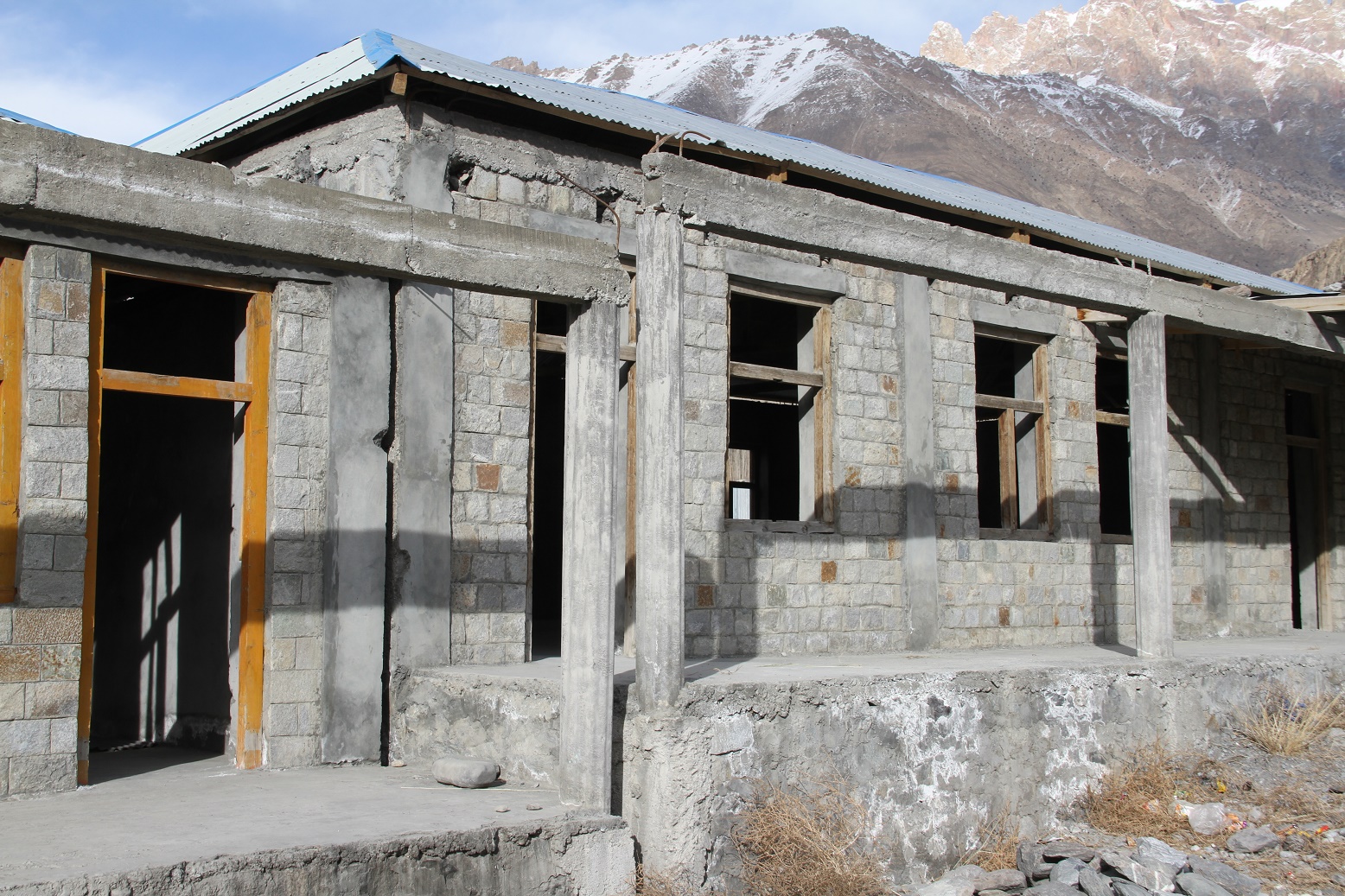 Gilgit: The incomplete building of Gilgit-Baltsitan Government Boys High School in Sost, the region's economic hub, is in dilapidated condition. Stones have started falling from the poorly done wall, while the rooms are without windows and doors. Roofs of a hall and some classrooms have been tinned by the the quality of work is so poor that it can fall off any time. The school's building has, reportedly, been shown 'completed' in official documents, and the contractor has vanished from the scene after collecting his money.
Some officials of the education department, requesting anonymity because they were not allowed to talk to the media, said that the school's building is not usable because it is incomplete, and the walls are already cracking.
Some locals present at the site told this scribe that the issue of the incomplete school building has in the past been raised in front of various high government dignitaries, including former CM Mehdi Shah and ex speaker Wazir Baig. The two leaders of the PPP-led coalition government had also visited the school site in the past to assess the situation. However, no action followed after their visit.
PTI Hunza's leader, Aziz Ahmad, responding to a question, said that it is time to take action against corrupt PWD officials and contractors. "There are many incomplete, poorly constructed buildings across Hunza, that have been shown 'complete' in government records, and the contractors have been paid already", he said. "Chipursan Road, on paper, is truck-able, but in reality even smaller vehicles cannot travel with ease on that road", Aziz added. He also mentioned that there is an incomplete primary school building in Jamalabad village. "Construction quality of the Moorkhun college building is also very poor", he added.
The contractor of the Sost High School building, about whom the locals don't know much, is believed to be some big-shot close to the top officials of the Public Works Department, and some political figures. He has reportedly, in connivance with the PWD and AGPR officials, taken out the entire cash, despite of the school's building being incomplete. Locals claim that no officer of PWD or AGPR has visited the area to inspect the building and verify its state of completion.
The school remains incomplete and the building is slowly crumbling. The high school classes are currently been run in the Middle School's building, where space is limited, and many facilities are missing.
The locals of Sost and adjacent areas, who were hoping to send their children to the high school for studies, have expressed dismay and hopelessness at the state of affairs. They have urged the NAB authorities to investigate the case and punish the people behind wastage of public resources.