Conference on entrepreneurship held at KIU, Gilgit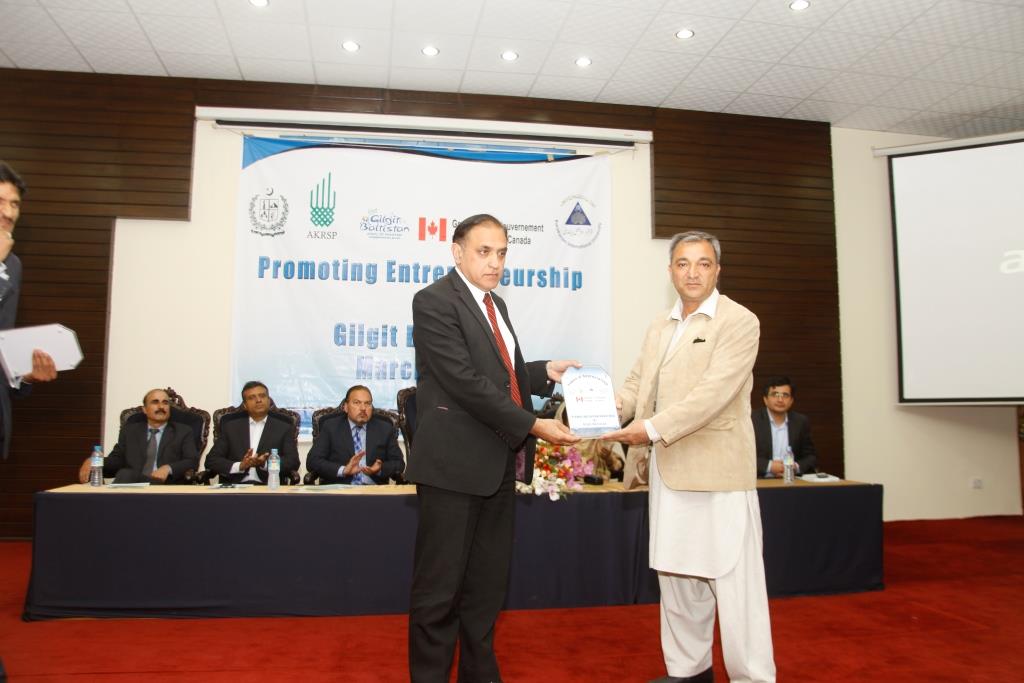 By Kosar Bano 
Gilgit: AKRSP in collaboration with Karakoram International University (KIU), Tourism, Youth Affairs, Sports and Culture Department of GB Government organized a one day conference on promoting entrepreneurship in GB at Karakurum International University, Gilgit under the The Enhancing Employability and Leadership for Youth (EELY) supported by Government of Canada, Global Affairs Canada (formerly DFATD).
EELY is contributing to this ultimate outcome through two complementary components: youth employability and youth Participation as leaders. The youth employability component seeks to enhance professional skills development and enterprise support services. AKRSP has enhanced the entrepreneurial skill and created linkages between youth and local market arena in-order to promote self-employment opportunities for the potential youth of GBC. AKRSP Gilgit region has trained 1990 youth(young man & young women) in entrepreneurship and awarded 147 youth through youth micro challenge award ( economic component).
Conference started with formal opening remarks by Jamil Hissam uddin, Regional programme manager AKRSP, Gilgit region about the Youth Entrepreneurship Campaign He said that it is an initiative of the Aga Khan Rural Support Programme, addresses the existing inadequate economic activity and employment opportunities in GB by inspiring and influencing the attitudes of all segments of society, especially youth, towards entrepreneurial activities and start-up ventures. AKRSP's experience of over three decades suggests that youth do not make work related decisions independently; rather 75% of them are biased towards a narrow conception of career paths. It is believed that changing perceptions of youth about business as a source of livelihood and creating awareness on the need and benefits of entrepreneurial activities, can drive youth towards adopting alternative and relatively more profitable sources of livelihoods, which has the potential to not only fulfill their family needs but also contribute to the GB's economy, especially in the light of emerging business opportunities under CPEC.
Some of male and female participants of entrepreneurship training programme shared their experiences of training and their journey of entrepreneurship with the audience that how they started businesses and tackling the societal issues. They recommended for more trainings and credit facilities at door step with low-interest rates.
Deputy Secretary Tourism sports and culture department briefed the audience about the initiatives of government to empower youth in different sectors i. e loans, youth help line etc.
Acting Vice chancellor KIU Mrs Naqvi, Mahfoozullah and chairman business incubation center Mr Ilyas highlighted the efforts of KIU in promoting entrepreneurship in GB. Chief guest MR Iqbal, Minister Works appreciated the efforts of AKDN in journal and AKRSP particularly. He mentioned that concept of community participation in development activities was driven by AKRSP which resulted   sustainable initiatives across GB. Mementos were distributed to inspirational entrepeneurs like Hunza furniture, High land Gaba foods, Vivdle, Sunrise jems and jewelry group, Women economic Empowerment Initiative, Serena hotels and Karakurum Bank. At the end Yasmeen Kareem, Programme manager gender and development thanked all for organizing successful event.