Karachi: Protesters demand release of Baba Jan and eleven others 'political prisoners'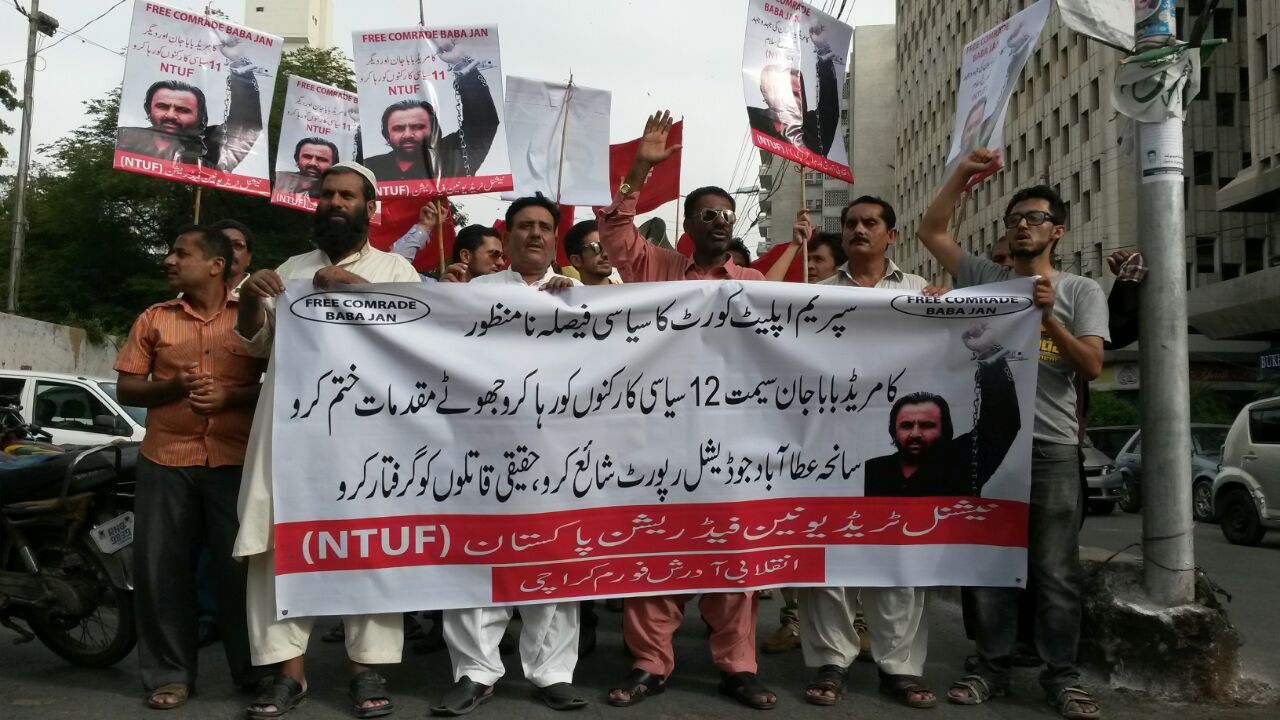 KARACHI, June 14: (PR) Gilgit-Baltistan Supreme Appellate Court's upholding of life sentence to revolutionary leader Comrade Baba Jan and barring him from partaking in the Hunza's by-election are sheer examples of killing of justice at the hands of judiciary, said labor leaders while addressing a protest outside Karachi Press Club on Tuesday. The government, using its machinery, was putting in all possible efforts just to keep Baba Jan away from polls, they observed, demanding that the revolutionary leader and his 11 incarcerated associates should immediately be released from prison. The protest was jointly organized by National Trade Union Federation and Inqilabi Adarsh Forum.
A large number of laborers, including women, belonging to different sectors took part in the protest while Rafiq Baloch, NTUF president, lead it. Addressing on the occasion, the labor leaders said that Baba Jan was a leader of the working class and was liked by all and sundry in Gilgit-Baltistan. He always raised his voice for the rights of people and is behind bars for the very same reason, they deplored. Shedding light on the profile of Baba Jan, speakers said that he was leading a movement for the rights of those who were displaced in the land sliding in the Gojal valley in January 2010. As a result of this land sliding, a lake was formed which is now known as Attabad Lake. The government, at that time, had pledged compensation to the thousand of affectees of the land sliding but it was never fulfilled, the speakers described, adding that when Baba Jan moved for the rights of the displaced people, the government met him with extreme force. During such a protest in Gilgit-Baltistan, the police opened fire on the demonstration, killing a father and his son, Afzal Baig, the labor leaders addressing on Tuesday told. When people took to streets in reaction to these killings, the authorities instead of arresting the murderers, arrested Baba Jan and others, the speakers added, saying that those arrested were later booked in false cases under Anti-Terrorism Act.
The speakers said that the protest against this injustice had spread across the world and even the renowned American philosopher Noam Chomsky was involved in it. They added that the government was employing a criminal silence on this issue. They lashed out at the previous and present governments for lying about having no prisoners in jail on political grounds. The example of Baba Jan in prison is a slap on the faces of these hypocrites, they said. They added that all these political parties in power complain about having being thrashed or victimized in the era of military rule, however, what they have done in Gilgit-Baltistan suggests that they are no less than a dictator. They said that people in Gilgit-Baltistan have watched the real faces of these feudalistic and arrogant rulers. The people are now aware of the fact that these politicians could go to any level and thus were using state machinery to crush the movement of people led by Baba Jan.
They said that working-class people were not afraid of any action by the government and were sticking to the cause of getting Baba Jan released from prison no matter how long or how arduous does it take. They demanded: Baba Jan and 11 others political prisoners should be released immediately GB Supreme Appellate Court's decision should be overturned and Baba Jan should be allowed to take part in by election The murderers of Afzal Baig and his elderly father should be brought in the court of justice GB people should be given their due rights.
Those who spoke include: Central president Baloch, deputy general secretary Nasir Mansoor, Sindh president Gul Rehman and Riaz Abbasi, among others.