Chitral: Women protest to save their houses and walnut trees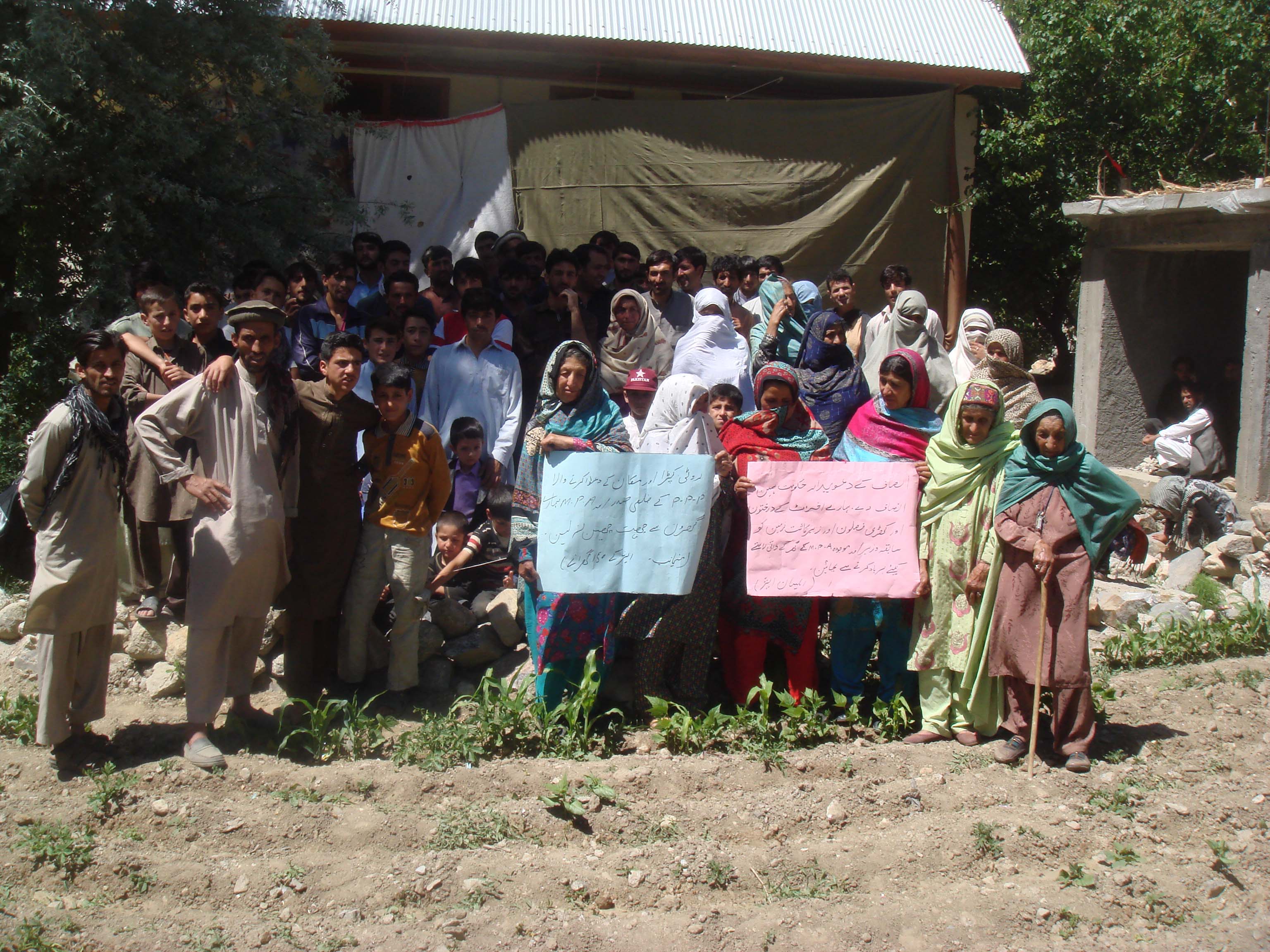 By Gul Hamaad Farooqi
CHITRAL: Women and men of Eizj village in Garamchishma protested against the district administration and Communication and Works (C&W)  department. Carrying banners and placards, they appealed to the KP Govt to save their only house and walnut tree from being chopped down.
Residents of Eizx village of Garamchishma including women folk peacefully protested in front of their houses and walnut trees. They said that MPA Saleem Khan was constructing a road to his house and village for his personal use.  They said that there is already a wide road to his village. They accused the MPA of taking 'revenge' because residents of the village didn't vote for him, they said.
They said that the MPA allegedly pressurized district administration and Deputy commissioner Chitral and imposed section 4 for forcibly occupying our land for this road which is totally injustice. They said that there are 30 houses in the MPA's village, Kandojal, but that he was demolishing 150 houses with hundred of walnut trees which are full of fruit to construct the road.
An old widow lady told this scribe that her husband and son both died and that she has some orphan children oliving in a small house. She said that MPA Saleem Khan also demolishing the house and that she had not been compensated.
The protesters alleged that communication and works department  on directive of DC Chitral started works on this road and are now chopping down trees in large numbers.
They said that some 37 crore (370 million) rupees are being spent on the road for only "one person". They said that this amount should instead be spent on the main Garamchishma road which is totally washed away by flood.
Divisional Forest Officer Chitral Muhammad Saleem Marwat told this scribe that there is a clear cut policy for cutting down walnut trees.  Even if walnut tree is standing in personal land of any individual and he wants to cut it he should to submit a written application of DFO and after analyzing the tree's condition an NOC is released.
Our correspondent also contacted Executive Engineer of C&W and DC Chitral to take their version but they chose not to talk on the issue. 
Affected people of Eizj village appealed to the Chief Justice Peshawar High court and Chief Minister KP urging them to take action in this regard.  They said that KP Govt claims of spending billions of rupees on aforestation but on the other hand they cutting walnut tree which is banned in forest rules.