My cap, My Pride: The Women's Caps from Gigit-Baltistan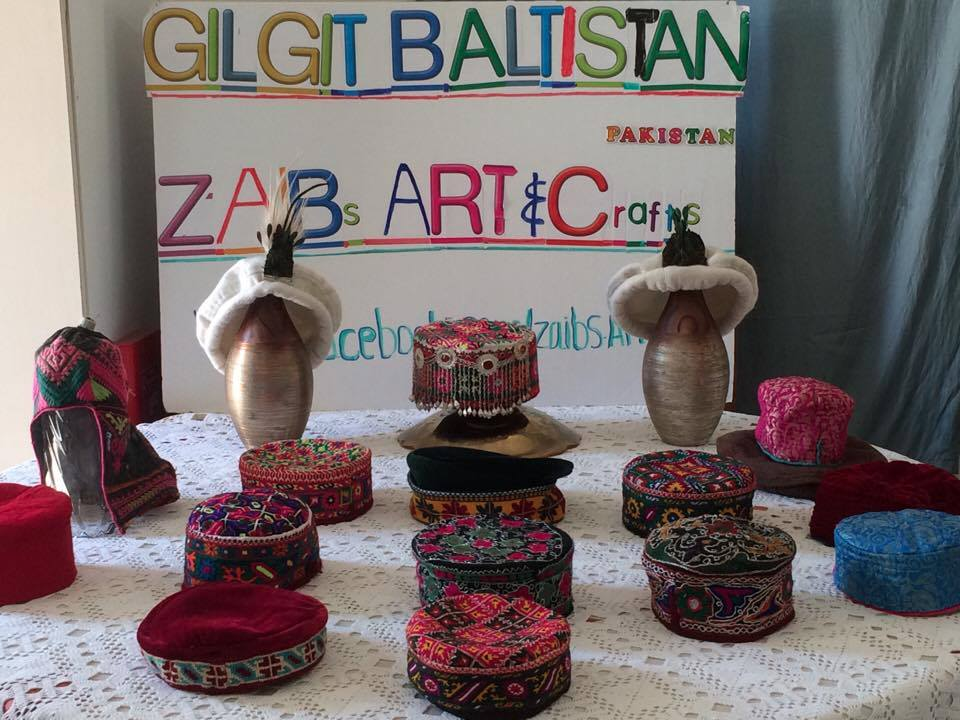 Zaib R. Mir
Gilgit-Baltistan has an incredibly rich and diverse cultural heritage. The colorful cultural  heritage of the region is visible in the local customs, local festival , music and traditional dresses. The unique cultural heritage, has attracted people from all over the world.
The colorful caps of women have become one of the most recognizable symbols of the people of Gilgit-Baltistan.
Caps, as symbols, can be full of meanings. They make a statement about our identity and define our place in the comity of cultures. A cap can reveal  the  origin of a person  and his cultural links. The shapes , designs , embroidery and the  materials that are used to create the caps make them a piece of art. Knowing about traditional caps can give us knowledge  about our historical links and cultural heritage.
The caps of Gilgit Baltistan have their  influence from the neighboring China, central Asia, Iran and turkey. In addition slight variations in the caps of different region make them distinct from each other but shows the close linkage between the tradtions of different regions. Every cap has a specific  name in  major languages of the area.  The material used , type of embroidery and design of caps also have some variations in different regions of Gilgit  Baltistan. Very little information is available about these variations in different regions.
Traditional  Iraghi Cap
It has different names in regional languages. In Shina  and Khowar language of upper Ghizer It is called Khoi , in Brushaski  ( in Hunza , Nager and Yasin) it is called Phartsun or Pharsen whereas in wahki  it is called  sekeed  .  Iraghi cap is the most elegant cap.It is made with beautiful , delicate embroidery. Traditionally silk thread was used to embroider on a thick cotton fabric. The beautiful colors and designs of embroidery are very distinct. Now a days  embroidery is made on doosooti and charsooti  cloth for making the caps. It takes 3 – 4  months of 2-3 hours daily  hard work to make traditional Iraghi cap.  It is an integral part of brides dress in the region. The regional difference of the cap can be identified by the height of the cap. In hunza, The head band or Totur  (which is called preshu in upper ghizer  ) is narrow or  shorter, while in other parts of the region specially in Ghizer  the preshu is wider and taller. The taller headbaned used to be considered a symbol of grace in Ghizer traditionally.
The piece of pure silver jewelry worn in front of the Iraghi cap is called SILSILA in Gilgit, Hunza and Ghizer and tumar in Baltistan. It seems Silsila has  close linkage to central asia. Similar kind of jewelry is used in Tajikistan, Badakhshan and other parts of central Asia. It is made from pure silver by local jewllers. It is specially made for weddings , and hundreds of years old family owened Silsila are inherited from generation to generation. It is a symbol of family pride.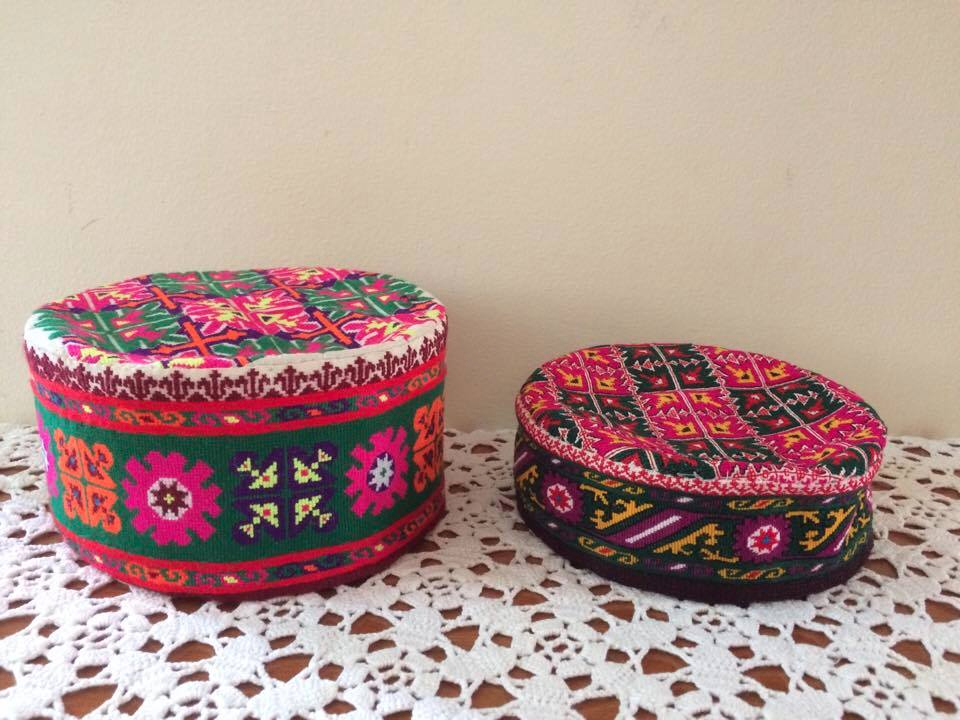 Ghizer Iraghi cap (Left) and Hunza Iraghi cap (right)
Parts of Traditional cap of Gilgit Baltistan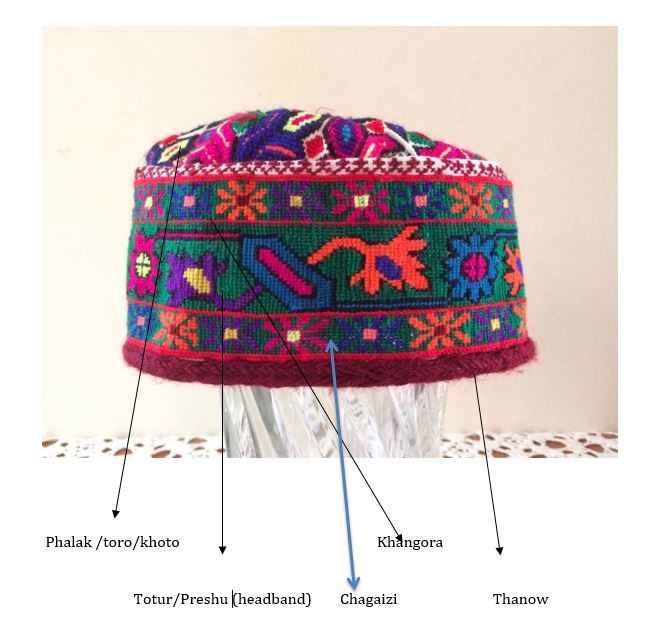 Qalami cap
The embroidery  done on this type of cap is Qalami. This type of embroidery is relatively easier than Iraghi. It is done on relatively thick white cotton cloth. The design is traced by a pen or pencil ( Qalam means pen).  The embroidery is done by hand on the traced design.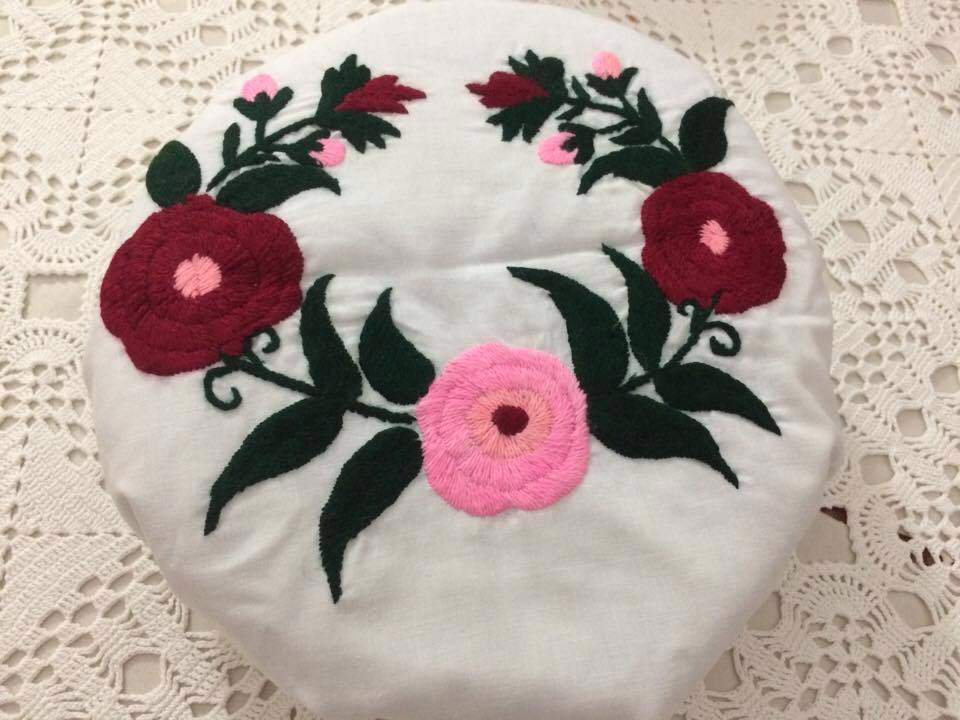 Qalami style embroidery
Plain Cap,
This is a simple version of traditional cap. Traditionally no embroidery is used on plain cap. It is made from colorful cloths. It is easy to make and less time consuming and not costly . Traditionally bright colour valvet or other cloth is used to make the plain cap.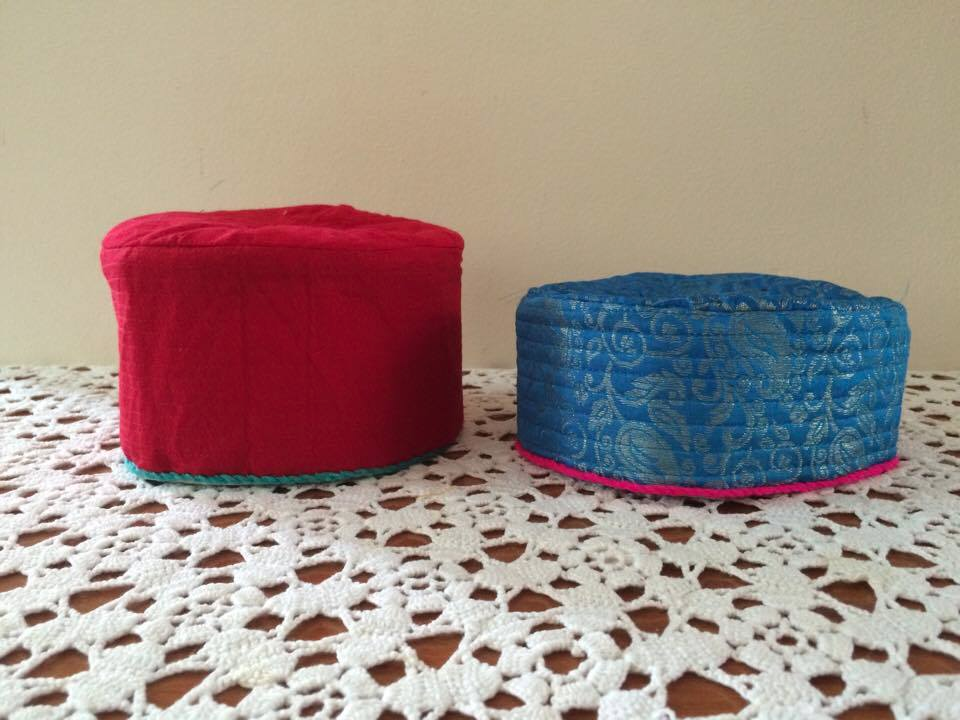 Plain cap 
Philtai or phultai cap
This is another form of  traditional cap,  It has its roots in Tajikistan and wakhaan. It is mainly worn by  ladies in wakhi area of Ishkoman vally in Ghizer and also in Gojal. Small strings are passed inside the head band. It is hand made, but there is no embroidery on it. Mostly bright single color velvet is used in this type of cap.
Zardozi cap
I had written in a previous article about need of preservation of zardozi. This kind of traditional embroidery is fading away from Gilgit Baltistan. It is almost impossible to find this kind of art and craft production Gilgit market or handicraft stores in Hunza. Basically Silver or golden thread, called Kalabatu or qalabatu is used in this kind of embroidery. This was used mainly to make traditional caps. This is the form of embroidery which has disappeared . because of lack of  economic interest, time consumption, lack of interest of new generation  and many other reasons. Hardly a few artisans  from our older generation are alive in Ghizar valley who can  tell and teach about this form . Urgent action is action is required to preserve this centuries old  form of embroidery of our are. I would request NGOs,  and people who are interested in preserving our thousands years old history and art to come forward to preserve  zardozi.
Nating from Baltistan
In  Baltistan woman wear a beautiful spherical cap. It is called Nating in local language.  Embroidery or silver colour lower boundery of the cap makes it very beautiful. They wear a piece of jewelry in front of the cap.  The piece of jewlary is called tumar. Tumar is usually made of pure silver by native jewelers.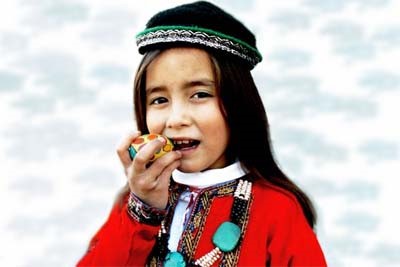 Inovation in the traditional cap 
KADO has introduce new innovative design in the traditional cap to attract the young generation and non local and international buyers. In this new design velvet is used as base material. Iraghi embroidered headband is attached to the base material.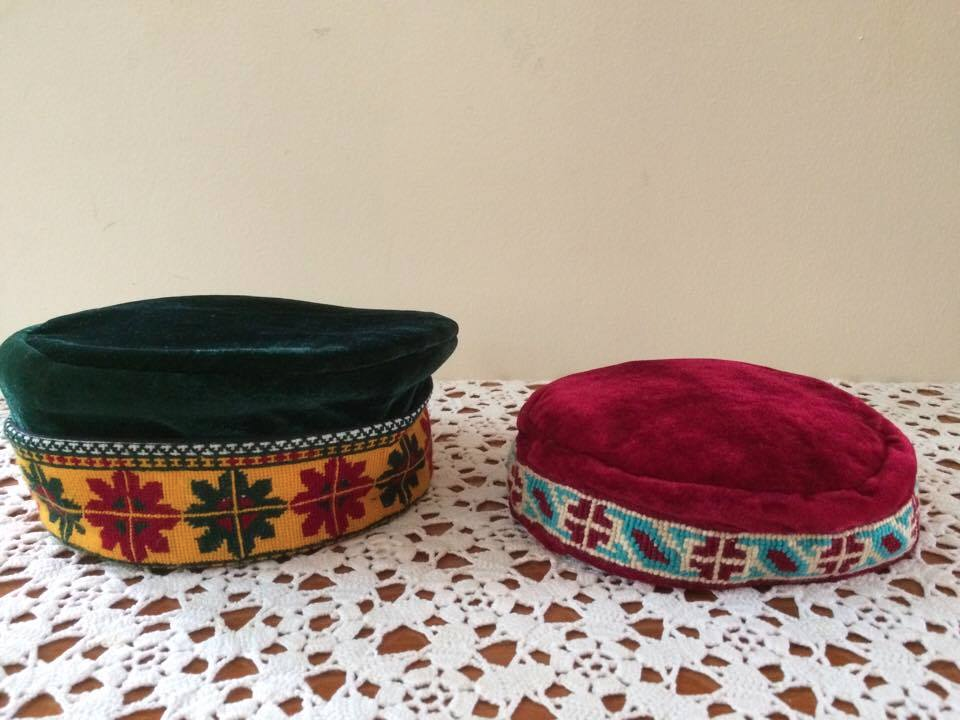 Perak
Perak is  historical ceremonial headdress was worn in region of Baltistan and Ladakh. Perak is made of strap of leather and cloths.  It is covered by stones like lapis lazuli, corals and turquoise. This kind of cap has disappeared from the region. I had seen a perak in a local hand craft shop at Hotel Serena in Gilgit.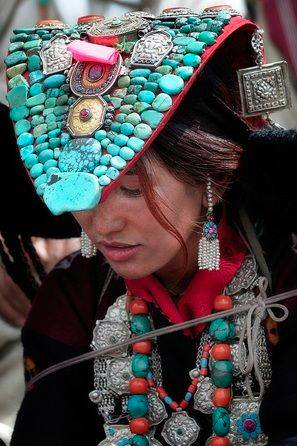 Dayani Gujjuri or Gujori Cap
Gujjar tribe is a very important tribe which is concentrated in the Indo-Gangetic plains, the Himalayan region,  eastern parts of Afghanistan, and parts of  Gilgit Baltistan. Darmander in Ghizer is one of the many places where almost 100 percent population consist  Gujjar tribe. Gujjars also live in Qumri, Minimerg and other parts of Diamer and nalter in Gigit. Gujjars are mostly herdsman by occupation. Gujjar are very hard working hospitable people. Gujjar headdress or cap is very unique in its design. It is called Dayani.The cap is designed to fully cover the hair. There is extension of cap on backside to covers the hair on the back. The  cap has beautiful embroidery and sometimes jewelry and ornaments are attached to it.
Dayani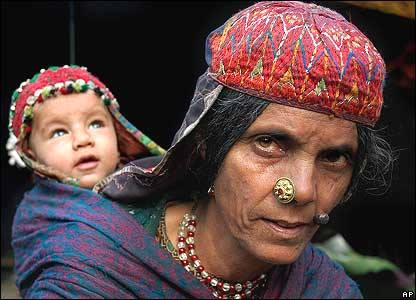 Role of local Artisans  and artists
Thanks to the local artisans and artists who have kept our cultural heritage alive for centuries without any significant economic benefits. The amount of work these people do in this regard is enormous. It is  very recently that some  of these artists have started earning a negligible amount of money for their work. Majority of the artisans still don't have access to the handicraft market. 
Role of local handicraft shops in promotion of our cultural heritage,
Over time the handicraft shops have played a very major role in the preservation and promotion of our cultural heritage. They introduce and sell our handicrafts to local and international tourists. They play a key role in the preservation of our antique embroidery, traditional dresses and other objects. Gilgit Hunza arts and handicrafts international is one of those many shops. It has the privilege of being located in the luxurious Serena hotel, so it has more exposure to the international tourist. We should appreciate the services of all these handicraft shops that are playing their role in this regard.
Role of NGOs 
In recent year local and international NGOs have played significant role in preservation and promotion of our cultural heritage. KADO and Aga Khan Foundation are two major NGO in this regard.
Role of provincial Government
 Provincial government can play a major role to promote and preserve our cultural linkage. They need to work to establish small local businesses and industry of handicrafts which can improve the economic conditions of our people. Thanks to the present government for celebrating my Cap day on September 1 , 2016. This will play a role in signifying the importance of our cultural heritage.
Zaib R. Mir is a needle and thread Artist and Artisan from Ghizer. At present she lives in Muscat, Oman. She works actively to promote and preserve the cultural heritage of Pakistan.