Critical Thinking and Problem Solving Training for Teachers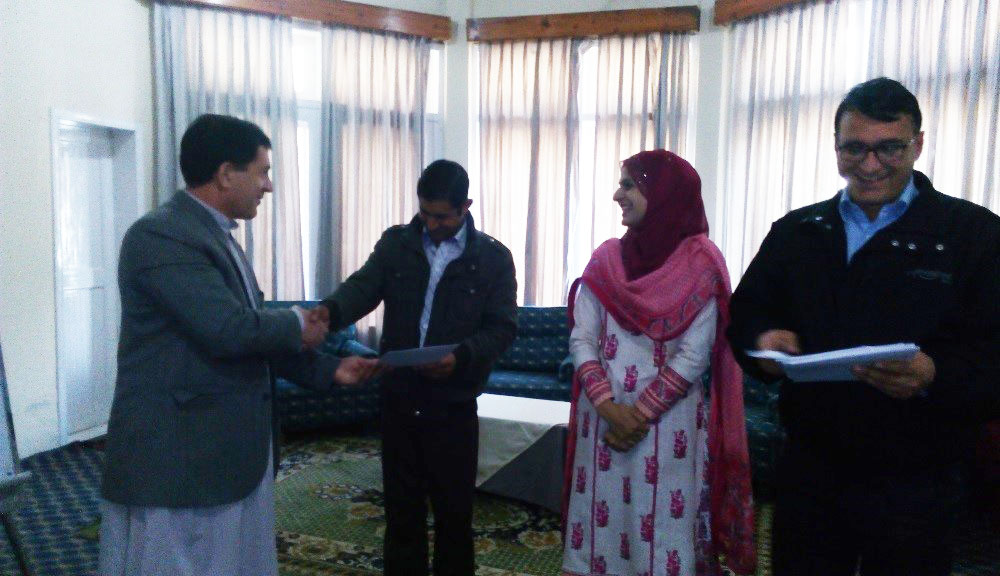 By Shah Azam Khan
The closing ceremony of AKESP – GB teachers' training on Critical Thinking and Problem Solving (CTC & PS) was held in collaboration with British Council (BC) on November 5, 2016 in Gilgit. Ms. Nuzhat Yasmin from British Council led the session.  The training started in July 2016 with a subsequent school based project work of 12 weak which came to an end on November 5, 2016.
Aga Khan Education Service Pakistan Gilgit Baltistan has constantly been making many efforts on different fronts to raise the standard of its schools and the ongoing efforts for teachers' capacity building is one of the   several undertakings to this end.  In addition to its in-house teachers' professional development programmes, AKES has developed  networking with other organisations, like British Council (BC)  and Intel science etc, to avail their services to promote its standard of education. The TCT&PS programme is part of the AKES, P's collaborative ventures with BC.
Teaching critical thinking and problem solving is one of the most prominent and highly required 21st  century skills that British council offers. The purpose of undertaking this project in AKES, P GB is to empower and enable our teachers and head teachers to make their instructional programmes more creative, analytical, challenging and thought provoking in order to engage our learners in the intellectually disciplined process of actively and consciously reflecting,  applying, analyzing,  synthesizing,  conceptualizing and evaluating of the concepts and given information in order to strengthen their conceptual learning.  Thus, the ultimate objective of this training is to ensure effective pedagogical programmes for our  students which will develop their  critical,  analytical,  problem solving and decision making skills. The training and the subsequent project work is meant to take out both our teachers and taught from the routinized instructional programme to a more action oriented,  inquiry based  and reflective approach towards learning which seems more beneficial for conceptual learning and developing the 21 century skills in them.
The process of this training was started in July 2016 in 9 project schools of AKES, P with the support of British Council. It started with a full day workshop, which included orientation of head teachers of the project schools. This   was followed by a two-day rigorous workshop for 19 teachers of the project schools, with a focus on critical thinking and problem solving, its importance in daily teaching and learning, and ways of integrating the skills in our ongoing classroom instructions.
 The two days workshop for the 19 teachers ended in July 2016 with a 12-weak long assignment for the trainee teachers to implement the learning in their schools and facilitate the students to undertake a project work involving critical thinking and problem solving skills. These 19 teachers, well equipped with the knowledge of Teaching Critical Thinking and Problem Solving skills, applied the notion in their schools and facilitated the students in the project works in different subject areas.  215 students from the project schools participated in the project during the given 12 weeks.
The final session on presenting the project work was scheduled on Novembers 5, 2016, marking the completion of the 12 weeks assignment, in Gilgit. Instead of bringing all the students to share and present their project work, it was decided that the students' project work will be shared by their respective teachers, due to logistic considerations.  Some of the project topics included natural disasters and safety measure, Mathematics in every day life, growth of seeds, presentation of numerical data,  role of commercial farming and economic development in Danyore Gilgit and  habitats of animals, to name a few.
All the presentations were well supplemented by students' original work seemed that students exhibit good quality of critical and intellectual work when given enabling environment. The teachers reflections revealed that the experience of TCT &PS has been highly rewarding which requires more thinking and rigorous cognitive efforts by the teachers' end to plan more creative and progressive lessons to ensure promoting the  students' critical thinking and problem solving skills.  Each presentation was well critiqued and analyzed by the participants, facilitator and AKES, P academic manager which seemed to have further widened the teachers' thinking regarding more creative ways of facilitation and instructions both for daily instructions as well as project work.
 Mr. Aien Shah, Head of Education AKES, P and Mr. Bahadur Ali Khan, General Manger AKES, P, also joined the session. Mr. Aien Shah distributed certificates among the participants and shared detailed guidelines reading the importance of developing critical thinking and problem solving skills in teachers and students. He urged the teachers not to consider this training process as an event, but instead to make the this learning as part of their ongoing daily instructional programmes and develop an attitude of creativity, inquiry and analytical approach among the students. He appreciated the students' project work.
The teachers thanked AKES, P and British Council for providing the opportunity and vowed to use the learnt skills for improving the learning and teaching experience at their schools.