Karachi: Protesters demand release of AWP leader Baba Jan and other political prisoners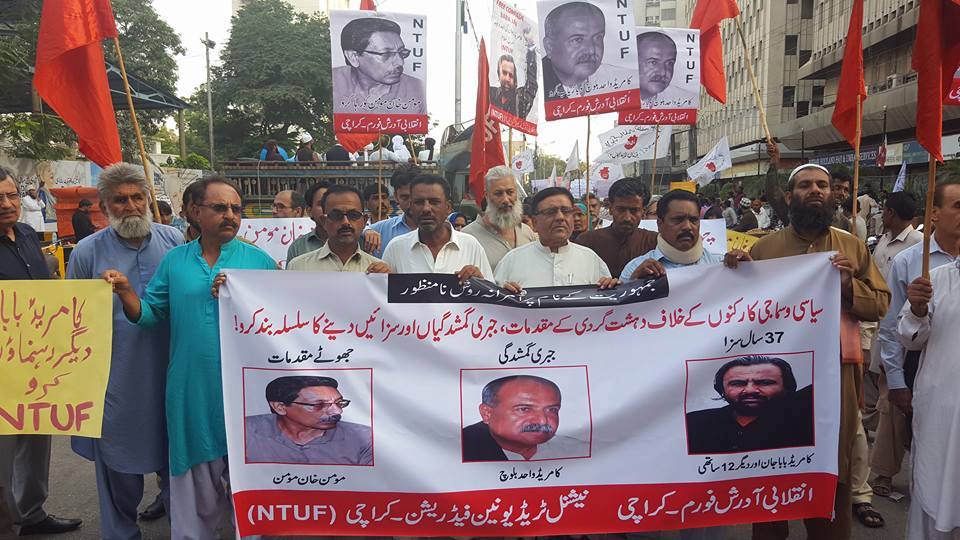 Karachi: (PR) Despite there is a democratic government in the country peaceful political workers are being arrested, booked in false cases and disappeared in dictatorial manner. This practice will not only weaken the democracy but undemocratic way of politics will also gain momentum. To don't let the situation go worse, the unjust jail sentence to Comrade Baba Jan should be overturned; fake cases against Momin Khan Momin should be withdrawn; and Wahid Baloch should be recovered.
These demands were put forward by speakers at a protest demonstration jointly organized by Inqalabi Adarsh Forum (IAF) and National Trade Union Federation (NTUF) outside Karachi Press Club on Sunday. IAF Karachi leader Mushtaq Ali Shan and NTUF Sindh president Gul Rehman led the demonstration. A large numbers of students, labor unions representatives, social and political activists, workers and people from different walks of like took part in the protest. They held placards and banners on which these demands were written.
The speakers said that though the dictatorship had ended in the country but still dictatorial laws and exercise of force were being employed to suppress voices against. They said that the current government claimed that no political prisoners were held in their tenure. The reality, however, was not this, they added. They said that Comrade Baba Jan and 12 other young activists were put behind bars for demanding the fair compensation to those displaced due to the formation of Attaabad lake in Gilgit-Baltistan. They were denied fair trial and were sentenced to a collective 37 years in jail by an anti-terrorism court, speakers told. Baba Jan's only crime seems that he dared to contest election against the GB governor and in the recent elections there he was a also strong candidate against the governor's son, they opined.
Similarly in Karachi, Baloch intellectual and social activist Wahid Baloch was picked by unknown poeple and then disappeared, they said, telling that the abduction was complained before the judiciary but the federal and provincial government were reluctant to provide any information about him. They told that in this uncertainity the family of Wahid Baloch was suffering from mental distress and human rights watchdogs, labor organizations and civil society activists were protesting for his release continuously, but in vain.
In Hyderabad, former National Students Federation former president, journalist and radio presenter Momin Khan Momin was booked in false cases and a huge cache of arms and ammunition was shown recovered from him, they said. Momin is a kind of guy who all his life fought against dictatorial behaviours, regimes and anti-people forces and such an act with him is shaming the government itself, they asserted. Pakistan Peoples Party is doing the same with these people and others like them what it once suffered and battled against with the help of these incarcerated, they said.
Speakers said that they demand from the federal and provincial governments to stop these dictatorial acts against political activists and release Baba Jan, Momin Khan Momin and recover Wahid Baloch.
Those spoke at the event include IAF's Mushtaq Ali Shan and NTUF's Gul Rehman, Dr Riaz of Inqlabi Socialist, Comrade Raheed of CPP and other.