Awards Ceremony: AKU-EB recognizes 162 high achievers across the country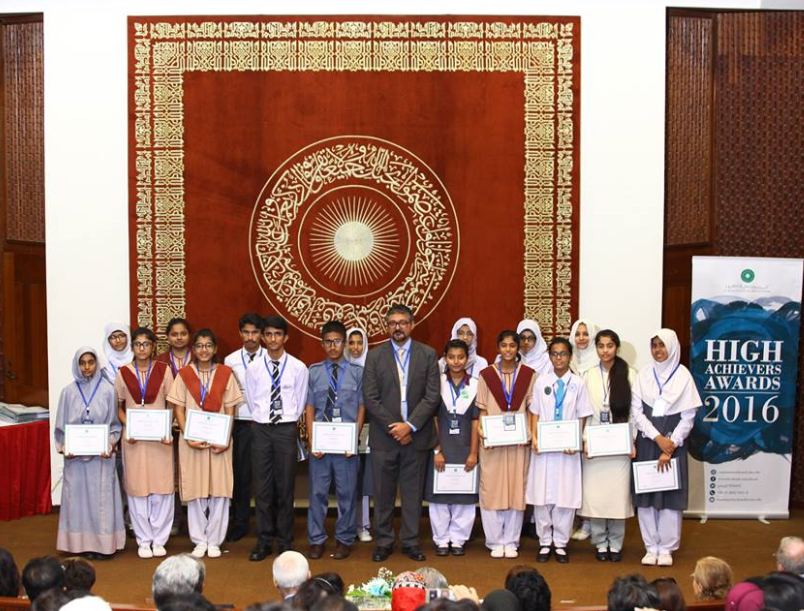 Karachi, November 15: One hundred and sixty-two students nationwide were recognized for their outstanding performance in the Secondary School Certificate (SSC) and Higher Secondary School Certificate (HSSC) examinations, held by the Aga Khan University Examination Board, at their high achievers award ceremony in Karachi today.
A large number of parents, school principals and teachers were present at the ceremony to appreciate and encourage the high achievers.
"We are proud of our AKU-EB graduates, many of whom have successfully obtained admissions to renowned national and international universities. It is heartening to see the impact that the Examination Board is having on our society by being a model of excellence and innovation in education for Pakistan," remarked Firoz Rasul, President AKU.
Girls topped the SSC examinations with the overall first position awarded to Alina Fatima from Al-Murtaza School, Karachi and Hira Naz from Aga Khan Higher Secondary School, Kuragh, Chitral. In second position was Ruhaina Nadeem from Nasra School, Karachi and the third position was awarded to Shehla Tanveer from Maryam Siddiqa Girls' Higher Secondary School, Chiniot and Maryam Ihsan from Nusrat Jehan Academy Girls High School, Chiniot, Punjab.
Hira Naz, one of the award winners said: "An AKU-EB candidate has enough opportunities to demonstrate creativity through innovative ways of learning. I learned how to apply my learnings in daily life which made me confident about the knowledge I have. The high level of accuracy and transparency in AKU-EB is also a great source of confidence and motivation for candidates."
Among the HSSC candidates, Areej Al Medinah from Aga Khan Higher Secondary School, Karimabad, Karachi secured the overall first position, while Areeba M. Amin from Habib Girls School, Karachi stood second. Fatima M Asad Khan also from Aga Khan Higher Secondary School, Karimabad, Karachi secured the overall third position.
"With AKU-EB's application, understanding and knowledge scheme discouraging the rote system, we have successfully been instilled with the ability to comprehend and tackle real life problems and issues," said Areej Al Medinah while receiving her award.
The winners of the AKU-EB Bridge Scholarship were also announced at the ceremony. The merit cum need-based scholarship, generously funded by the Fancy Foundation, is offered to AKU-EB SSC graduates and funds two years of HSSC education at an AKU-EB affiliated school or college in Karachi.
The Chief Guest, Mr Jameel Yusuf, S.St. Chairman, TPL Holdings and President of the 'I am Karachi' initiative said, "With more than 10 years of experience, AKU-EB has produced over 30,000 graduates and today these high achievers have also joined the parade by demonstrating with their excellent performance that they are future leaders and policy makers."
"AKU-EB students demonstrate the ability to use critical thinking and problem solving skills to understand ideas and bring them to reality," he added.
"At AKU-EB we continue to strive and maintain consistency to attain international benchmarks. We must stay engaged on our essential role to inspire and develop versatile individuals who are responsible, articulate, who can think for themselves, form their own opinions and are empowered to take their place in leadership roles," said Dr Shehzad Jeeva, Director, AKU-EB in his vote of thanks.