Sultan Mohamed Shah Aga Khan School Celebrates Golden Jubilee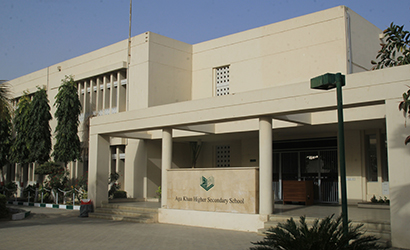 KARACHI – 29th November, 2016: Sultan Mohamed Shah Aga Khan School, one of over 150 schools run by the Aga Khan Education Service, Pakistan (AKES,P), celebrated its 50th anniversary in the presence of current and former students, teachers and staff. The Vice Chancellor of the University of Karachi, Professor Dr. Muhammad Qaiser, was the chief guest at the event held at the Aga Khan University Hospital auditorium.
The CEO of AKES,P, Farhan Bhayani, himself a former student of SMS Aga Khan School, welcomed the guests and recognized the profound impact and contribution of the teachers of the school in his success. He further highlighted new initiatives underway at the school which include a technology studio built to integrate information and communication technology into the syllabus and early childhood development programmes.
Over 40,000 students are currently enrolled in schools across Pakistan operated by AKES,P, an agency of the Aga Khan Development Network. The schools range from small, rural schools with less than a 100 students to large urban ones with over 3,000 students. The Sultan Mohamed Shah Aga Khan School is one such large urban school with classes ranging from the pre-primary to the secondary level. Its students sit for their secondary school certificate through the Aga Khan University Examination Board.
As part of the celebration of 50 years of academic service and excellence, students from the school presented songs and tableau on various themes. In addition, shield and merit certificates were awarded to about 30 students that attained A1 grade in the Secondary School Certificate Examination. A short video on the history of the school containing the recollections of teachers and former students was shown to the audience. It included an interview of one of the school's most iconic principals, Sakar Datoo, who toured the school and noted the many changes that had occurred since she left in the 1980s.
Named after its founder, the Sultan Mohamed Shah Aga Khan School was established by Aga Khan III who laid the foundation for the present system which operates over 200 schools with the first ones in Zanzibar and Balochistan, Pakistan, in 1905.