Drug abuse in Gilgit-Baltistan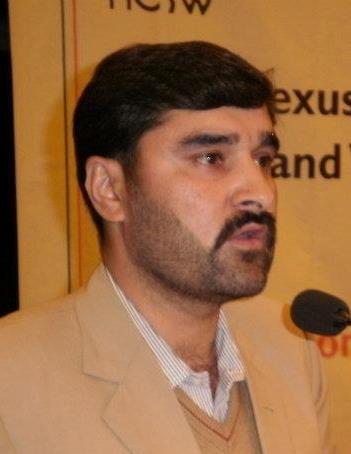 By Israruddin Israr
The word "Drug" has been derived from French word "drogue/Drogate" (dry barrel used for growing of medicine plants). Drug is a chemical substance that has known biological effects on human and other animals. There are three types of drugs. All medicines used for treatment, cure, prevention or diagnosis for limited duration or regular basis for chronic diseases are called pharmaceutical drugs. Second type of drug is psychoactive drugs. Alcohol and cocaine are examples of psychoactive drugs. Psychoactive drugs are substances that can alter the consciousness, mood, and thoughts of those who use them. Examples include tobacco, alcohol, cannabis, amphetamines, ecstasy, cocaine, and heroin etc. Third type of drug is recreational drugs. It is a drug (as cocaine, marijuana, or methamphetamine) used without medical justification for its psychoactive effects often in the belief that occasional use of such a substance is not habit-forming or addictive.
Continued or excessive use of drug is called drug abuse or substance abuse of such substance that causes addiction or dependency.
There are many causes of drug abuse identified by the experts e.g. Stress/ depression/ anxiety/ bipolar disorders/mental illness and frustration, financial worries (unemployment etc.), boredom, peer pressure (in school, college and University level), culture (family and society/ social learning theory/ choice theory), Genetics, Media (TV, radio, newspaper, literature Cinemas etc.), poetry ( motivational songs in all languages), Painful memories , unstable home environment ( domestic violence etc.), Poor relationship with parents, Poor achievements in school, business etc., behavioral problems (anti-social behavior, jealousy), impressed by role models (teacher, politician, artists etc.), prescribed by doctors, Physical injury (to relief the pain), disability , a desire to be fit in group, people chase the high once they experienced, Self-medication, Lose of loved one , to boost confidence, personality disorder, teenage rebellion , to avoid routine life , to hide the bad reputation, to take revenge, addiction personality.
There are specific signs and symptoms of drug abuse identified by experts e.g. Changing in the appearance, personality, hobbies, attitude and behavior, loss of appetite, increase in appetite and changing in eating habits, sudden weight loss or increase in weight, slowed walk, poor coordination, inability to sleep/awake at night/ unusual lethargy  , red watery eyes/shaking hands/ puffy face, unusual smell in breath, body, cloths, extreme hyperactivity/ excessive talkativeness/ unusual silence, running nose/hacking cough, needle marks on lower arm/leg, vomiting/ excessive sweating, Difficulty in concentration, Excessive need for privacy, withdraw/ secretive/stealing , needing lots of money for unclear reasons, traffic accidents.
Impact of drug use on individual and society are as follow. The loss of health (lungs, liver, kidney, brain cells etc.), damage of central nerves system, financial loss, injuries, rapes, burglaries, domestic violence, unprotected sex, vehicle accidents, crimes/ murders, suicides, assaults, legal problems (arrest etc.), misconduct, physical dependence, deaths, psychological addictions, child abuse, lack of concentration on private and social responsibilities, violence in society etc.
There are startling statistics of drug users worldwide, nationwide and GB wide. As the total drug users are 200 Million in the world. Drugs kill 200,000 people in the world every year. Alcohol kills 139,000 people worldwide every year. Total market value of drugs trafficking is 3 trillion dollars; out of it 61 billion dollars are used for the terrorism in the world. Alcohol kills 1 person in the worlds in every 10 seconds.
There are total 9.6 million drug users in Pakistan.  0.6 Million people join drug clubs every year in Pakistan. Increasing ratio has been noticed in universities and colleges of Pakistan. One among every 10 students of college and universities uses drugs in Pakistan. There are 1.5 million opium users, 750,000 heroin users, 200,000 drug injectors, 2.6 million alcohol users live in Pakistan. 1.5 billion dollars total market of drug's trafficking exist in Pakistan while 40% prisoners use drugs in Pakistan.
There are some vulnerable areas in Gilgit Baltistan regarding the drug abuse. Like consumption of opium is high in Ishkomen valley of Ghizer. Punial valley is main producer of traditional wine (Araq and mow). Skardu and Gilgit city is commercial hub of Hashish, traditional alcohol (Araq, red wine) and plastic packed alcohol (China branded). Hashish is also available in Diamer, Hunza, Ghanche and Astore and other Districts of GB. The plastic packed alcohol (China branded) is available for large number of youth in all districts of GB and especially in Yaseen valley of Ghizer. China branded alcohol is also available in Sost. A large number of people transport the different brands of alcohols from down country to Gilgit for personal use. Dopes and medicines (Homeopathic and allopathic) are available in the entire GB for drug users especially for youth who use it for recreational purposes.
According to a rough estimate 100, 000 people use different kinds of drugs (as per ratio of Pakistan) in Gilgit Baltistan. Yearly average death ratio of drug users in GB is almost 5 to 10. We suppose that if every drug user spends Rs. 1000 per day on drugs then total expenses of a day on drugs is 10 Crore in GB. Monthly expenses on drugs is 300 Crore. Yearly expenses on drugs are 3600 crore in Gilgit Baltistan. The amount which is spending on drugs is larger than our total annual budget (Development and non-development) of Gilgit Baltistan.
There are various efforts has been under taken by world community for drug free society. For example single convention on narcotic drug was introduce in 1961, convention on psychotropic substance 1971, UN convention against illicit trafficking in narcotic drugs and psychotropic substance 1988, UN general Assembly resolution December 7, 1987, UN office on drugs and crime, international Narcotics control board, Interpol, Bureau of International narcotics an and int'l affairs etc., while 26th June is observed worldwide as a UN international day against drug abuses. This is a universal slogan that "the drug abuse is sickness, not crime, drug trafficking is crime".
Some important laws have also been introduced in Pakistan in last three decades e.g. Control of narcotics substance Act 1997, anti-narcotics policy 2010, Govt. Drug abuse control master plan 2010 (drug free Pakistan 2020), Provincial drug Laws.
An Institutional framework also exists in Pakistan for drug control e.g. ministry of interior and narcotics control (narcotics control division (NCD), Anti-narcotics force (ANF), other law enforcement agencies, Airport security force, Pakistan coast guards, custom services of Pakistan, Maritime security agency, provincial excise and taxation department, frontier corps, Frontier Constabulary, Pak rangers, Provincial departments. (Health, education, social welfare, prisons etc. There was established a national drug regulatory authority and inter agency taskforce in 2010 (27 federal and provincial agencies work under the supervision of Anti-Narcotics Force).
In Gilgit Baltistan there is a regional office of Anti- Narcotics Force (ANF), while Anti-drug law was passed by Gilgit Baltistan Legislative Assembly in 2010. According to the law police and other law enforcement agencies have the responsibility of drug control in GB.
In-spite of above mentioned efforts the role of parents; civil society and Govt. can't be neglected for the drug control in the region.  Parents can play an important role to keep their children away from drug use. Parents should invest in relationship. Parents should be a good example. They should encourage their children for wide interests and activities. They should encourage self-esteem and self-worth; they should discourage their children for smoking and alcohol. They should make fair boundaries for expected conduct (rules), watch for signs/symptoms of abuses, keep in touch with school and college, identify the need before handing over pocket money, parents should be vigilant about the friend circle of children and they should confront where necessary.
Civil society should raise awareness on drug abuse, promote healthy activities in society, civil society can help the Govt. in policy drafting for legislation, civil society should make a networking with local NGOs/ religious institutions, coordinate with Govt. institutions, produce literature, identify the drug traffickers and users, guide for alternate source of income for drug suppliers, be a good example and discourage youth for using drugs.
A good example of civil society's role in drug control is the prohibition on the sale of cigarettes in the shops of Hunza. Same steps can be taken in other parts of GB by civil society and local communities. Some steps are being taken in Ishkomen valley of Ghizer to control the use of opium in the area. A seminar was also conducted in village Immit by the local community of Ishkomen few days ago.
Gilgit Baltistan government should upgrade ANF office in GB, Develop anti-narcotics policy for GB, enact law for reduction of supply, trafficking and production of drugs, introduce toughen penalties for drug traffickers, producers and suppliers, arrange campaigns for parents and youth ( schools, worship places and other public places), enact laws for drug free workplace/ public places,  road safety, establish treatment centers for abusers, encourage drug free culture,  take other preventable measures ( unemployment, injustice, domestic violence), induct psychiatrists and psychologists in hospitals, check and balance on pharmaceutical companies (medical stores, clinics, medical stores in hospitals, ban on self-medication) etc. 
References
Drug use in Pakistan 2013 by "UNODC", National drug policy 2000, What is cause of drug abuse by "Natasha Tracy", Nine reasons, why people use drugs and alcohol by "Nate Blairs ( Gennifer's Brother)", Govt. action on drugs 10 points policy plan by " Petrick Dixon", World day against drug abuse by "Muhammad Qasim 26th June 2012",UNODC websites.
Writer's Contact: israrjpc2004@yahoo.com