GB contributes 9 billion and receives above 40 billion from federal exchequer, letter of federal officers to chief secretary reveals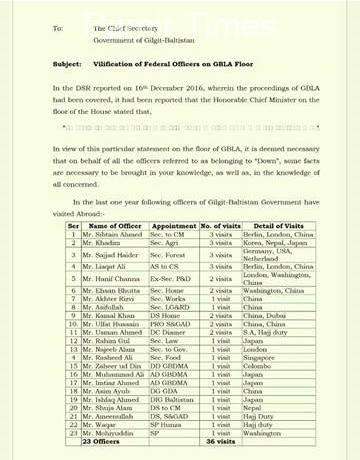 Gilgit: The federal officers, based in Gilgit-Baltistan, have written a letter to chief secretary Gilgit-Baltistan highlighting the issue of the vilification of the federal officers on GBLA floor. In a letter, the officers have pleaded to the chief secretary to take the matter with chief minister and economic affairs division for an equitable policy on foreign tours that not only benefit all officers working in GB government but also safeguard the aspirations and principles that the Federation of Pakistan was created for. The letter says that the statement has hurt the high esteem and hit very close to the heart of every officer and has generated a very adverse sentimental response from each and every officer from 'Down'.
The letter gives the details of all the local and federal officers who have availed the foreign tours during 2016. The letter says that the share of federal officers is less than 20% in the foreign trips. The letter mentions that the refusal of NOC to the officials resulted in discontinuation of the JICA fully-funded training facility to the Government of Gilgit-Baltistan.
The letter further says that the statement of chief minister is by and large contrary to the facts and tries to scandalize the federal officers with regards to the almost non-existent TA/DA bills.  The statement besides factual accuracy cannot even sustain budgetary and financial scrutiny and the facts can also be verified from FBR that all possible revenue streams from the Government of GB do no exceeds a contributions of Rs. 9 billion to the federal exchequer while in the receiving head, in just two heads the GB government receives from federal government Rs. 40 billion, Rs. 8 billion wheat subsidy and Rs. 32 billion non development expenditures annually, the letter mentions.  The upshot of all these facts is that for every 4 foreign trips by GB officers, the officers from Down get 1foreign trip but in order to sustain the GB government, for every 1 rupee from GB the vilified Down's taxpayers (including all officers from Down) pay more than 4 rupees to ensure provision of wheat subsidy and payment of salaries of GB government, the letter added.