Future of solid waste management in Hunza discussed during seminar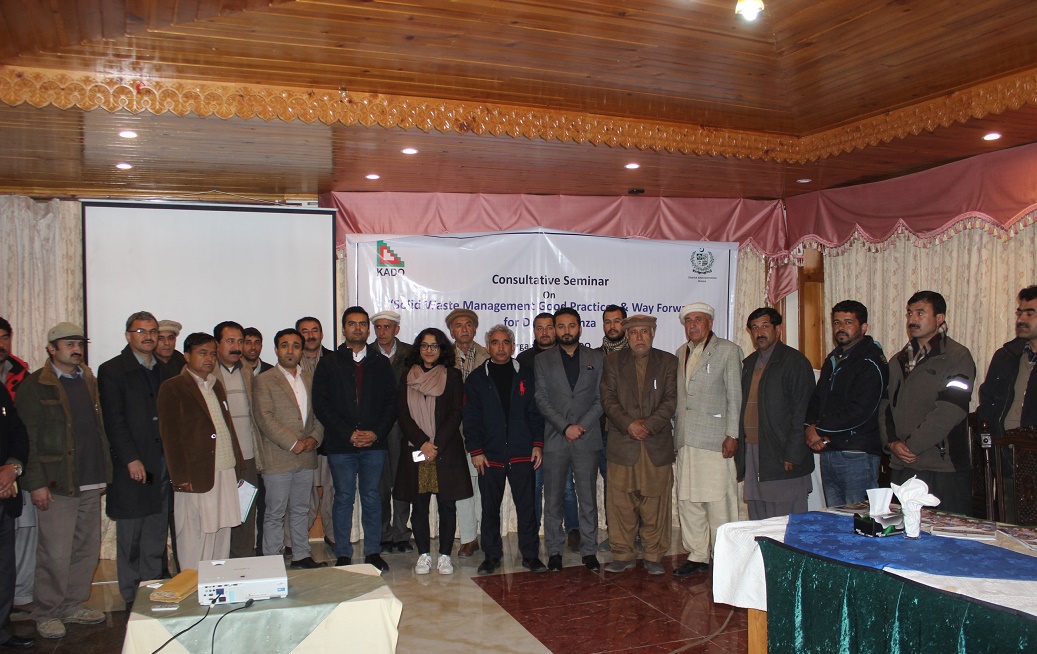 Karimabad: (PR) Karakoram Area Development Organisation (KADO) in collaboration with the district administration organized a Consultation Seminar on 'Best Practices of Solid Waste Management & Way Forward for District Hunza' on Wednesday 22nd March 2017.
The prime objective of the seminar was to discuss the prevailing challenges of solid waste management and develop new innovative solutions for the management of solid waste in District Hunza.
The seminar was attended by officials of the District Administration, Baazar Association and representatives of civil society .
During his welcome speech, Mr. Sheryar Ahmad Assistant Commissioner Hunza lauded the efforts of KADO and vowed to make Hunza an exemplary district in terms of cleanliness.
Mr. Kamal Uddin CEO KADO gave presentation on background of KADO-HEC (Hunza Environmental committee) project, prevalent challenges and proposed solutions to overcome the issues pertaining to solid waste management in Hunza District.
Assistant Commissioner Hunza had invited two environmental specialists from Urban Unit Lahore. While speaking at the seminar, the environmental specialist shared their ideas to manage solid waste through recycling, better planning and landfill method.
Participants of the seminar also shared their ideas and concerns about the solid waste issues.
Mr. Sami Ullah Farooq, Deputy Commissioner Hunza expressed his gratitude to the guests from Lahore, KADO and community of Ganish for providing solid waste dumping area.
At the end of the seminar Mr. Jan Alam former Director KADO extended vote of thanks to the participants of the Seminar.