Terrorists fleeing to Gilgit – Baltistan, says Rehman Malik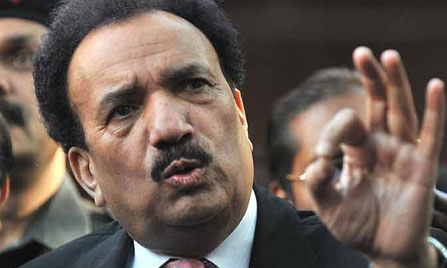 Our Correspondent
Skardu, August 28: Senator Rehman Malik has said that terrorists, anticipating a military action in the region, are fleeing from Waziristan to Gilgit – Baltistan. He said that the movement of the terrorists is being "monitored through satellites". He was talking to media in Skardu, at the end of his visit in which he attended the marriage ceremony of Chief Minister's daughter and held meetings with law enforcing agencies and clerics.
He also informed that surgical operation will be carried out in Darel area of Diamer District.
He blamed the recent deterioration in law and order situation in the GB region on the "fleeing criminals". He said that IG Gilgit – Baltistan has been informed about enhancing security at entry and exit points across the region.