19 "Ecosystem Health Workers" trained on animal husbandry and livestock health issues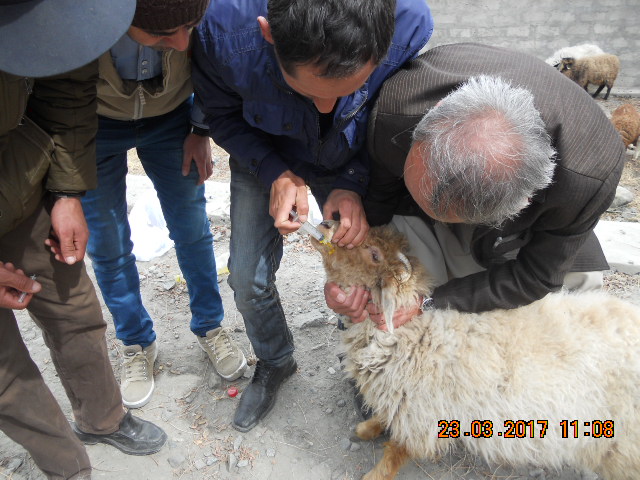 Islamabad (PR): Snow Leopard Foundation (SLF) in partnership with Livestock & Dairy Development Department of Gilgit-Baltistan (GB) conducted a three days (March 21-23 2017) training and capacity building workshop in Gilgit for strengthening Ecosystem Health Workers (EHWs), purpose of this training was to enhance capacity in traditional livestock management system through education on husbandry and livestock health issues in GB.
Altogether nineteen participants  from Shimshal, Chirpurson, Khuda Abad, Passu, Gulkin, Hisper, Rakaposhi (Nagar) Qurumbar, Phandur and Khyber attended the training. The participants were trained in identifying unhealthy animals, causes and transmission of diseases, means of transmission, diseases prevention and control, examination and treatment techniques.'
The training involved practical demonstrations to enable participants to use techniques relevant to prevention of livestock diseases in GB mainly Metabolic, Bacterial, Viral and Parasitic. The techniques of finding the factors, clinical signs, treatment and prevention through vaccination in livestock, animal feeding/housing management practices and precautionary measure of vaccination were explained. In addition to this, participants were given an insight to the use and handling of drugs (types of medicines, their uses, differences in concentration, and duration of activity). The use and handling of thermometer, vaccine handling, vaccination through multiple injection modes, drenching, vaccine administration were also part of the training program through theory and practicals. Education on animal feeding and feed improvement (Silage and Urea Straw treatment, etc.) know how of collection and management of vaccination data was also provided to participants by SLF staff.
Mr. Farman Ali, Director, Livestock & Dairy Development Department, Gilgit-Baltistan addressed the participants in the inaugural session. He highlighted the importance of livestock and wildlife to human and human responsibility to care for both. Mr. Farman Ali stressed on the need to have sufficient knowledge in order to protect both because healthy livestock would lead to the safety of wildlife which has great significance on the earth.
Speaking at the closing session Mr. Ghulam Muhammad, Conservator, Wildlife Department Gilgit-Baltistan appreciated the participants for their role in livestock health improvement which is a good service to the community. He thanked SLF and all the partners for enhancing the skills of EHWs.
Snow Leopard Foundation (SLF) in partnership with provincial Livestock & Dairy Development Department, Snow Leopard Trust (SLT) and other stakeholders is committed to invest in capacity building of people involved in natural resource management and conservation of threatened species. Through conservation education, training and skills development, SLF seeks to give Snow leopard habitat communities the motivation and skills they need to effectively manage their livestock with wildlife.
The EHWs training is part of SLF program (Snow Leopard Friendly Livestock Vaccination) which aim to reduce livestock mortality due to diseases, improve the productivity of the stock and provide indirect compensation to the predation effected families.
This training is supported by the Whitley Award, conferred upon Dr.  Muhammad Ali Nawaz in 2016, by the Whitley Fund for Nature (WFN).  This Award enables SLF to bring together people, NGO's and government in a unified effort to develop a multi-stakeholder strategy for the Pamir-Karakoram landscape, while building capacity of the wildlife department to manage this enormous landscape.