Irked by govt apathy, youth in Yasin Valley launch donation drive to repair broken bridge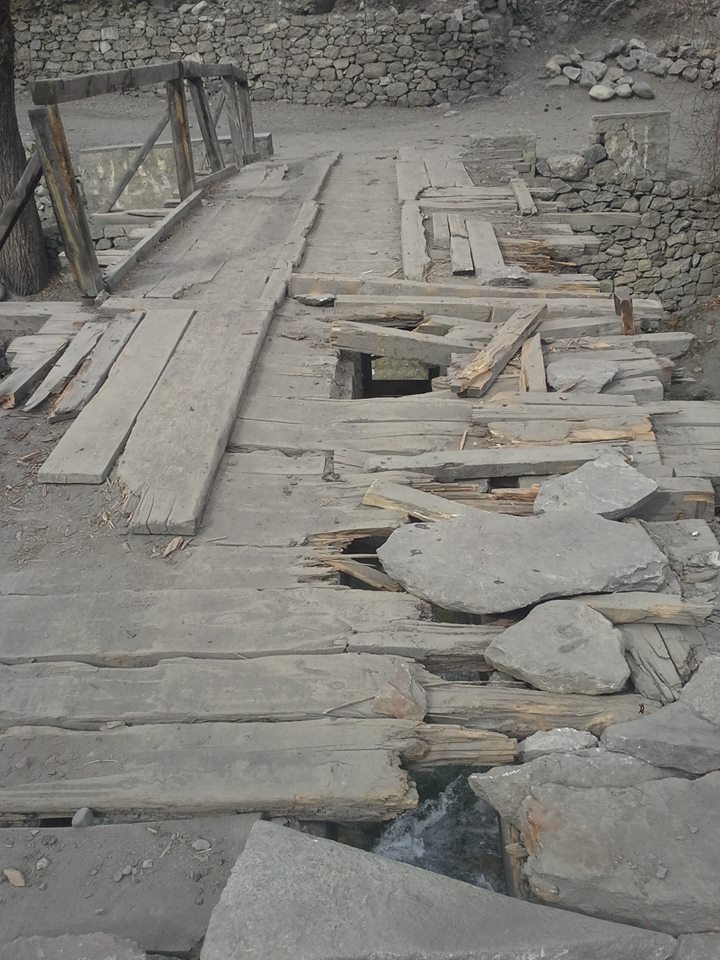 Safdar Ali Safdar
Gilgit: The youth of Yasin Valley in District Ghizer on Monday launched a donation appeal for repairing of a collapsed wodden bridge in Thoi valley, declaring it to be life-threatening for the inhabitants.
"The bridge is in a worst and horrible condition that can become dangerous especially for school-going children who use it frequently", said Muhammad Rahim Baigal who witnessed the condition of the collapsed bridge. He added that the locals had recently rescued two kids who fell into the glacial stream below slipping through the cracks and holes in the wooden bridge.
While launching the donation appeal on social media, a youth activist Sher Bahadur Baig urged the locals to open their eyes and hearts and contribute for repairing of this small structure. He said that our collective efforts are essential to help the local communities in rebuilding the bridge and i am sure we can generate enough funds within few days.
"Dozens of such bridges are in worse situations in the entire valley; let's put together our efforts to get stop the endless corruption of public funds", said Jahangir Khan, a leading development practitioner hailing from the Yasin valley.
He said that the development schemes are being sold out and newspapers are full of such stories but no one actions are being taken by the concern authorities. Ultimately we seek donations for urgent repairing of such life threatening bridges to save lives of the poor communities.
"I have collected some details about the bridge that need minor repairing of wooden flooring and side grids", said Sher Wali, Chairman Yasin Mahraka, a right based social organization of Yasin youth.
He said that we can arrange enough funds for urgent repairing of the bridge for the time being but it needs to be reconstructed later on along with all other such bridges.
"The responsibility of repairing and maintenance of the collapsed bridge will be assigned to a dedicated community volunteer once we will get enough money through this donation campaign," Sher added.