Annual convention of Hunza Students Federation held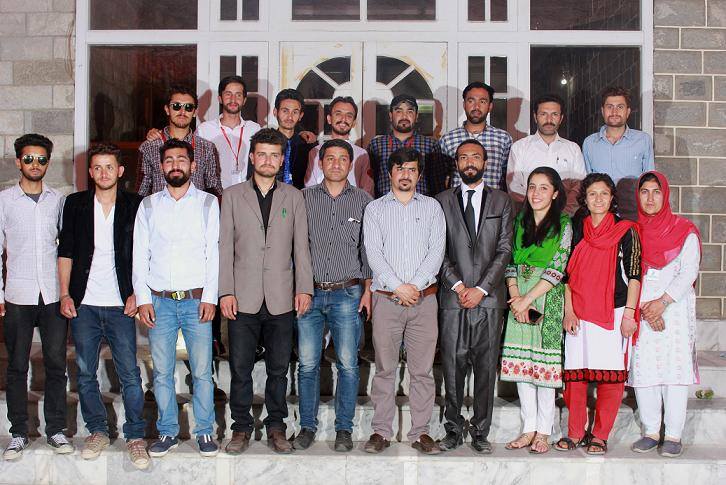 Gilgit: (PR) The Hunza Students Federation conducted its annual convention 2017 in Gilgit city on 20th April 2017. The convention was attended by Leaders from different socio-political platforms. The convention's chief guest was Mr. Ubaid Ullah Baig, ex candidate GBLA 6, while the guest of honor was Mr. Naeem Ullah Baig, President Ismaili Regional Council Gilgit along with Mrs Sosan Aziz, Mr.Younus Dilyaab and Mr. Sultan Abbas, KIU faculty.
The convention was attended by the founding members, ex cabinet members, senior members and existing students. The convention included farewell and welcome for KIU students from Hunza.
The convention covered progress, vision of leaders, cabinet formulation and cultural entertainment. Talib Joshi, President HSF, presented the federation's annual report.
During his speech the chief guest emphasized on students' role in academia and co curricular activities to groom themselves as leaders of the future. He added that the university is alma mater for the students and students should play positive role for its development.

The president Ismaili Regional Council for Gilgit was addressing the gathering and delivered the message of unity and peace among the students, which will further enhance a productive citizens of the society, on the occasion Mrs. Sosan Aziz emphasized on women empowerment as students, Mr. Younus Dilyaab shared his insight about emotional intelligence.  Mr. Sultan Abbas delivered his thoughts about intellectual grooming. Founding member of HSF Mr. Piyar Ali Sagi Hunzai addressed the students on objective of HSF and the role of platform for the students, Mr. Rahmat Ali focused economic development opportunities after graduation and Mr. Sher Ullah Baig spoke on the history,  achievements and role of Gojal Youth Forum under the umbrella of HSF.
Leaders of other students organizations had also been invited to the convention. On the occasion the President of ISO KIU unit said that the students' organizations unity is important for holistic development and to protect students' rights. General Secretary of Islami Jamiat Talaba (IJT) acknowledged the role of organizations and services for the students.
On the occasion Hunza Students Federation new cabinet leaders were elected through the democratic process of voting. Mr. Rameez Ali Jerov and Mr. Iftikhar Ali were respectively elected president and vice president for the central cabinet, while Miss. Afsana Tawakal and Miss Jamila were elected president and vice president for the women's wing.
The convention concluded with the spirit of promoting peace and harmony in the KIU, and with the resolve of working for the development of leaders for Hunza in the future.