Zaiba's untold story of separation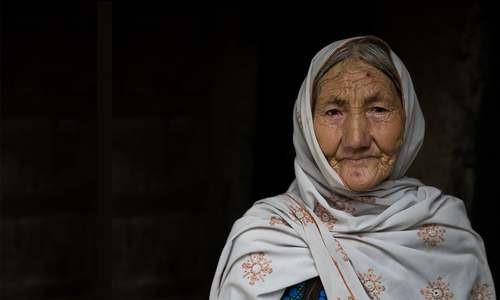 By  Muhammad Hassan Zaidi
No one can really understand the suffering of separation, unless they taste it. The great rivalry between India and Pakistan has given birth to many stories, where separated families are living apart, yearning to come together, divided by borders.
Zaiba's is one such story, which has not been told before.
It was a day in December 1971 when Zaiba along with hundreds of others migrated to Pakistan, leaving her parents, husband, siblings and her village Chulunkha, behind, after their area was captured by the Indian army. Her story is not different from that of thousands of people, who were asked to shift to a different land, losing their homes, connections with families and their lives.
Zaiba's family reached Thoqmus village of Ghanche District, braving a chilly cold weather, overcoming many hurdles and obstacles in their way. She has been living in Thoqmus village since then. In the beginning, for many months, she did not know what had become of her parents and brothers. Like other migrating families, many members had to stay back in her ancestral Chulunka village. While traveling from Chulunka to Tiaqshi, her father hurt his foot and was unable to move; her mother and brothers had to stay back in order to take care of him. She was perpetually worried for their safety and well-being.
In 1973, Zaiba received a letter from her family members, who said they were okay. Decades have passed since then, and in the meanwhile, Zaiba has created a new world for herself in Thoqmus, her new home.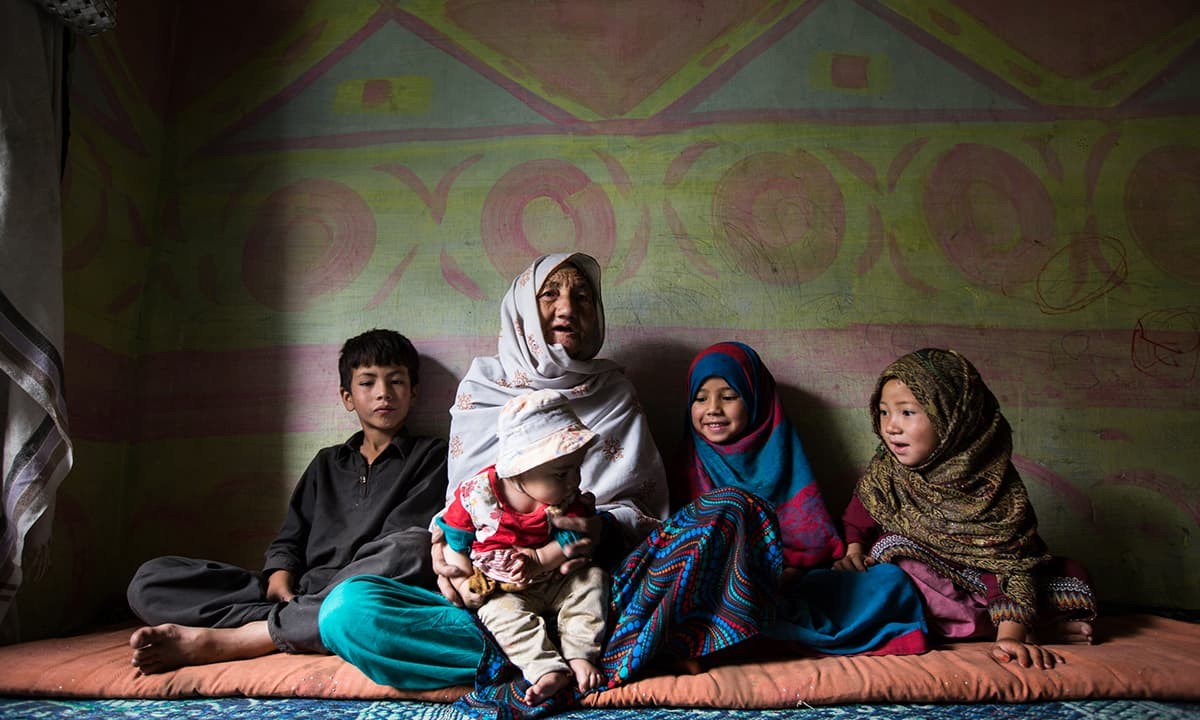 Zaiba's husband, hailing from Chalunka, divorced her, many moons ago. Afterwards, she married a local named Sikandar Ali. The couple has three daughters and three sons.
She has always dreamed of going back to her ancestral village once, and to meet her mother. Holding the same dream in her eyes, Zaiba's sister died 14 years ago. Her younger brother Abbas visited Pakistan to meet her and other relatives. Later, her brother Muhammad also came to Pakistan with her cousin to meet her.
Zaiba's dream of meeting her siblings and mother came true in 2016. It took her 47 years to meet her family members, despite of living only 30 kilometers away. She was so happy and excited that day, forgetting all the pains and sorrows of the decades.
Her journey to her ancestral village started in Thoqmus village. She reached Skardu, and after staying there for a couple of days left for Rawalpindi, traveling for 30 hours. Due to inclement weather, the flights did not operate, and she had to travel by road. From Rawalpindi she reached Lahore, and then through Wagah border crossing entered India, en route to Delhi. From Delhi she traveled to Ladakh by air, and finally after a couple of days she reached her ancestral village, Chulukha.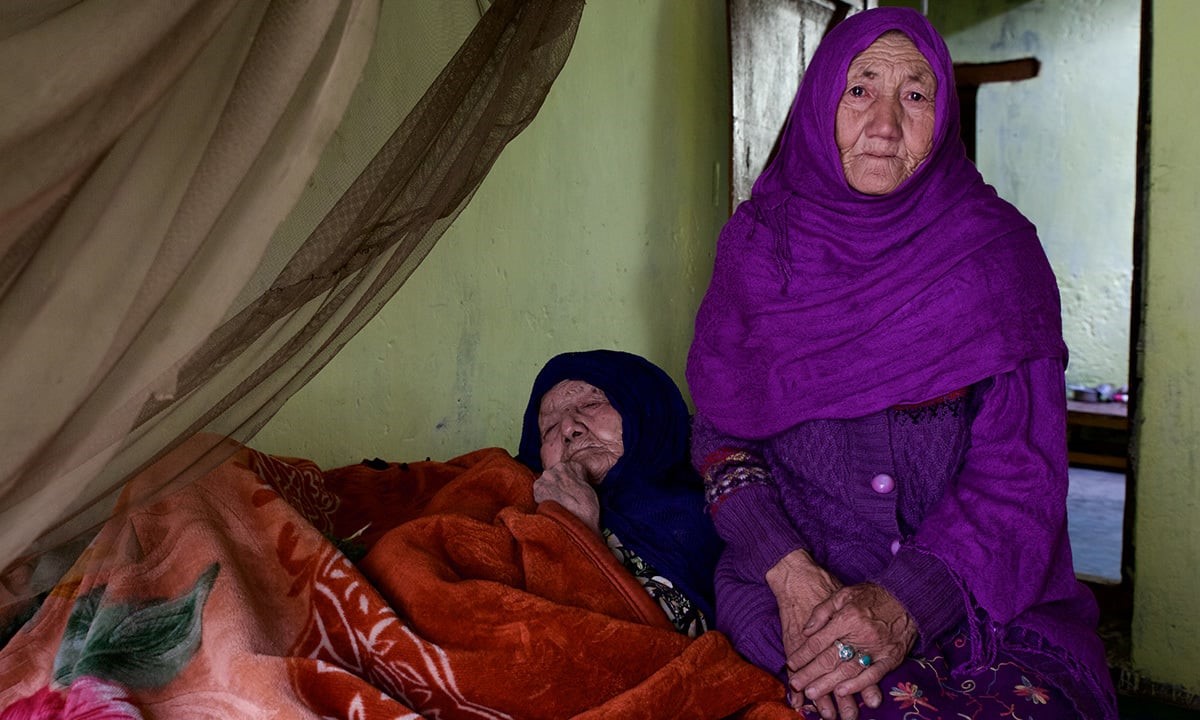 Separated by border and distance, when she eventually managed to make it to her native village of Chulunka after travelling long length of 3000 kilometers on August 29, 2016, she found her 96-year-old mother, Khatibee, paralysed and unable to see anything.
Zaiba was welcomed with garlands of money when she first arrived in Turtuk and Chulunka, border villages. Zaiba had arrived in India on a 30-day single entry visa — which was extended multiple times after her arrival.
"Getting to Chulunka was very exhausting and tiresome but I was looking forward to seeing my mother throughout the way; that made the journey a lot easier," she says.
She was extremely happy to return to her village where she was born and meet the people she grew up with. She took walks around Chulunka and visited places where she used to play in her younger days — as if she is reliving her childhood all over again.
But she also knows that one day she will have to leave all this behind one more time to go back to her children and grandchildren in Thoqmus.
"I know that I am Pakistani and my mother is Hindustani. I also do not want to live here longer for any other reason than to look after my mother," says Zaiba. "I just do not feel like leaving her," she adds with tears in her eyes.
Sadly, Zaiba's mother died during her stay in Chulunkha. She was devastated. She could see her mother for just 5 Months, after 47 years of separation.
Zaiba came back to Pakistan on May 08 leaving bunch of Memories behind.
On the arrival of Zaiba back to Pakistan, Zaiba's cousin Ghulam Rasool, who migrated to the Pakistan in 1971 as a 12-year-old boy,  appealed to the government in the following words:
"The people of Neelum Valley in Azad and Jammu Kashmir are allowed to cross the LoC and meet their families. Similarly, the governments must take steps to open Khaplu-Ladakh and Kargil-Skardu road to connect thousands of separated families across the border. Government on both sides should look at this issue humanely because thousands of families are affected by this."
Note by contributor:  Zaiba is my mother's aunt, who has suffered a lot in her life. I have myself witnessed her distresses, before she traveled to India. Like Zaiba's, my family also migrated to Pakistan in 1971, after our village was occupied by India.
Disclaimer: Some text of the blog and Photographs are extracted from various newspapers of Pakistan and India.
The contributor is a student at the Mirpur University of Science and Technology. He can be reached at hassanzaidi600@gmail.com