Ranthak Valley: A High Potential Prospect for Gold Mineralization in N.Pakistan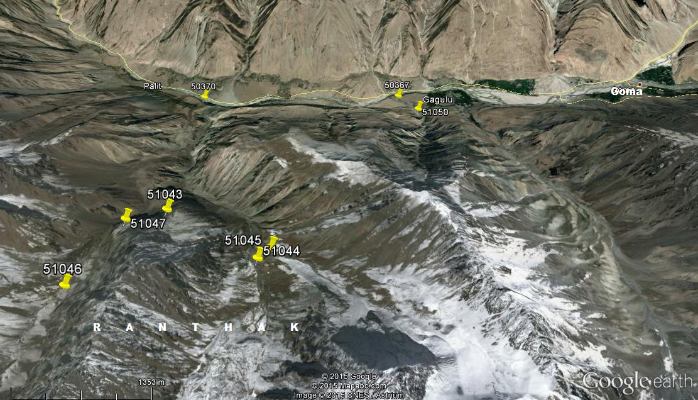 By Muhammad Yaqub Shah
Located 75 km east of Khaplo town (the district Head Quarters of Ghanche district, Gilgit- Baltistan Region, Pakistan), Ranthak is a small valley situated on the left side of Saltoro River about 10km downstream of Goma village (Entrance to Siachin Glacier) that may become a hub of mining activities for extraction of gold, other precious and base metals, after a continued successful mineral exploration based on modern scientific techniques.
So far, a regional geochemical exploration program, by taking -7mm, 20 liters sediment samples from the trapping sites of active rivers/streams beds, followed by preparing panned concentrate samples, and coupled with extracting minus 80# samples from the non-trapping site at the specific locations has been carried out in this locality. Collection of the samples was pre-planned designed on the premise of taking the desired samples from measured water catchment cell areas and subsequently analyzing these for a range of elements including gold, silver, copper, lead, zinc, cobalt, bismuth and nickel. The physical appearance of gold obtained in the pan and also the chemical analyses results, after standardizing these to 100 grams pan con weight, not only has shown anomalous values for gold and some associated elements but also has strongly indicated the existence of a nearby source rock mineralization in the area as well. The compiled results are shown as raw data in the table given below.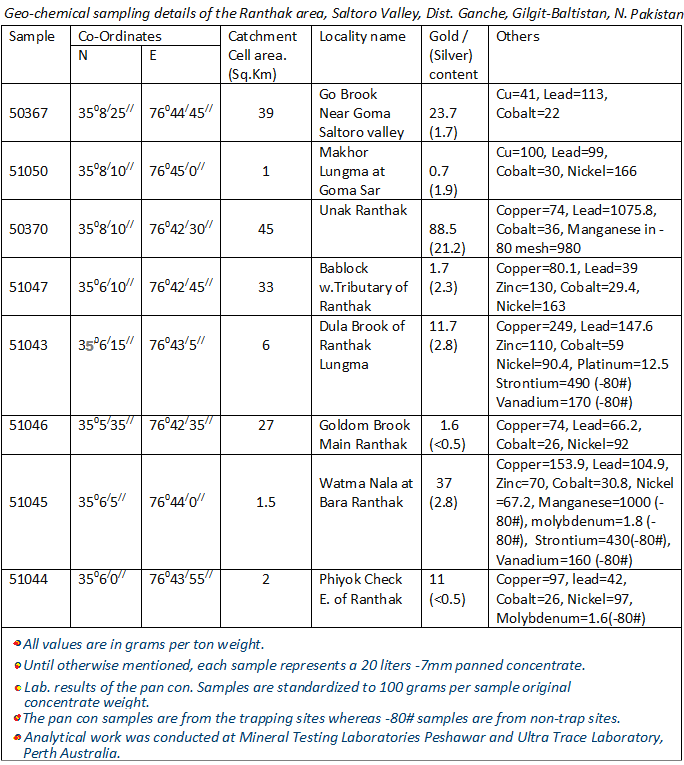 After reviewing the gathered data by taking in to consideration the regional geological set up (shown in the geological map given below), it was envisioned to look for and physically examine in the field, the so far very poorly studied, rocks of the 'Shyoke Suture Zone' which could prove as conduits for source rock mineralization of the precious and base metals in the region. It is worth mentioning here that quite a number of rock boulders, being typical constituents of Shyoke Suture Zone rock suits were already noticed in float rocks during the geochemical surveying program.
Thereafter consequent to a short field operation program conducted in the area resulted demarcation of 8 prospective gold and other precious minerals bearing targets in about 2.5km linear distance within the mélange zone of the Shyoke Suture Zone. Only one out of these prospects was randomly sampled from the surface outcrop along its width that has confirmed gold contents up to 24 grams/ton in these samples while other elements are yet to be analyzed. The Govt. of Pakistan did not allocate further financial support for continuation of the exploration activities resultantly the project has become to a halt.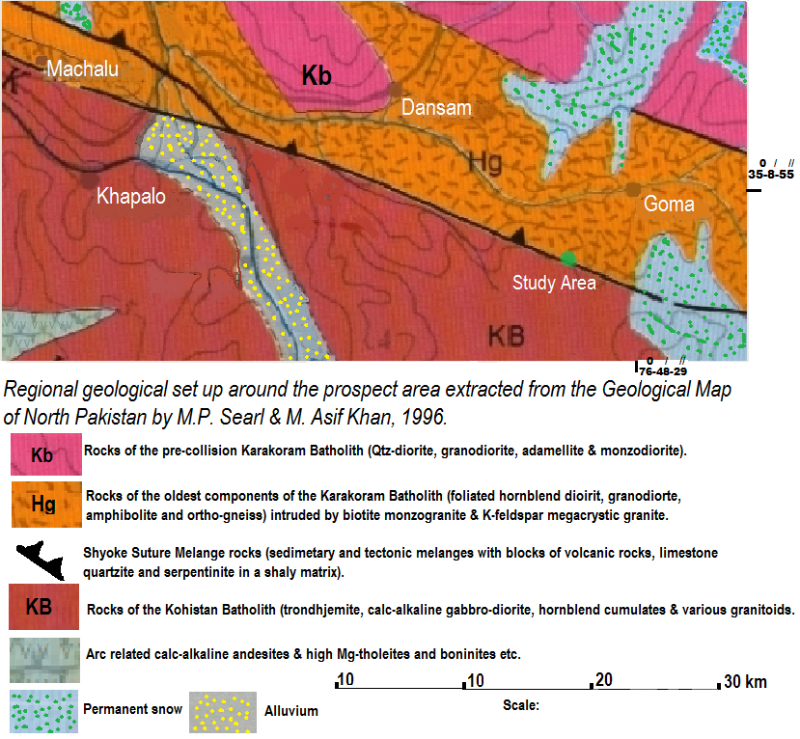 Today the sustainable development of a country's mineral resources is generally seen as a key factor in its economic growth and the search for mineral resources has become relied on establishing conceptual models through continuous use of modern state-of-the-art methods and technologies for mineral exploration. Examples include integrated image analysis, mineral mapping using hyperspectral remote sensing, quantitative modeling of mineral prospectively and such like others. Under these viewpoints, the Ranthak prospect specifically, and the Shyoke Suture Zone along with its reworked Main Karakoram Thrust as a whole (extending in the west for a linear distance of more than 300 km in Northern Pakistan) have the worth to be explored through these methods as its mélange zone to the west at several locations has already been established for hosting precious and base metals mineralization in the exposed rocks apart from demonstrating moderate to high anomalous values for these metals in other different places.
The contributor remained associated with the Pakistan Minerals Development Corporation. He is currently engaged as Member of Technology Foresight Export Panel by Pakistan Council for Science and Technology.