10th Muharram processions and congregations peacefully culminate in Ghanche, Baltistan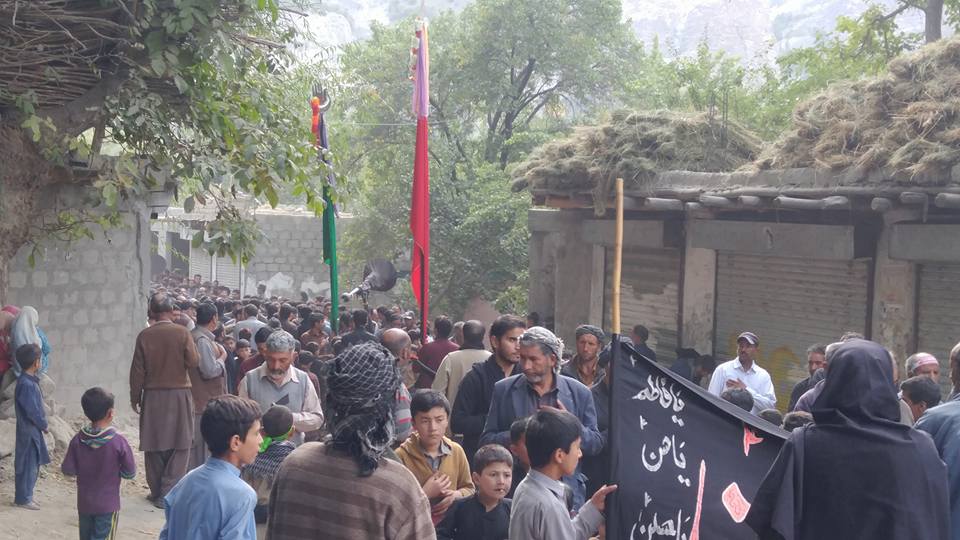 By Nisar Ali
Ghanche: All Majalis and mourning procession of Ashura in remembrance of Hazrat Imam Hussain (a.s) peacefully ended amid tight security in Ghanche district of Gilgit-Baltistan here on Sunday.
The main mourning procession was taken out from Masjid Fatima Zahra Chaqchan early in the morning and culminated at Masjid Hasnain Muldumer in the evening in which thousands of mourners participated by reciting lamentation and beating their chests.
Hundreds of police constables along with other law enforcement agencies, Rescue 1122 and district administration were high alert to ensure peace and tranquility during Procession.
Earlier, the main Jajalis of NoorBakhshia were also held at Jama Masjid Chaqchen and Khanqah Mualla.
To mark the day of Ashura, later, a Majlis was also organized by Ahle Sunnat community at jama Masjid Ahle Sunnat and verses of Quran were recited by participant. Sabeel camp were also set up in the route of mourning procession to facilitate the mourners.
According to local sources, more than 10 Majalis held across the district here on Sunday.
Addressing to the participant, clerics of all sect of Muslim stressed that we should adopt the way of living of Imam Hussain (r.z) in our day to day life to express the love for Imam Hussain and we should learn lesson from the battle of Karbala as to prove the follower of Imam Hussain. To maintain the law and order in the region during Muharram ul Haram flag march were conducted under the supervision of Deputy Commissioner Adil Haider and Superintendent of Police Abdul Rahim on 6th Muharram and declared emergency at District Head Qaurter Hospital Khaplu to rescue the mourner in case of emergency.