WWF-Pakistan's National Spellathon Championship's Grand Finale Celebrates 20 Successful Years of Educating Future Leaders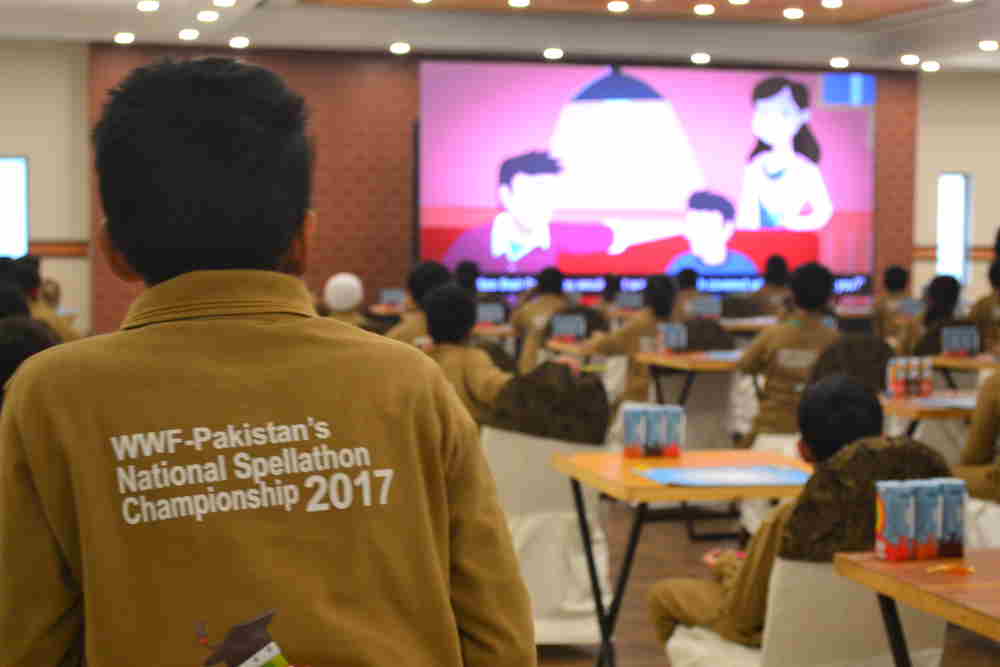 ISLAMABAD: World Wide Fund for Nature-Pakistan (WWF-Pakistan) conducted the third and final round of the Nurpur National Spellathon Championship, on Saturday at the Pak-China Centre in Islamabad after successfully conducting the first and second rounds in Karachi, Islamabad and Lahore. More than 15,000 students participated in this inter-school competition from grades 3 to 5 from various schools of Lahore, Islamabad and Karachi, a new sub-format of the decades old spelling competiton. Top 18 scorers were selected to participate in the grand finale where the winners were awarded cash prizes and gift hampers.
Students were immensely excited to be a part of the event and participated enthusiastically in pre-test discussions with each other. Parents and teachers were also present to support students and considered the event beneficial exposure to environmental and conservation issues as well as a vital source of confidence building. WWF-Pakistan's National Spellathon Championship 2017 has been sponsored by Nurpur to raise environmental awareness among young minds of our nation.
Six students from each grade (3, 4 and 5) competed for the first, second and third position after going through four games at the finale, which included: general knowledge, spell out loud, against the clock and solve the puzzle. The competition was hosted by Dino Ali, one of Pakistan's leading RJs, who kept the spirits of the young participants high and boosted their confidence during the competition. While the results were being compiled, Khumariyan, the folk rock music band from Peshawar and WWF-Pakistan's Goodwill Ambassadors performed, playing their most famous tunes.
WWF-Pakistan started Spellathon in 1997, which is an environmentally driven educational initiative targeting the youth of Pakistan. Spellathon is now a nationwide spelling competition for schools, which through a series of written quizzes promotes contemporary knowledge of the environment among the youth of the country in a fun and exciting way. Spellathon is an integral part of the annual calendar of private schools across Pakistan. The objective of the campaign is to raise awareness and understanding for the need to conserve, protect and manage Pakistan's natural resources and also improve their comprehension skills through competition.
According to Hammad Naqi Khan, Director General WWF-Pakistan, "We have a Spellathon generation in Pakistan; students who have participated and learned about the country's environment through the campaign. We are proud to say that the children of these participants are now registered in the campaign. We are also proud to say that the campaign has inspired a generation of students to adopt environment management as their profession and some of these individuals are now part of our organization. "
Around 25,000 students registered in the initial year of Spellathon, which has increased to over 150,000 students across Pakistan today.