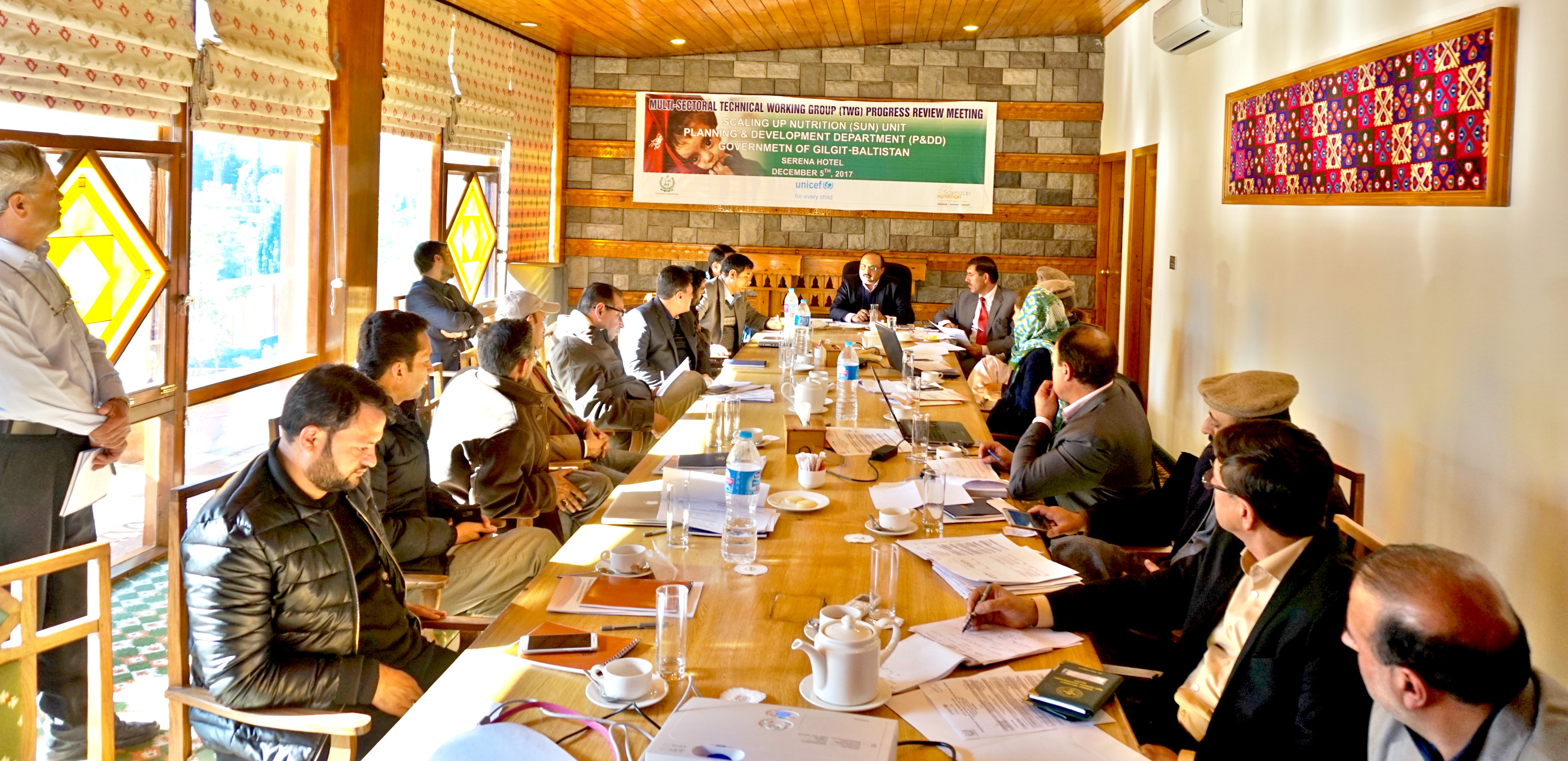 GILGIT: The multi-sectoral review meeting of Scaling Up Nutrition (SUN) GB was held in a local hotel, chaired by Secretary P & DD, Babar Aman Babar and attended by all members of SUN multi-sectoral line departments. Secretary P & DD shared an overview of commitments made during the earlier meetings of sectoral Thematic Working Groups (TWGs) and asked for updated progress of individual sectoral activities for multi-sectoral review and discussion before presentation to provincial steering committee.
Dr Nadir Shah, SUN Program Consultant briefed about the way forward and findings of Multiple Indicator Cluster Survey (MICS) and parameters of sectoral performance review of nutrition sensitive activities of line departments.
Ikram Ullah Baig, Director Population Welfare Department briefed about the Department of Population Welfare, including its objectives and scope. He acknowledged the fact that with mutual interactions and discussions INS-GB activities relevant to population welfare department could be executed within the defined time frame. He also brought to participants' notice that birth space played a very crucial role in the health of children and it also entailed nutritional status of both mother and child. He committed to plan nutrition sensitive activities as result-based frame work document.
Dr. Saima Kiran, consultant gynecologist Population Welfare Department, GB shared her experience that from the observation of hospital-client interaction it had been revealed that time and again women and children had a high prevalence of iron deficiency anemia in GB which needed to be addressed on priority basis.
Mohammad Abbas, Focal Person of Nutrition shared major components of nutrition specific PC1 for achieving the targets of malnutrition among vulnerable segments of GB. Secretary P & DD said that we have to work to eradicate malnutrition through multipronged strategies like through aggressive counselling by Health Education & Nutrition Officers, creating community awareness through live messages, provision of food supplements to mother & children in first 1000 days of life, food fortification and introducing school gardens as a part of social work for students.
Responding to a question about decline in consumption of iodized salt as per findings of MICS, survey focal person of nutrition suggested for robust monitoring and social marketing. He also informed the participants about ongoing dialogue with WFP about flour fortification in GB. He informed the MSTWG members about establishment of nutrition stabilization unit by UNICEF in GB at DHQ hospital.
Secretary P & DD advised that nutrition specific planning for year 2018-2019 should be based upon the major activities of result based framework projected in ISNS document and to be revisited for final commitment.
Afzal Khan the focal person of nutrition in education sector highlighted major activities to be executed as per time frame and he also shared the gender-wise enrollment status of secondary school level children.  Afzal said education sector required union council level mapping of the status of malnutrition for targeting vulnerable regions for nutrition interventions. Secretary P & DD said that shortly P & DD would update the UC level mapping of MICS findings for sharing with line departments. He said that some private schools did not have toilet facilities and there was a need to make legislation to bound such private schools to ensure these essential facilities.
Regarding a query about the resources for conducting a study about barriers for female school enrollment as per given plan, the Secretary said there was no issue of funds for such genuine studies in GB.
Focal person of nutrition in education said that in collaboration with BISP education department was planning to develop a MoU for food voucher support for school enrolment in Chilas area of Diamar district.
Regarding establishment of computerized student tracking system, the Secretary said that P & DD was ready to allocate funds for this proposal in GB. Secretary P & DD advised to develop PC1 for establishment of missing WASH facility in all schools in the region on incremental and priority basis. He emphasized all sectors to update the capacities of facility base data for ready reference for donor briefing/planning additional projects.
Ijlal Hussain Project Director of WASH shared the result based frame work activities targeted based upon the principles of geographic convergence towards MICS findings.
Dr Shah Nawaz member SUNAR said that keeping in consideration the high prevalence of consumption of untreated water in GB, urgent measures needed to be taken on high priority specially in most marginalize regions.
Babar Aman Babar informed the participants that soon in planning section monitoring / evaluation and foreign funding section would be established to facilitate the line departments.
Dr Shah Nawaz member SUNAR indicated about requirement for establishment of a nutritional institution at KIU through donors and P & DD. The Secretary advised to submit a concept paper at the earliest for seeking donors support.
Javed, Deputy Director of agriculture shared the activities related with staff capacity building and strategies to improve crop yield and minimize pesticide exposure. He said that the detail result based framework of agriculture, livestock & fisheries would be shared later within 4 days. Deputy director of Food Department shared his plans for preparing a PC1 for up-gradation of the department with full authority and the frame work activities would be updated within 3 days.