China's Increasing Security Buffer on Its Western Frontier – Stratfor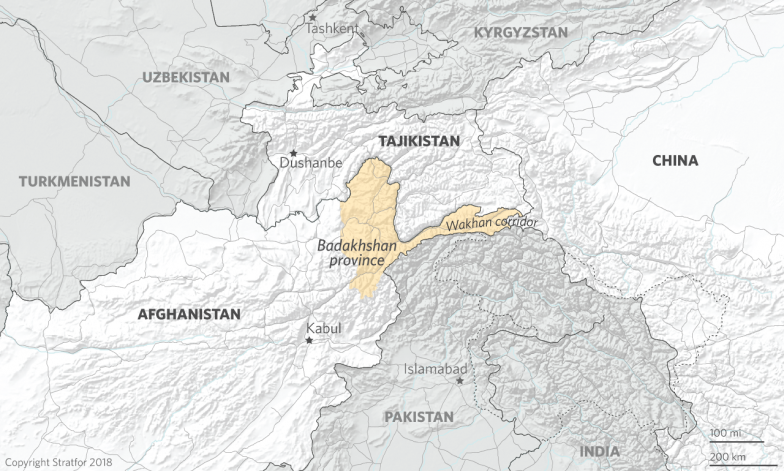 Originally published at Stratfor
An increasingly important component of Beijing's Belt and Road Initiative can be found in the Central Asian corridor that connects China and Afghanistan. China has been expanding its economic and security cooperation in Central Asia in recent years. Reports this week that China plans to build a military base for Afghanistan's armed forces in the northeastern province of Badakhshan suggest that the strategic yet perennially unstable country is quickly following through on the plan.
Forging Plans for a New Base
Afghan defense officials reportedly discussed plans for a base in Badakhshan during a visit to Beijing in December. The two sides agreed to "deepen pragmatic cooperation in various fields including anti-terrorism operations, and push forward the state and military relations between the two countries," according to Afghan Gen. Dawlat Waziri on Jan 7. China will supply the base with "weapons, uniforms for soldiers, military equipment and everything else needed for its functioning," and it will move military vehicles through Tajikistan to Afghanistan, since China's small border with Badakhshan is too rugged for most military vehicles to pass through.
The exact location and size of this military base remain unknown. Chinese and Afghan officials have reportedly set up a special commission to work out such details. But from a broader perspective, a military base fits in with China's growing security ties with and presence in Afghanistan and Central Asia. China's increased economic cooperation with Afghanistan and the region — the latter of which is an important component of Beijing's Belt and Road Initiative — and China's security concerns about Uighur militants in the area have been driving forces behind Beijing's increased focus on the region.
 Beijing has long been concerned about smuggling through Badakhshan's narrow passes and with Uighur fighters using them to return from Syria, Iraq and other war zones. Patrols of the Chinese People's Armed Police Force have crossed into Afghanistan repeatedly over the past year to conduct missions in the Wakhan corridor, the fingerlike strip of land that extends toward China's Xinjiang province, with Tajikistan to its north and Pakistan to the south. Plans for a new military installation in Badakhshan thus signals continued Chinese interest and security investment in the area.
Tajikistan also has played an important role within China's security strategy in Afghanistan and Central Asia. The country has a long and porous border with Afghanistan, more than half of which is shared with the Badakhshan province. Tajikistan also has had its own problems with militancy, and China has agreed to finance and build outposts on the Tajik-Afghan border. It also has increased the pace and scope of counterterrorism exercises with Tajikistan to bolster the government's counterterrorism capacity. What's more, Tajikistan has served and can continue to serve as a logistical hub for China to transport military supplies into Afghanistan, given the difficult terrain and poor infrastructure of China's border with Afghanistan via the Wakhan corridor.
Factoring In the Presence of Others
Supporting a new Afghan base in Badakhshan, which has come under increased pressure from both the Taliban and the Islamic State in recent months, makes a great deal of sense for China. However, Beijing will have to factor in the interests and presence of other countries in Afghanistan as it moves forward with building and supporting a base in Badakhshan. One is the United States. While the U.S. military presence is far lower than its peak levels in the early to mid-2000s, U.S. and NATO military operations are an important factor in China's security strategy in Afghanistan. Indeed, China prefers to have the United States bear most of the security burdens in Afghanistan. China is unable and unwilling to entangle itself too much in the country, and its overall security presence in Afghanistan, while it has increased in recent years, remains relatively marginal. In essence, China is interested in building up a security buffer in Afghanistan to protect itself, but it isn't interested in having too much responsibility for Afghanistan's internal security issues.
Another country that China must consider — and one that has become increasingly active in Afghanistan — is Russia, which has a large military presence in Tajikistan and Kyrgyzstan, as well as historical ties to Afghanistan because of the Soviet occupation of the country from 1979 to 1989. Russia's significant interests in Afghanistan have been on display via Moscow's ties to the Northern Alliance, which was instrumental in overthrowing the Taliban after the 9/11 attacks, and Russia's logistical support for U.S. and NATO military operations by way of the Northern Distribution Network. While the network has not been used since 2015, Russia has developed connections into Afghanistan in other ways, including hosting numerous rounds of talks aimed at jump-starting negotiations on the Afghan war, as well as reportedly offering financial and weapons support to the Taliban.
Despite overlapping spheres of influence in Central Asia and Afghanistan, Russia and China have largely worked to cooperate rather than compete in these areas. Moscow and Beijing appear to have arranged an informal division of labor in Central Asia, with Russia focusing on military matters while China concentrates on the economic realm. Even where China has chosen to increase its security activities, it has done so seemingly in tacit agreement with Russia, which is in line with Beijing's emphasis on avoiding unilateral engagement in contested areas. This consideration can be seen in joint military exercises between Russia and China, both on a bilateral level and also in a multilateral context via the Shanghai Cooperation Organization, which has included Central Asian states in military drills. China also has backed off pursuing unilateral security initiatives with Central Asian states such as Tajikistan, putting plans to launch a counterterrorism center in the country on the back burner, quite possibly to placate Russian concerns. China's plans to build a base for Afghan units in Badakhshan are similarly likely to have come with a quiet understanding — if not coordination — with Russia.
Ultimately, such basing plans are in line with China's strategy to contain the spillover of militancy from Afghanistan and broaden its security presence beyond its borders as it deepens its economic involvement in Afghanistan and the broader Central Asian region. While Afghanistan has long been and continues to be a source of geopolitical competition among external powers, such powers — including the United States, Russia and increasingly China — actually have a shared interest in containing the spread of militancy and in cooperating to undermine such transnational elements as the Islamic State. Beijing, as is the case with many other involved parties, is concerned about the future of Afghanistan if the United States and NATO eventually withdraw, so China is working to set up a limited buffer ahead of that a possible outcome. The United States is well aware China is in Badakhshan and does not view its presence there as a threat.
Furthermore, as ties between the United States and Pakistan worsen, China has an opportunity to deepen its already heavy influence with Islamabad, but it needs the United States to manage most of the security burden in Afghanistan. So, while China works closely with Pakistan, Beijing is still going to be following through on these measures, such as the Badakhshan base, to mitigate any fallout from Afghanistan. Therefore, as long as China pursues security cooperation with the Afghan National Security Forces and does not include cooperation with Russia in a way that harms U.S. security interests, then the limited but growing Chinese presence in the area will be a net benefit to the overall U.S. security mission.