Baltistan Students Federation arrangeg musical night to mark Novruz festival in Rawalpindi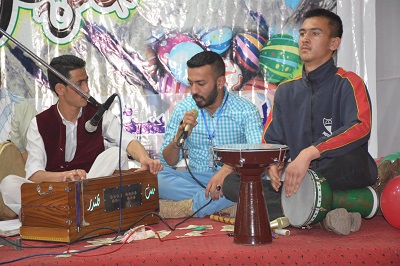 By Nisar Ali
Islamabad: Baltistan Students Federation (BSF) arranged a musical night on Saturday in connection with Novruz festival in Rawalpindi.
The prominent participants were Dr. Shareef Astori, Vice president Shahzad Hussain Agha, Chairman BSF Muhammad Ali Yaar advocate, President BSF Hasnain Singay and social activist Parsa Fatima. Hundreds of students, intellectuals, politicians and journalists participated in the event.
Renowned singer Ustaad Niaz Ali, Mehdi Ali and musician Shehzad Hunzai and others performed during the function. Singers received enthusiastic response from the audience.
Addressing on this occasion, Dr. Shareef Astori said that students can play a very important role in the progress of the region. He said that students should take active part in politics because they have a clearer vision, which is lacking in the so-called 'seasoned' politicians.
Vice President of PPP Skardu, Shahzad Agha said that BSF was the largest student group of Gilgit-Baltistan, creating awareness among the masses and highlighting different issues for the rights of Gilgit-Baltistan.  Preseident BSF Hasnain Singay, Social activist Parsa Fatima and other also spoke on the occasion and acknowledged the organizer for arranging the musical night to promote the culture.
Speaking to the Participant, Chairman BSF Muhammad Ali Yaar said that the objective of celebrating Novruz festivity was to highlight the importance of Novruz which are celebrated culturally and religiously in Gilgit-Baltistan on 21 March every year. He further added that we had unique culture in the world, we lived in a peaceful region where the culture is rich and we have to promote our culture by organizing different programs.
Earliear, a day ago Rawalpindi students Federation (RSF) also organized musical night at same place with same theme in which large number of people attended and renowned own singer Manzoor Baltistani performed at the function.
Picture courtesy: Adeel Ansoqi