SP Abdul Rahim of Ghanche: My Father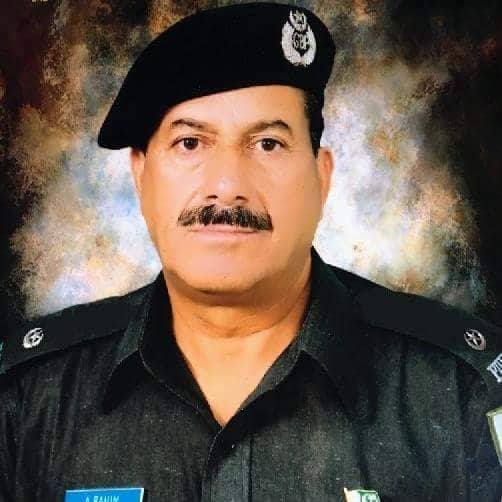 Yahya Ali Shareef
Today the services of my father Abdul Rahim SP Ghanche comes to end. He served for almost thirty-years in Gilgit-Baltistan Police. In 1991, he had been nominated for probationer training at Sahala, where he stood in the top ten. In 1997 he applied for Pakistan Motorway Police (PMP) and successfully joined on 27 Nov 1997.  After three months of proper training, he was deputed in the Islamabad Interchange to Chakri area for approximately five years. During his service in motorway police, IG Motorway police appreciated his work with cash prizes, and certificates, testifying his outstanding performance; his deputation was extended for two years, and he was promoted to the rank of Senior Patrolling Officer.
After that, he rejoined GB Police and took responsibility as an SHO in various police stations. As SHO Juglot due to his strategy crime rate decrease up to zero. Pakistan Army also acknowledged his performance while he was posted in Juglote.
In the mean time he attended various training programmes at Police Academy Sihala, Islamabad.
He also served for almost six years consecutively in Special Branch Skardu (2005-2011).
In 2011, he was promoted to Inspector and posted in Khaplu as SHO headquarter, where he served for almost seven years. Due to his outstanding performance, IG promoted him to the rank of DSP, and posted him in Ghanche.
Due to his inspirational performance Honorable Chief Minister Gilgit Baltistan Hafeez Hafeez-ur-Rehman grand him charge of SP and posted in Shigar as the newly formed district's first SP.
After taking charge as SP Shigar, he encouraged the locals and police administration by upgrading different police stations and offices. In DEC 2015, he was posted as SP Ghanche and he completed his last two years there. The public expectation increased by his ordination. He provided full proof security and maintenance during election due to which DIG Baltistan granted him the certificate of beneficence. Once again he succeeded in bringing up the gap between different sects dispute. He raided many drugs stations and busted smugglers. The dissonance between him and politicians made their vague and murky faces vivid in front of public.
He had closed liaison with 323 Siachen Brigade (Nayar Naseer) together with all Sects of peoples those admitted his performance very keenly. Moreover, he provided full proof security for foreigners during their visits. He brought out many changes regarding district Ghanche police e.g by installing CCTV Cameras check posts,  wireless sets and police accommodation etc. He not only resolved religious politics but also social issues peacefully. Furthermore, built fruit nursery in the police station Khaplu as well as water filtration plant in Siksa. Due to his effort Government of Pakistan allotted 20 canals of land for the Ghanche police. However, he also boosted up the morale of Ghanche police.
During his service he faced many challenges but he solved them with professional calm. While he was posted in different areas, I got to spend very little time with him, because his priority was his duty. He considered his duty to be his worship. I also have observed him doing such a duty with a keen interest even late at night. Neither,  he preferred happy occasion nor a sad one but he always gave priority to his duty.
Therefore whenever he came back, he was always ready to go back.
I totally disagree with the people who think police department is made up of reckless people. Not only have I observed my father's sincerity with his work but also that of his colleagues, sacrificing their today for our better tomorrow. Today, I am feeling proud of myself that I have a father like him.