Students protest against Govt of Gilgit-Baltistan Order 2018, calling it a "Black Law"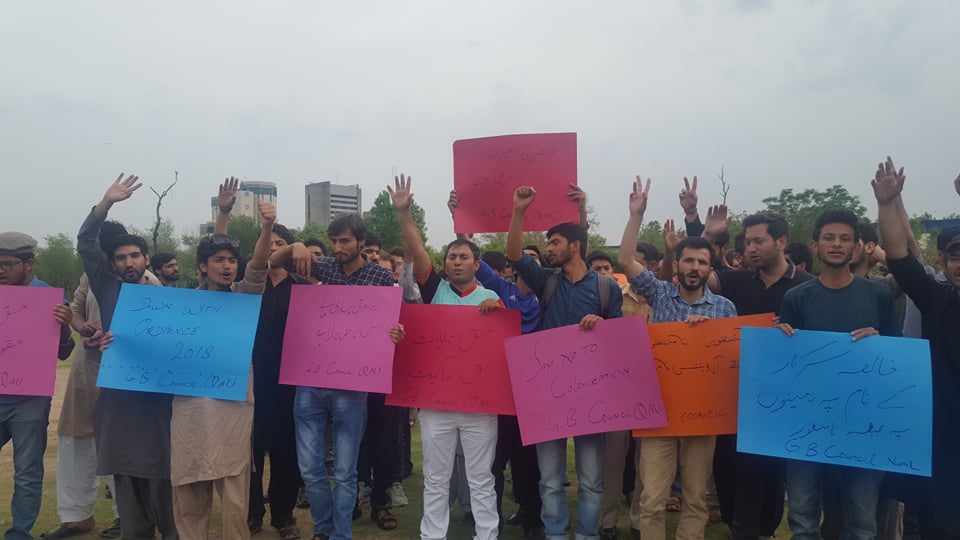 By Nisar Ali
Islamabad: Students from Gilgit-Baltistan based in the twin cities staged a protest demonstration outside the National press club (NPC) against the proposed Government of Gilgit-Baltistan Order 2018, and "illegal occupation of the local people's land", by calling it state-owned land (Khalsa Sarkar).
The protesters chanted slogan against both federal and provincial government of PML-N, accusing them of depriving the locals and snatching their powers, instead of empowering them. They said that the Government of Gilgit-Baltistan Order 2018 is a black law, which snatches the region's powers and damages its identity.
Holding placards, the youth said that the proposed "Order" is bereft of any real empowerment, and in fact makes the Gilgit-Baltistan Legislative Assembly a useless, rubber-stamp body, subservient to the whims and wishes of the Prime Minister of Pakistan, who is not answerable to the people of Gilgit-Baltistan.
The protest was led by Gilgit-Baltistan Council of the Qaudi-e-Azam University, attended by hundreds of students from various universities and colelges.
Speakers said that throughout the world there are succisionist movements who want to get out of states, but in Gilgit-Baltistan the locals have been forced to struggle for accession.
"We are the real benefactors of Pakistan. Our ancestors liberated the area by defeating Dogra Raj and presented our region to Pakistan for becoming the part of country, but unfortunately, we are not considered Pakistani, and we have forcefully and decietfully been turned into a disputed region", said a speaker.
The speakers said that the locals in Gilgit-Baltstan had pinned a lot of hopes on the new reforms, but they are completely disappointed by the actual Order, which brings the Minister of Kashmir Affairs in power again, depriving the local legislature, against the wishes of the people.
The speakers also condemned the 'criminal silence' of the region's government.
The speakers said that if the locals continue getting oppressed, then a protest drive at the scale of Manzoor Pashteen's movement can be started in the region.