Mashabrum Student Community (Machulo) organizes Clean-Up Hike 2018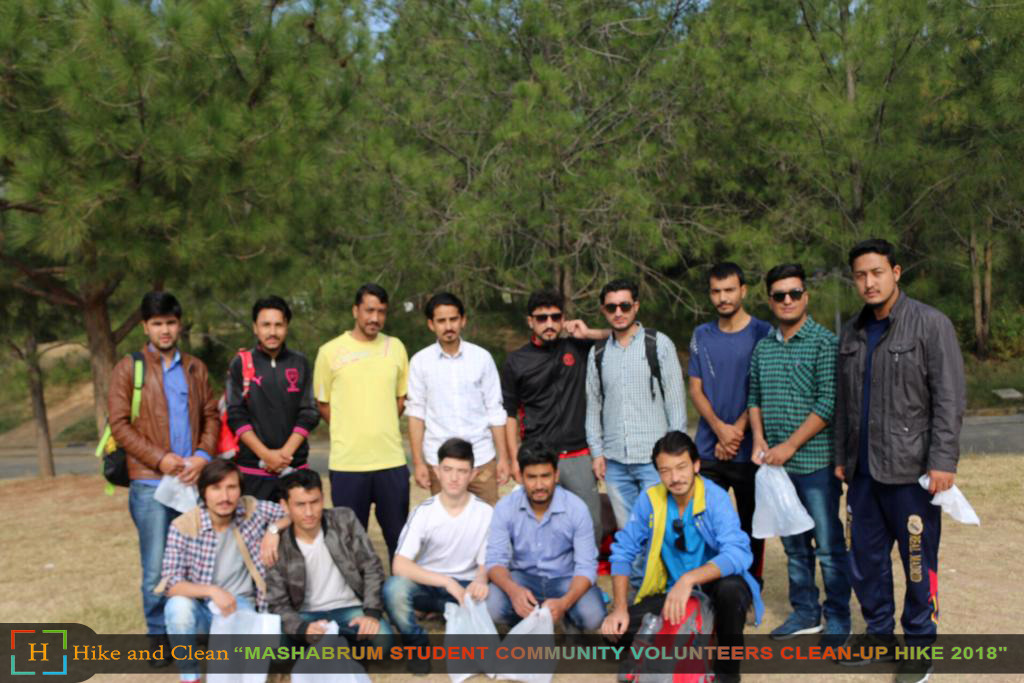 ISLAMABAD: (PR)  Disappointed with the careless and irresponsible behaviour of the visitors of Margalla Hills hiking trails, A group of volunteers from Mashabrum Student Community (Machulo) teamed up on Saturday 10 Nov,2018 to clean up the beautiful trail-6 of Margalla Hills.
Islamabad is blessed with the beautiful surroundings. The Margalla Hills National Park (MHNP) is the hallmark of its beauty. The Margalla Hills are the continuation of the Himalayan mountain range. The soil on the hill is fertile and completely covered with green trees, herbaceous plants and rocks.
Unfortunately, due to apathy of visitors and lack of organisation on the part of the park managers, the hiking trails have become littering grounds. People bring bags full of consumables up the trails and then leave behind plastic shoppers, food and drink containers, bottles and other non-biodegradable materials everywhere in sight.
Desperate from this lack of awareness from the people and administration, a small group of volunteers took the task of cleaning the Margalla Hills' Trails-6 on their own, collecting garbage left behind by others and bringing it to the nearest disposal area. The group is not large in numbers but consist of active volunteers, who are always keen to participate in these type of environment friendly activities.
The clean-up initiative was organised by Mashabrum Student Community Machulo which is a local student organization in Islamabad, works for student affairs. About 20-25 volunteers took participate in cleanup hike.
The volunteers gathered early in the morning at Faisal Mosque back parking and moved to first view point after a small introductory session and instructions. Mijority of view points and surroundings of trail throughout the hiking oozing with garbage including bags,bottles and different rappers. The group soon realized that it will take multiple days to clean up all view points, however, they decided to clear the constructed area of view points and some portion of its surroundings.
"The unwavering determination of volunteers made this event memorable. It was a fun, friendly and joyful activity for all," said Jahangir Shah, one of the organisers. The refreshment and lunch was served during and at the end of the "Hike and Clean" by Mashabrum Student Community (Machulo) campign on trail-6.