Knowledge-based coherent policy response must for making HKH region climate-resilient, experts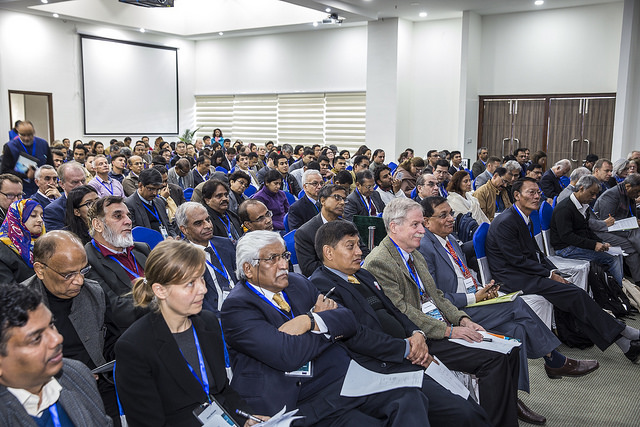 By Saleem Shaikh and Sughra Tunio

KATHMANDU, Nepal:  Environment, scientists, policy experts and government representatives here on Tuesday agree that hammering out consensus among them is critical to push forward to case of climate-resilient Hindu Kush Himalaya (HKH) for protecting the region from common devastating fallouts of global warming-caused erratic weather patterns, particularly floods, droughts, heat waves, land and soil erosions.  
This would help the HKH region to build up a much-needed narrative for the mountains and mainstream the mountain agenda into policy-making processes of the regional countries, the speakers highlighted at different sessions of the second day of the four-day regional conference 'Resilient Hindu Kush Himalaya: Developing Solutions towards a Sustainable Future for Asia", which began here on November 3. 
On second day of the regional conference, two plenary sessions were held on the theme "Setting: Priorities: The Science of Change and Resilience and Policy Preparedness for Action" and "Plurality of Perspectives and Approaches Towards Resilience Building: Inclusive Transformative Change Through Different Lenses"  followed by eight parallel sessions titled "Sustaining Mountain Ecosystems and Biodiversity", "Ensuring Water Security", "Supporting Access to Clean Energy", "Promoting Food And Nutrition Security", "Achieving Gender and Social equity",  "Ending Mountain Poverty", "Adopting to Climate Change and Managing Disaster Risk" and "Building Economic Opportunities and Investment".
 The panel of experts put forward various views about how the mountain communities in the HKH region approach the idea of resilience building in their own contexts.
 The expert speakers ranked social capital as a vital building-block in constructing the wall of the community resilience against the vagaries of climate change and said that generating and exchanging evidence-based knowledge and data was of a paramount significance for policy-based climate-resilience action at the nation scales in all the HKH regional countries.
Sir Partha Das Gupta of the University of Cambridge emphasised, Resilience can only be built with good science, and knowledge is the basis for resilience.
"However, factoring in multiple economic externalities is also important for resilience building  and an unified  and inclusive resilience interventions should be the way-forward. But, Chipping in all forms of capital-natural, social and religious aspects while framing resilience-related policy is must", Mr. Das said.
Different communities view resilience differently, remarked Rene Van Berkel from the United Nations Industrial Development Organisations (UNIDO).
"Therefore, irrespective of these variations in understanding learning from the previous disasters, designing local solutions and transferring knowledge is essential to boost community-based-resilience in any given context." He told the participants from HKH countries at the major plenary session on "Setting: Priorities: The Science of Change and Resilience and Policy Preparedness for Action.
Chinese Academy of Science's Yanfen Wang said the while focusing post-disaster recovery,  due attention must be assigned to disaster preparedness of the vulnerable communities and this is not possible without building capacities of the national and local government institutions in the HKH regional countries.
Dr Hans Hurni of University of Bern, Switzerland said that integration of plurality of concepts, people, and institutions and giving due consideration to these social elements is necessary for viable resilience building.
He cautioned that no resilience-building plan or policy intervention is likely to meet the successes as long as these fundamental social elements are acknowledge while designing the resilience solutions.
Mr. Hurni termed the social capital a critical factor in building community resilience and added that policymakers must not ignore it.
Helvetas Swiss Intercooperation's Dr Arjumand Nizami called for a common bridge to boost HKH region's climate resilience.
 "Building such bridge is important to build resilience on the ground. For, our lives are increasingly interconnected and this means policies and institutions cannot remain or function in silos,", she told the participants of the second plenary "Plurality of Perspectives and Approaches Towards Resilience Building: Inclusive Transformative Change Through Different Lenses" held onNovember 3.
Stefan Schneiderbauer of EURAC Research said getting delayed in making HKH region resilient through policy action is no option.
"We have to act very soon. Policy-based actions on the ground in the climate-vulnerable region at various scales is key to integrate disaster risk reduction and climate change adaptation into  sustainable development goals to protect lives and livelihoods in the HKH region," Schneide4rbauer said.
David Molden,director General of the International Centre for Integrated Mountain Development, urged the  regional governments and other relevant stakeholders to ensure that making mountain societies are inclusive of women and marginalised groups. "Only through this encompassing approach could resilience building be effective and durable.
"Only through this encompassing approach could resilience building be effective and durable," he cautioned while addressing a parallel session on "'Achieving Gender and Social Equity".
This session focused on the challenges before creating a more welcoming society for all groups. Several panelists urged the audience to think about gender beyond ideas like quotas and other 'box-ticking' approaches to development.
Speakers highlighted with soaring outmigration of men in the climate-hit mountain communities in HKH region, the panelists cited the need to give women greater voice in decision-making at all levels of government. Furthermore, they emphasized the importance of designing community-based approaches to resilience building for future work.
The HKH is home to 10 major river systems in Asia that provide water, ecosystem services and livelihoods to more than 210 million people. The region holds and distributes water for more than 1.3 billion people living in the downstream river basins.
The experts at the various sessions noted that mountain communities in the HKH have a long history and experience of coping with natural hazards like floods and landslides but climate change is increasing weather related events in the region,making these disasters more challenging to maintaining livelihoods.
"A long component of resilience building in the HKH relates to reducing risk from these hazards," Ang Tshering Sherpa,Climate Alliance of Himalyan Communities said.
He said scientific research needs to be integrated with local and indigenous knowledge for resilience and sustainable development.
At a panel discussion, scientists said that people living in the HKH in faced with an existential dilemma.
They explained that its glaciers are shrinking and the region is seeing increasing floods and droughts and springs, major source of water are drying up at an alarming rate.
They also pointed that these factors leave no room for complacency .They warned that water related issue in the region could seriously impact its socio-economic development.