Potential Implications of the expanding Shishper Glacier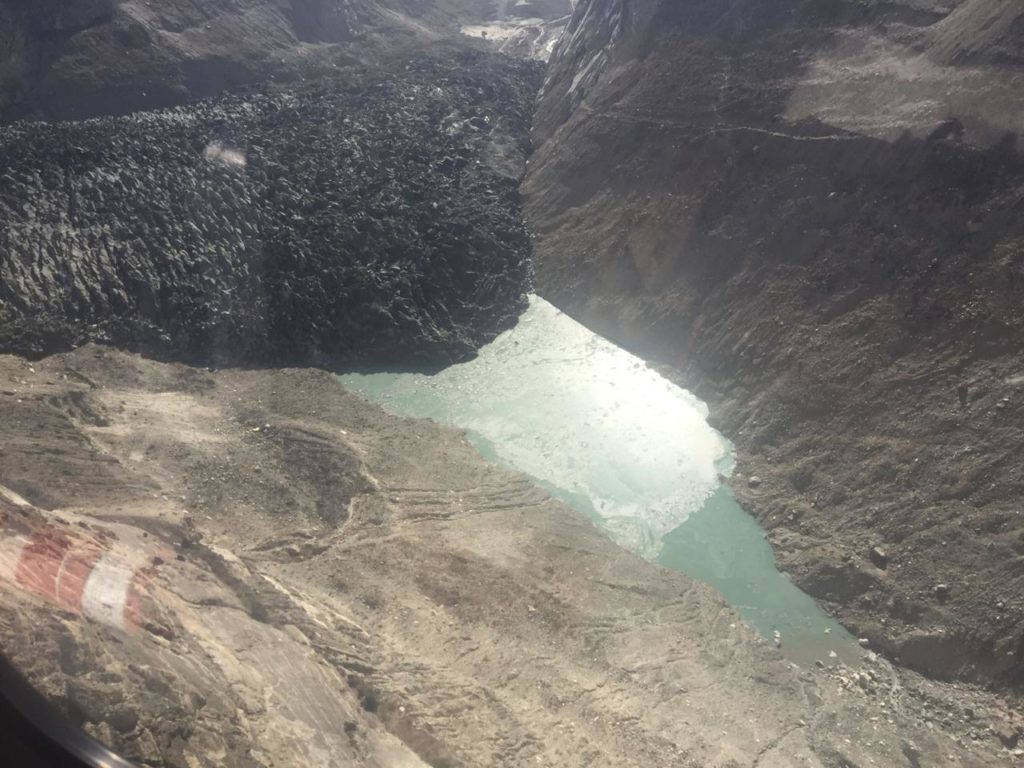 By Karim Dad
Formation of glacier lake is not a new phenomenon in Gilgit-Baltistan and glacier lake outburst floods (GLOF) are again not akin to this mountainous region. Many settlements and infrastructures exist along the fast-flowing rivers and streams. According to a report carried out in the Newsweek, the area has witnessed over 30 GLOF events since 2010. Because of the rapid melting of glaciers, as a result of global warming, over 3,000 glacier lakes have developed in Gilgit-Bltistan and Khyber-Pakhtunkhwa, of which 36 glacier lakes have been assessed to be on the verge of outburst and may bring hazardous GLOF. The author of the article opines that "Glacier Lake Outburst Floods are the number one disaster facing the Gilgit-Baltistan region".   
In continuation of such a rapidly developing trend of forming glacier lakes, the expansion of Shishper Glacier and resulting formation of a glacier lake is in the spot light of media nowadays.
This write-up attempts to highlight the current behavior of Shishper Glacier, based on recent hands on observations of locals including the author who frequently visit the valley since decades. Shishper Glacier has stretched significantly towards south-west direction from north-east. Minor movements were observed for the last two years but since May-June this year, a drastic expansion can be evidently observed both forward and upward.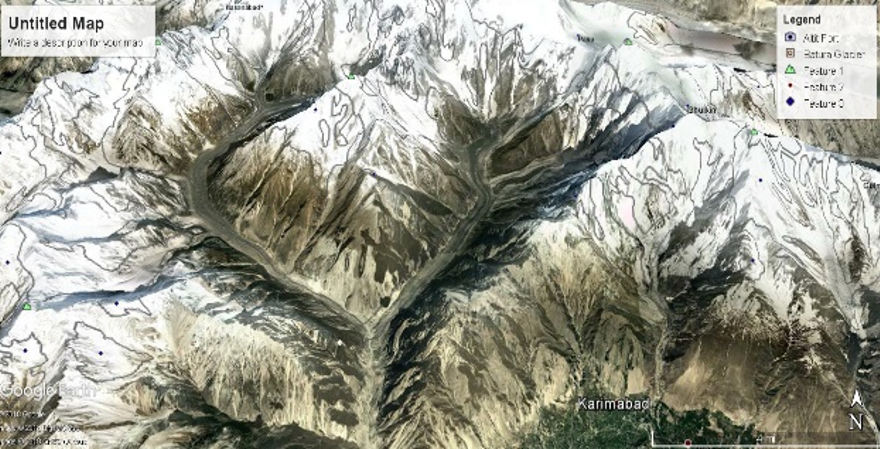 The Glacier is located in Shishper Valley in central Hunza of Karakoram range of Northern Pakistan and can be accessed four kilometers away from the KKH in Hassanabad, Central Hunza. The peak rise of the glacier upwards is more than 200 feet and forward movement is also remarkable as compared to its previous typical position. A local observer opined that its upward rise is due to the force created as the glacier hit the mountain to the south-west during forward movement.
Mochowar glacier, a parallel to Shishper is positioned to the north-west and is stretched towards south- east. Both the glaciers converged into one to form a confluence in the past but since a decade, Mochowar Glacier has detached itself from Shishper Glacier and has retreated about more than four kilometers. This has resulted in vacating a deep and long gorge.
For a couple of years, glacier water flowed out of the snout of Mochowar downstream. The water after covering more than four kilometers in open course passed underneath the confluence of Shishper Glacier to form Hassanabad Stream and onwards to Hunza River.
Now, due to the constant aloft and headlong expansion, Shishper Glacier has blocked water flow that penetrated through or underneath the glacier bed downstream. Since the glacier, during its forward movement struck the opposite mountain foot in May-June this year thus covering the open gorge, still water made its way through the glacier till mid November this year. It was possibly considerable decrease in water flow from Mochowar side due to harsh winter it enabled the Shishper Glacier to block its flow downstream.
Prior to glaciers' forward movement, there used to be open gorge in front of the glacier for water to flow unhindered.  But at present most of the water flowing from Mochowar glacier has been accumulating to form a lake spreading on a vast gorge vacated by the receded glacier.
The amount of water flowing into the glacier formed lake is about 30 Cusic in winters. However, during April, the water inflow increases with increase in temperature and in May to September, it grows into a strong river gushing and roaring downstream. In case, the water doesn't penetrate through the glacier till spring next year, it can accumulate to form a very vast lake and pose a threat downstream to human settlements, agriculture land, and infrastructure, particularly on both sides of the Hassanabad village of Hunza.
The infrastructure include under construction two megawatt hydro power project, water channels for Aliabad and Murtazaabad, main pipeline for drinking water for Aliabad, existing 1.5 megawatt hydropower project, KKH exist on either side of the ravine in additions to many houses and agriculture land.
Locals' state that they are not familiar of such a glacier formed lake in the Hassanabad ravine in the past. The situation is unique of its kind this time. Nevertheless expansion and retreating of the said glacier has been the repetitive occurrence in the past too. Some locals believe that the accumulated water would penetrate through the canvases made in the glacier and release smoothly but the inhabitants downstream and many others are in panic about its possible outburst.
It is nearly impossible to face the natures' wrath by either means. However maximum efforts and contingency plans must be the top priority of the concerned agencies for the rehabilitation of the inhabitants and infrastructure downstream in a possible GLOF situation.
The author, with other two colleagues reported the glaciers' movement in a report titled "A Swift Expansion of Shishper and its Implications" in last August and was published on Pamir Times.
Also Watch: Aerial View of Shishper Glacier 
Also Read: A Swift Expansion of Shishper Glacier & Its Implications 
References        
Amar Guriro, RISING TIDE-Pakistan's next challenge: climate refugees, Newsweek, 18 Aug- 1 Sept., 2018
Dr. Siddique Ullah BAIG*, Karim DAD and Amjad SALIM, Impact of Sudden Advancing of Shishper Glacier – A Case Study of Interaction between Hydrology and Natural Environment in the Karakoram Mountains, Crimson Publishers, August, 2018.
Surge-type and surge-modified glaciers in the Karakoram https://www.nature.com/articles/s41598-017-15473-8 retrieved on 3rd December, 2018
Karim DAD, Amjad SALIM Dr. Siddique Ullah BAIG. A Swift Expansion of Shishper Glacier and its Implications, August, 2018
The author is a teacher by profession with interest in environment and human rights.  He can accessed at  karimdaddero@gmail.com