40 youth groups being organized, trained and equipped with technical skills for construction projects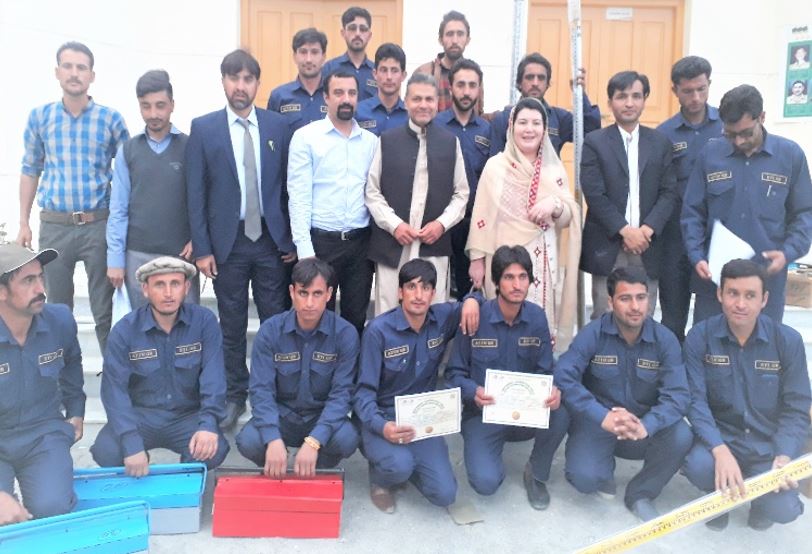 ---
CHITRAL: (PR) The Economic Transformation Initiative-Gilgit Baltistan (ETI-GB) is a Government of Pakistan and IFAD funded Programme that aims at improving income of smallholder farmers in the Gilgit-Baltistan region. The overall goal of the Programme is to improve income, reduce poverty and malnutrition in rural areas of Gilgit-Baltistan. The Programme's target group consists of around 100,000 smallholder farmers, women headed, poor, vulnerable, landless households and youth in target villages of GB.
In the ETI-GB Programme, youth is specifically targeted in skill development activities for income generation. The area of GB has a tremendous agriculture potential which requires trained human resource to work on infrastructure and land development projects. To full fill this requirement ETI has a component of Youth Construction Teams (YCT) for skill development of Youth. ETI forms teams of unemployment youth on priority basis from poorest families against each irrigation scheme. The main objective of the training is to get employment in Programme approved irrigation and land development schemes of ETI-GB to generate income for better livelihoods.
In this regard, approximately 40 youth groups (10-15 persons per group) almost 400 youth will be organized, trained and provided with handy skills particularly in construction traits in four districts, including Astore, Diamer, Ghanche and Ghizer. The youth will be trained in Quantity survey, Civil survey, Computer applications, stone and brick masons, cutting bending & welding of pipes/metals, heavy machinery, auto mechanic, and plumbing & pipe fitting in construction domain while in Machinery Operations youth get trained in bulldozer/excavator/tractor, dump truck etc.
Closing ceremony of one such training was held on 5th April 2015 at Applied Technologies Institute ATIN-NLC Gilgit Baltistan, where Director ATIN-NLC GB Brigadier Mr. Muhammad Iqbal distributed the certificates among the trainees.
ETI-GB in coordination with Applied Technologies Institute National Logistic Cell (ATIN) Gilgit Baltistan has successfully trained 99 Youth Construction team (YCT) members from Core Districts i.e. Astore, Diamer, Ghanche, and Ghizer in eight different traits during a period of three-months (January – April 2019). While the previous batch of 129 youth were trained from ATIN-NLC Mandra in 2018, taking the total number of trained youth to 228. According to a press release, 8 have been trained as Quantity surveyor, 8 as Civil surveyor, 12 as Computer Applications experts, 12 as Stone & Brick Masons, 9 as cutters, benders and welders of pipe, 19 as Heavy Machinery Operators, 13 as Auto Mechanics, and 23 as plumbers and pipe fitters.