Hashoo Foundation launches Diploma classes for ECD teachers in Gilgit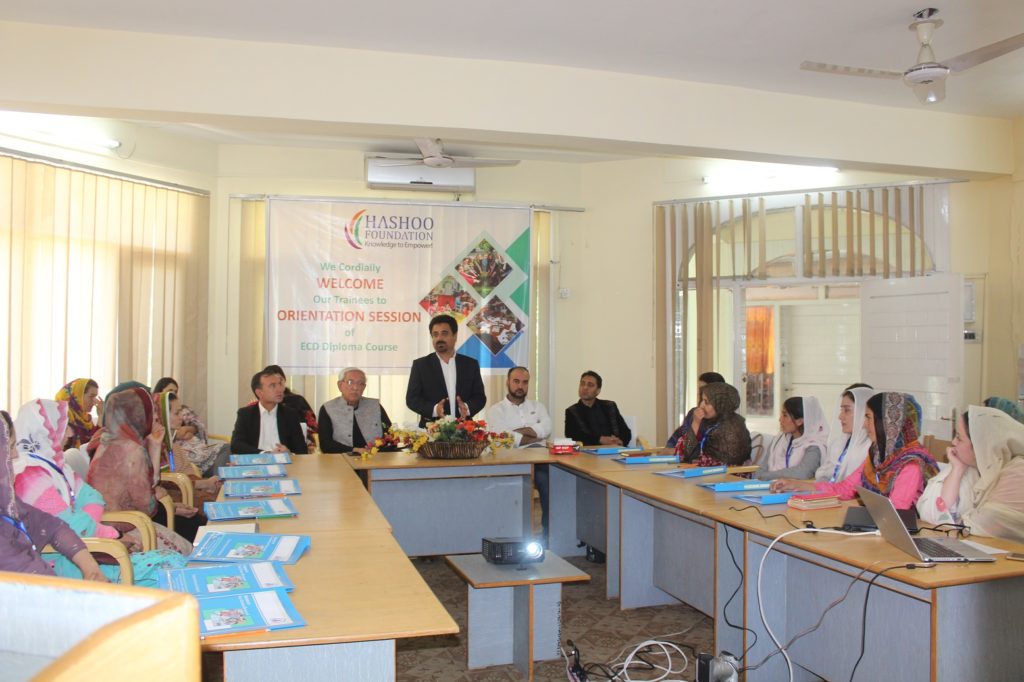 ---
GILGIT: (PR) Hashoo Foundation for the last 13 years, has been working to empower women in GB by engaging them in different programs and projects ranging from education, health, farming, technical skills and entrepreneurships and these endeavors have a remarkable result in uplifting the living standards of women across GB.
Carrying the mission forward the Foundation has started Early Childhood Development (ECD) diploma classes in Gilgit for the students and teachers who wish to pursue their career in the field of ECD. The main objective of the training is to equip students with world-class ECD knowledge, practices and requisite skills and raising awareness about the role of parents in early ages of their children.
Before the commencement of the classes, orientation session was held for newly inducted trainees at Hashoo Trust core office, which was attended by trainees, trainers and management of the Foundation.
Speaking at the occasion Mr. Jalal-ud-Din, Director shed light on importance of early childhood development and prenatal role by referring to the other successful nations and their interventions specifically for mothers who are expecting. He further added that ECD training is multifaceted trade which produces job opportunities but also creates entrepreneurial avenues for the students at their doorsteps
B.J Shams, Program Advisor shared his experience in the field of education and talked about the importance of teaching and a teacher's role, impacting a child's life. Ms. Salma, ECD Trainer engaged the participants by sharing stories and relating them with early childhood development. She motivated the trainees to get involved in the field of early childhood development by serving as an ECD teacher or activating communities.
Ms. Mehr Parwar, ECD trainer briefed the participants in detail about the training outline, courses offered, instructional strategies, rules and regulations, assessment criteria, fee structure, and evaluation benchmarks. Ms. Mehr Parwar also discussed the impact of ECD diploma program. At the end the trainees walked through the ECD class and IT lab to get oriented with the material and environment.