Sherpa Cinema to make film about Laila Peak Skiing Expedition in Baltistan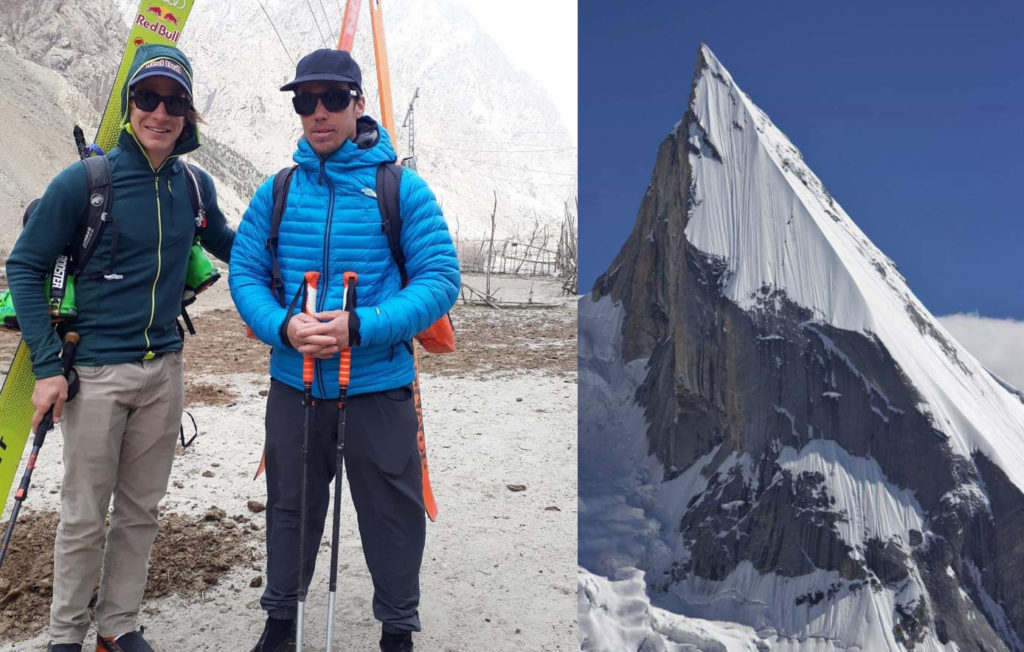 ---
Rajab Ali Qamar
SKARDU:  Sherpa Cinema – a production company based in British Columbia, Canada specialized in mountain-based sports film making intends to make a film on skiing expeditions on 6000 meters high snow clad Peaks of the world.
After a successful film shooting last year on various famous 6000 meters high Peaks in South America, The Alps, Finland, Germany and Switzerland an eight member team of Sherpa Cinema has arrived Skardu to make a skiing film of 6985 meters high Laila Peak in the Karakorum.
The eight member Laila Peak Skiing Expedition team led by the owner/ director/producer Mr Eric James Crosland has left Hushey for the base camp of Laila Peak the other day.
Two Swiss skiers Mr. Samuel Davil Anthamatten and Jeremy Heitz are the main characters of the film world's 6000 meters high Peaks Skiing expedition who as part of the expedition will climb Laila Peak and then descend down from the top by skiing.
To capture the skiing scenes of Mr. Samul and Jeremy, Mr. Eric James is accompanied by Steven James Henderson, Field Producer; Mr. Joshua Hellios
Lavigne, drone pilot; Mr. James Edward Tanner, camera assistant; Mr. Leo Markus Hoorn, director of photography and Luca Rolli, climber.
Talking to this scribe, the owner of Sherpa Cinema Mr. Eric Crosland said, Baltistan is a beautiful area, the people are friendly and kind, the landscape are fantastic and the mountains are marvelous.
"The Laila Peak Sking expedition will be a comprehensive film as we are going to capture Baltistan, with cinematic imagery to show the beauty of Pakistan's natural landscape and amazing culture and people," Eric revealed.
Mr, Sameul and Mr. Jeremy, are skilled and professional skiers. Both of them have been participating in the world's skiing championship competition for the last eight years organized by Treeride World Tour.
Both of them have stood second and third positions several times in the past in the world skiing competition. Earlier, they have skied from the tops of 3900 meter high Turk Kashkar Peak in the Alps, Aclesanruja Peak (6200 meter) in Peru South Africa and Monte Rosa Peak (4636 meter) in Switzerland.
"If weather permitted, climbing on the summit of Laila Peak is possible in just two days and to descend down through skiing is an enjoyable sport for me," 28 years old Jeremy remarked with smiling gesture.
Thirty two years old Samuel is also an enthusiastic ski champion. He was also optimistic to make the Laila Peak Skiing film expedition a successful and memorable one.
The famous Laila Peak is a beautiful snow covered Peak in Hushey valley Ghanche district. Earlier, this Peak was for the first time scaled and skied by an American expedition member in 2006. Last time in 2018, a French expedition team member had skied from the lower part of Laila Peak to bottom.
A famous and leading tour operating company Mountain Travels Pakistan is organizing Laila Peak film Skiing expedition in Pakistan.