Baam-e-Dunya Music Conference held at KIU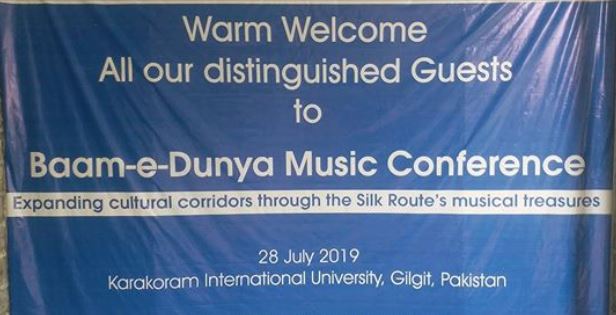 ---
GILGIT: ICIMOD in collaboration of the WWFP, government of GB, KIU and other stakeholders arranged a daylong conference on music of Gilgit-Baltistan and Chitral (GBC).
Divided into four sessions, the conference was titled "Baam-e-Dunya Music Conference (Expanding cultural corridors through the Silk Route's musical treasures."
The opening session was moderated by Mr. Ghulam Ali, Program Coordinator ICIMOD & presided by Mr. Jafar Ullah Khan, Deputy Speaker GBLA. Speakers shade light on the importance of preserving and promoting the music of the region in its true and original form.
The second session was on Pamir regional music, diversity and integration. Researchers and linguists including, Dr. Shirali Ghulamaliev from Tajikistan, Jalod Khon Wokhoni, Fazal Amin Beg and Zulfiqar Kolahro discussed the Wakhi culture and music. Ms. Hajee Parveen moderated the session.
In the third session, Hindukush-Himalaya (HKH) regional music diversity and integration, moderated by Mr. Zafar Waqar Taj, the panelists shed light on the musical culture of Shina and Khuwar languages.
Prominent speakers included Mr. Badsha Munir, VC Chitral university, Aziz Alidad and Mr. Mehmood ul Hasan of PTV. The last session facilitated by Mr. Hayder Raza, Regional Head WWFP included remarks from the delegates from various countries.