Police action sought against contractor over 'substandard work' at Chipursan Power House Porject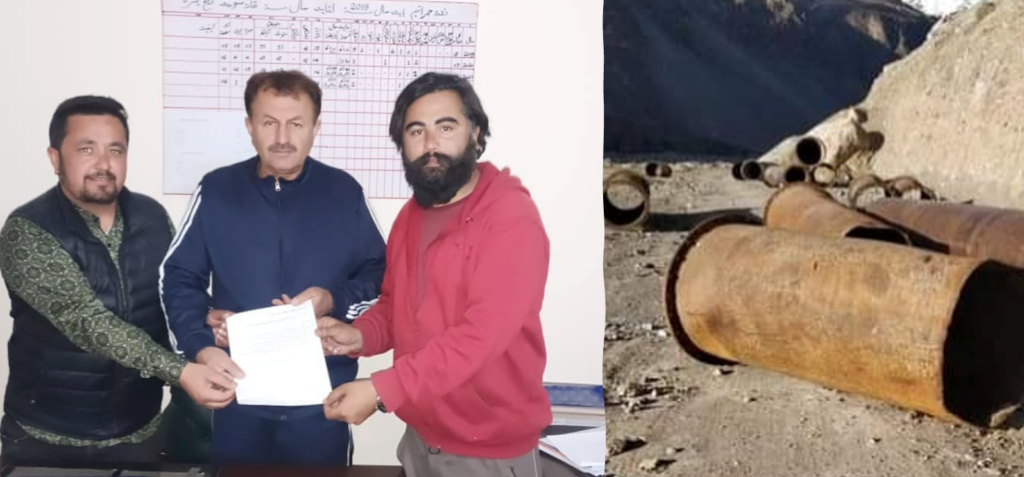 ---
SOST: Asif Sakhi, former electoral candidate of Awami Workers Party for GBA-6 (Hunza), along with political activist Ali Hassan, has jointly filed an application at Sost Police Station seeking action against alleged substandard work being carried out at the Chipursan Power House Project, said a press release.
The press relesae says that Awami Workers Party's Chipursan Unit had previously informed the party's central cabinet about the issue, prompting Chairman AWP-GB Comrade Baba Jan to direct Ex Candidate GBA-6 Asif Sakhi to take necessary action and submit an application against the responsible authorities.
Reports indicate that substandard and damaged pipes, destroyed by floods at Hassanadad, Hunza, have been transported to Chipursan for construction of the Chipursan Power House. Photographs of the damaged pipes went viral on the social media after they were transported to Chipursan. AWP has said that "such compromised materials not only jeopardize the integrity of the project but also pose a threat to the safety of the community it serves."
The Awami Workers Party has called upon the authorities to take immediate notice of this matter and rectify the situation promptly. Failing to address the issue will leave the party and the people with no choice but to exercise their democratic right to protest and potentially block the Karakoram Highway (KKH).
The press statement further says that the Awami Workers Party is committed to the welfare of the community and will continue to advocate for their rights and interests. It is imperative that the responsible authorities prioritize the well-being and safety of the residents of Chipursan and take swift action to rectify the substandard work at the Chipursan Power House Project.