[Trend Analysis] Afsar Shahi in Gilgit – Baltistan!
by Noor
Although there is little doubt that the Gilgit – Baltistan has been a green pasture for the most rowdy civil servant, there is something seriously wrong with the Health Department, specifically. Earlier the secretary health, Sohail Saqlain, used to make headlines for his "muscle and mouth shows" and, now, his sub-ordinates have joined him in the ranks. 
According to reports two senior doctors had a nasty physical fight, of course fraught with verbal abuses, at the office of Sohail Saqlain. Details have it that Dr Nazeem, director of health department, and Dr Tariq Sharif, a senior physician, exchanged punches, kicks, abuses and slaps in front of their boss and colleagues, the other day, after Nazeem, allegedly, threatened his juniors with dire consequences for their "nakhray". Sharif also informed media people that this is not the first incident of physical clashes between doctors, as Dr Ikram and Dr Hussain Ali had already attacked each other, last year at the same place.
That the story of this unfortunate incident was told to the press by none other than Dr Tariq Sharif, himself, can be taken as a proof of deep rivalries between the officer.  The Chief Secretary, a descent guy, seems to have taken a strong notice of the incident by ordering an inquiry against those involved. 
However, it is an irony that no action was taken against Sohail Saqlain, the health secretary, for abusing and physically assaulting public representatives and local elders at the civil hospital, Gulmit, a few weeks ago. Photographic proof of this ugly incident is available.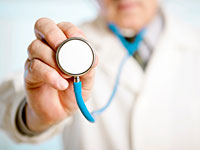 As they say, habits and attitudes flow from top to the bottom in bureaucracy, so Mr Babar Yaqub needs to investigate not only the, condemned, brawl between the two senior messiahs, but also against their immediate boss as well. Last year angry citizens had thrashed Sohail Saqlain in Gilgit for using abusive language in public.
The bureaucracy in Gilgit – Baltistan seems to operate above the laws of decency. There are several examples and incidents in which secretary and director level public servants, most probably inspired by the colonial legacies imprinted in their books of "civil service", physically and verbally abuse each other, or the general public.
A few years ago a DSP rank police officer was thrashed in Nomal locality of Gilgit city, for displaying "afsari" in public. Most recently the deputy commissioner of Skardu, drunk to the wine of official power, reportedly took his jeep to the runway of Skardu Airport, while the plane was getting ready for taking off. The reason for his reported heroism was that he wanted to send his brother and father in that flight. When the pilot, logically, objected to this illegal action, the sahib bahadur got upset and ordered his arrest, newspapers reported. The captain of that plane refused to fly back to Skardu after the incident, a news paper reported few days ago. Let's also inform the readers that suddenly cases of smuggling 'expensive timber' were registered against the pilot, in Skardu.
The general public suffers while the officers are busy fighting with each other, abusing their subordinates and the masses and, of course, enjoying weekdays and weekends at the bank of Kachura Lake, , Khalti lake or in the plains of Shandur and Deosai.
Let's underline the fact, so that our civil servants understand, that sentiments about the government and state are determined more by the conduct of officials than anything else. There is plenty of work left undone; children and mothers are dying due to lack of medicines and hospitals, thousands are suffering in hospitals outside Gilgit – Baltistan because there are no adequate facilities available in the region. If the civil servants don't bridle their emotions, the little hope left will be lost, forever.