Protesters seek release of Baba Jan Hunzai and comrades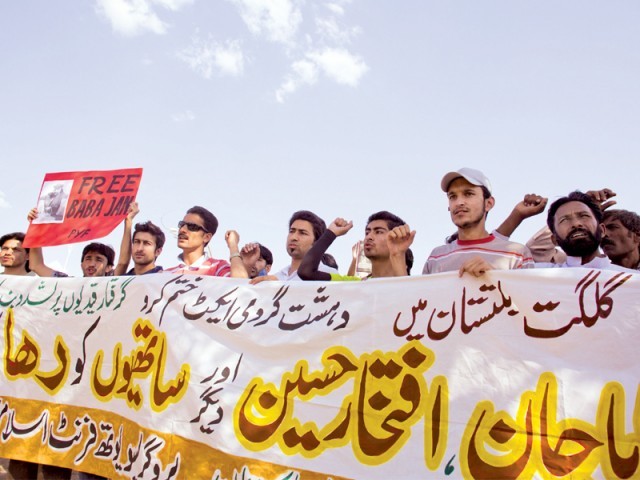 ISLAMABAD: Youth and political activists staged a protest demonstration here on Sunday against the torture of Progressive Youth Front (PYF) activists, including its chairman Baba Jan, by police and intelligence officials in Gilgit Jail.
They demanded their immediate release and access to medical treatment facilities. The condemned the local government for not taken any initiative to investigate the brutal torture of the prisoners.
In prison, Jan and his comrades staged protests and planned a hunger strike against the inhuman condition in jail.
A large number of people, mostly from Gilgit-Baltistan, gathered outside the National Press Club (NPC) holding placards and banners. They were chanting slogans against the local police and security agencies for what they called their brutal act and demanded immediate release of the PYF activists.
Addressing the rally, Labour Party leader Advocate Nisar Shah said that the purpose of their protest was to invite the attention of national and international human rights organisations towards the brutal treatment meted out by the Gilgit-Baltistan government towards political activists.
"The maltreatment of Baba and others is not just illegal but also immoral and has no justification," he said.
LPP federal committee members said that recently, a number of prominent international figures including Noam Chomsky and Tariq Ali have joined their struggle besides many international organisations that have written to the Pakistan government asking for Jan and the others' release.
"It is violation of human rights; they have been punished for raising their voice for their fundamental rights," said Agha Abdul Sattar, one of the protesters.
He said that if the government does not pay any heed to the peaceful demonstration, they would be left with no option but to stage a sit-in outside Parliament House and thousands of people from human rights group and progressive political parties would join them.
Later the participants of a rally disbursed peacefully.
Meanwhile, three youth activists have been arrested in Hunza while putting up posters seeking the release of the arrested PYF leaders, sources told The Express Tribune correspondent in Gilgit. Area police officials did not respond to calls made to confirm the arrests.
Jan and his colleagues, Iftikhar Hussain, Amir Khan, Rashid Minhas, Sher Khan, Irfan Ali and Amir Ali, were arrested on August 11, 2011 for agitation against the killings of an internally displaced (IDP) man and his son by police during a protest against delay in payment of compensation and settlement of the affected people of the Attabad Lake.
The Hunza-Nagar District administration had booked them under the Anti-Terrorism Act on charges of disturbing law and order.
Recently jail authorities had taken the initiative to shift Jan and his four comrades to Gilgit sub-jail. The reason for shifting Baba Jan and his comrades was that some of the other accused persons in the jail who were involved in the sectarian killings and in the Gilgit district jail and Jan and his comrades were resisting the sectarian division within the prison.
Before shifting the victims to the sub-jail Jan was taken out from the jail twice by police and intelligence agency officials, who tortured him and pressurised to halt his activities. On April 28, 2012, in the early morning, when military men and police came to shift him his friends tries to resist the move as they feared that they will be abducted and killed in fake encounter. The police and military men tortured and beat them severely before throwing them into police vans. During the ill-treatment, Baba Jan's hand and several of his toes were fractured. His comrades, Iftikhar Hussain and Ameer Khan were also tortured.
To-date they have not been provided with any medical treatment.
Published in The Express Tribune, May 14th, 2012.